You are reading 1 of 2 free-access articles allowed for 30 days
On a mission to beat the Ebola outbreak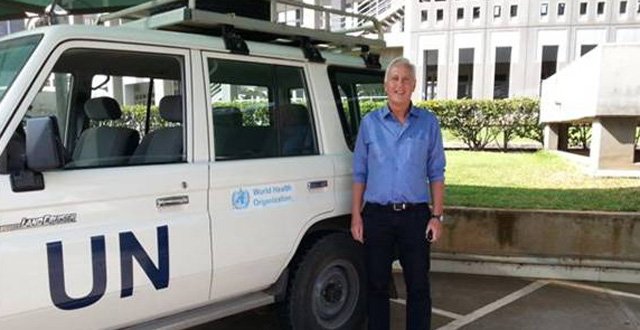 The response of international health organisations and governments to the Ebola outbreak in Africa was widely criticised last year for being too slow and not comprehensive enough. Renewed focus and an escalation in front line medical interventions have led many to predicate that the worst of the crisis — which has claimed the lives of approximately 8,600 people in West Africa, though the WHO believes this figure is an underestimation — is over.
Part of this heightened response was the recognition that countries, particularly those near the area where the Ebola was most active, needed to improve their preparedness to cope with the virus, should it occur among their own population. Ethiopia was deemed a high-priority country, in part due to its strategic importance as home to the African Union, the African equivalent of the EU. The Union is located in the nation's capital city, Addis Ababa, where it receives many delegates from all over Africa. As the crisis developed, Addis Ababa's airport had to step-up Ebola screening procedures in response to the spread of the outbreak last year.
Preparedness plans
Although the country has not yet had a case of Ebola, there have been a number of suspected cases, leading the government to realise the importance of escalating its preparedness plans. Towards the end of last year, it invited a team from the WHO's Global Outbreak Alert and Response Network (GOARN) to Addis Ababa to assess the country's plans to deal with an outbreak and to provide recommendations on how the plans might be improved.
Consultant Microbiologist at Tallaght Hospital Prof Philip Murphy was part of the expert team that visited the country for a week in December to conduct the assessment. Speaking to the Medical Independent (MI), Prof Murphy says he had wanted to take part in an earlier Ebola mission that GOARN was conducting but the timescale, which was over a month, was not suitable. "The attraction of this one was to fly in a team of experts for seven days of very intensive work, which compromised long, 12-hour days, and then fly out," he explains.
"I found with my work here, I could more easily facilitate that kind of call, rather than going out in the way a lot of other doctors and nurses have done, in four-week stints."
While the trips organised by charities and NGOs focus mainly on front line care, the work of GOARN, which is a collaboration of institutions and experts who pool resources for the identification, confirmation and response to global outbreaks, is primarily strategic.
In addition to Prof Murphy, the team, which had 10 members, also had experts in virology, screening and infection control, as well as three permanent WHO members.
Prof Murphy adds that he had no previous experience of dealing with Ebola and his primary area of research concerns epidemiology and the pathogenesis of chronic lung disease pathogens, in particular airway pathogens relating to cystic fibrosis. His background in epidemiology and microbiology, however, led him to be put in charge of 'clinical care'.
The focus I found of their preparedness was on containment rather than actual care of the patient
The team was based in a WHO compound in the centre of the city, which Prof Murphy says was good in terms of IT and research support. His primary field trip was to a hospital on the outskirts of the city, which was to act as the area's Ebola centre. The hospital, a four-storey building, had not yet opened and was deemed ideal for the purpose of accommodating people affected with Ebola, should any outbreak occur.
"Although it sounded great — they had a whole hospital — the level of care they were planning was very, very basic," Prof Murphy explains. "The focus I found of their preparedness was on containment rather than actual care of the patient."
Levels of care
One of the main ideas that Prof Murphy developed during his trip was about levels of care. "One of the worthwhile reasons for me going, I think, was that I had an idea which I formulated during the week: That they should stratify medical care, and they hadn't thought about that at all. They just had one level of care in this centre that they were going to keep all the cases, and they were just going to ambulance patients in from wherever, even though it might take 16 hours in an ambulance to get them there."
Instead of the basic level of care that the centre was planning, he proposed that intermediate and advanced care should also be provided.
"There wasn't going to be a lot of diagnostic care available for the patients that were sick. In other words, they wouldn't be checking their potassium and their fluids and that sort of thing. And they had very little in the way of support therapy. What we have learned over the last year from the Ebola experience in West Africa is that you can actually reduce the 90 per cent morality that we saw initially down to about 30 per cent mortality by giving good fluids, by giving antibiotics and correcting their electrolytes, those simple levels of care; if you could introduce those, you could make a big difference."
Prof Murphy notes that although there is no specific treatment for Ebola, many patients are actually dying from malaria and bacterial infection, which can be managed. He does, however, express doubt as to whether there are sufficient resources available in Ethiopia to provide the advanced level of care that would be provided in hospitals in Europe and North America.
In Ireland, the total health expenditure per capita is approximately $3,720. In Ethiopia, the figure is closer to $50.
At the end of the week, the team met with the Ethiopian Health Minister, Dr Kesetebirhan Admasu, to discuss their work. The Minister was particularly interested in stratifying levels of care but admitted that resources were an issue, Prof Murphy remembers. "The Minister for Health definitely was very keen," Prof Murphy says. "He told me, 'I want to do the best for people, but it is all a question of resources'."
WHO staff also expressed interest in Prof Murphy's ideas, which it said could be incorporated into the Organisation's future strategy, he tells MI.
Reforms
Last week, the Director General of WHO, Dr Margaret Chan, announced a package of reforms for the Organisation to tackle outbreaks of a similar nature in the future, in light of the inadequate international response to the Ebola crisis. Prof Murphy says that the global reaction to the outbreak was definitely too slow, but important lessons had been learned from the experience. Furthermore, he is confident that Ireland is "Ebola ready" should a case occur in this country.
"An awful lot of work has gone on within the HSE, checking our own preparedness, and I would be very confident that patients would be very well looked after here."
When Prof Murphy returned to these shores before Christmas, he recalls that his first reaction was one of culture shock. "I felt very strange coming back to Dublin airport and driving around the M50," Prof Murphy adds.
"That was a bigger shock than going to Ethiopia, to be honest. I didn't want to turn on the radio for two or three days. I didn't want to hear news. I just felt that we are all a little bit precious here, with our own little world and our own little problems.
"They pale into insignificance when you are working in a developing country in Africa."