You are reading 1 of 2 free-access articles allowed for 30 days
NUI Galway wins Spike Milligan Public Speaking Competition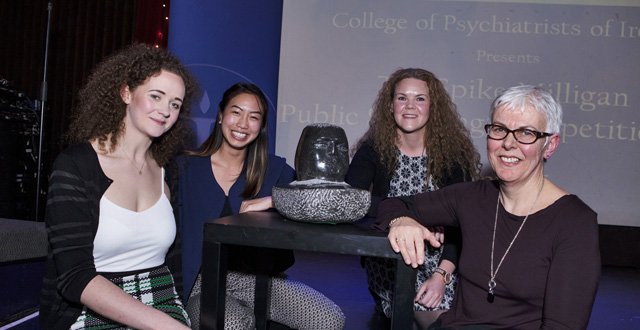 They faced tough competition from Queen's University Belfast, whose team were runners-up on the night.
The winning NUI Galway students were Ms Jenny Fitzgibbon and Ms Ming Cai. This is the fourth time NUI Galway has won the prestigious competition.
First held in 1999 as part of CpsychI's Changing Minds campaign, the competition aims to foster and promote communication skills among doctors in training, with a focus on mental health.
The late comedian, actor and writer, Spike Milligan, generously lent his name to the competition. It honours his great work as an advocate for people affected by mental ill health.
This year, teams from University College Cork, University of Limerick, NUI Galway, Trinity College Dublin, University College Dublin, RCSI, and Queen's, spoke on the following topic: 'People ask all the time how I'm doing, but the truth is, they don't really want to know' (Jodi Picoult, Handle with Care).
Students presented on this statement as part of CpsychI's theme for 2015, 'Caring for Carers'
The judging panel consisted of old age psychiatrist Dr Mia McLoughlin, trainee psychiatrist Dr Rosie Plunkett and member of REFOCUS (Recovery Experience Forum of Carers and Users of Services) Ms Christine McCabe.
President of CpsychI Dr Ruth Loane commented: "Carers are key participants in the recovery process and these presentations dramatically illustrated the potential pain and loneliness of their role. The involvement of students from all Irish medical schools is heartening as regards the comprehension of the carers' role from our future doctors."
Dr John Hillery, the College's Director of Communications and Public Education, added: "The Spike Milligan participants continue to provoke and amaze and this year's competitors raised the bar again in content and presentation. The work and contribution of carers is still not sufficiently recognised, but the students illustrated the issues in a way that demonstrated the practical steps we can all take to support people we know who are caring for loved ones."