You are reading 1 of 2 free-access articles allowed for 30 days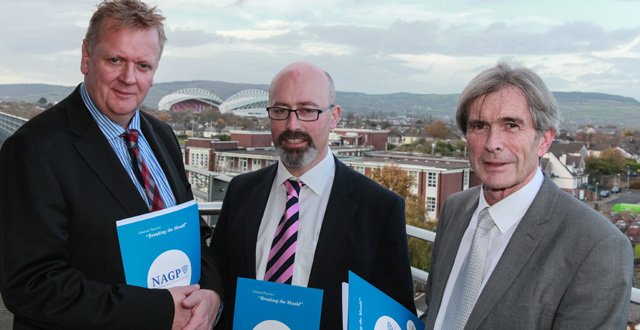 2014 was a busy year for the NAGP, as it solidified its place among the medical representative bodies. Last September, a protest by hundreds of GPs and their supporters outside the Dáil grabbed national headlines, highlighting the many challenges facing doctors.
This was followed by the coup of allying with the Independent Workers Union in order to share the negotiating licence.
This year is set to be equally energetic, as the Association ramps-up its campaign to protect general practice.

Dr Emmet Kerin
"There's a lot of energy in the NAGP. A lot of doctors are passionate about general practice and are fighting to protect what they value," NAGP Vice President Dr Emmet Kerin tells the Medical Independent (MI).
"I don't think I've ever experienced the ground-swell of support from GPs. But general practice is at, and beyond, crisis point where it's difficult to practise safe, quality medicine in the way it's currently resourced and structured."
It was this crisis that compelled Dr Kerin to join the nascent Association and ultimately become its Vice President.
"I never considered myself to have an interest in politics as such and suddenly I found myself in the middle of Irish medical politics," he explains. "But I am a young GP, 36, and the majority of my age group are emigrating.
"We are the envy of most countries, where we are head-hunted to Canada, Australia and elsewhere. But we want to hold on to our talent. Losing our younger GPs; it is sad to see it happen, and it's not about money. My friends have two or three kids and they are uprooting them, moving them away. They don't want to do it but they feel they have to."
Improvement and change
Like many other doctors, he wants to stay in Ireland to fight for improvement and change, but working here is not easy. Dr Kerin, along with Dr Jason McMahon, recently established the Treaty Medical Practice in Limerick City. They have first-hand experience of what it now takes to get a practice off the ground.
He adds that the practice is growing and has recently taken on 1,000 medical card patients. However, whether this will be financially viable remains to be seen.
You're not actually reimbursed to provide those services. What you're doing effectively is you're using private income to supplement the medical card patients
"Medical card payments per capita are so low, you just can't survive on them.
"And even with the bigger lists, we're seeing examples where people just aren't attracted to vacancies," he explains. "What's happening, unfortunately, in general practice is that there's a huge level of dissatisfaction because of increasing loads and pressures onto what was a very enjoyable job."
Resources
This is one of the most frustrating aspects of the current crisis for Dr Kerin and other GPs, who want to provide more services at primary care level.
"I do a lot of procedural medicine but the unfortunate side is that on the medical card, you're not actually reimbursed to provide those services. What you're doing, effectively, is you're using private income to supplement the medical card patients.
"I am involved with the Primary Care Surgical Association and we're lobbying the Government to get minor procedures reimbursed at primary care level. We can demonstrate that it is one-eighth of the cost to do the procedures at general practice compared with the expense of going into the surgical theatre. However, the difficulty for me when I do an ingrown toenail, my equipment will cost €80 and the Government will pay me €22.50 to do the procedure.
"You soak-up what you can but when you've had such enormous cuts to the medical card service, you simply can't afford to stretch out your service any further."
This is especially pertinent, given the unprecedented high numbers on trolleys in EDs across the country. In recent days the NAGP stated that with appropriate investment, ED presentations could be reduced by up to 250,000 annually.
The Association said that international evidence showed that the main reason for attending emergency departments is to access services which are not available through primary care. Only half of all ED attendees require specialist consultation, it said.
According to the NAGP, a survey of 9,206 patients attending two Canadian emergency departments over a six-month period in 2005 found that only 56 per cent had attended the ED to see a specialist within a reasonable time.
"In comparison, 81 per cent had attended to access services which were not provided through their regular primary care provider and 65 per cent had attended in order to have diagnostic tests carried out in a reasonable time frame. Extrapolating on those figures would suggest that only half of the 1 million ED attendees documented by the HSE in 2013 were, in fact, seeking specialist care."
There's no quick solution but if you funded general practice you could alleviate a certain amount of pressure on emergency departments
While Dr Kerin acknowledges that ED overcrowding is a multi-faceted problem, he does believe that GPs can lessen ED overcrowding.
"In Limerick, the situation is worse. We have an outdated ED and then you have the closure of the full-time emergency department services at Nenagh and Ennis. It's no wonder this has happened. And unfortunately, there's no quick solution but if you funded general practice you could alleviate a certain amount of pressure."
However, rather than working to reduce ED presentations, Government plans, most notably free care for the under-sixes, will only serve to increase a GP's workload.
"They were very ill-conceived," Dr Kerin says. "The fact that GPs weren't consulted in the first place about what direction primary care or general practice needed to take is incredible. It was very clearly a political, electioneering stunt. It was insulting.
"I know from my patient population, giving wealthy parents of six-year-olds a medical card, when there are people with various chronic conditions in need, is insulting.
Dutch model
"If we are chasing the Dutch model, they spent 12 years resourcing general practice to get it to the stage that it could deal with the load of chronic care. We are capable of doing that but it needs to be resourced. For example, diabetic patients are served better under primary care, but you need diabetic nurses and resources. You can't just push it on an over-strained service."
However, he is keen to stress that doctors want to find a resolution to the health service's problems, but first they need to be listened to.
"The NAGP will be looking at interaction again with local representatives and the HSE. GPs want to be part of the solution. We are at the front line providing services; we know what works and we know what short-term solutions to put in place to get things running, as well as what long-term strategies we should pursue for the future.
"But it will take time and investment."