You are reading 1 of 2 free-access articles allowed for 30 days
New horizons in anticoagulation and the need to improve treatment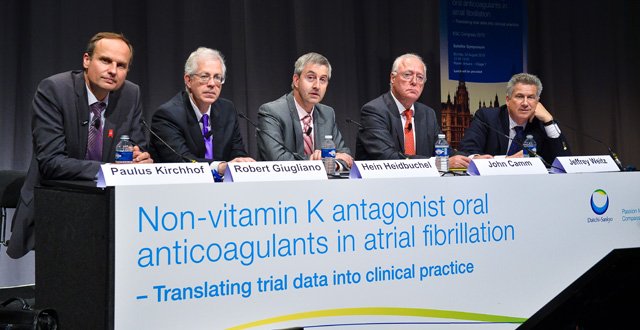 The European Society of Cardiology (ESC) Annual Congress 2015 broke all previous records in terms of attendance, with more than 32,000 physicians and delegates with a special interest in the area making their way to London for the event.
The attendees heard from a range of specialists covering all aspects of cardiology, including atrial fibrillation (AF), anticoagulation, treatment and management of cardiac conditions and the patient perspective. The 'golden thread' running through all themes at the Congress was how evidence-based clinical practice has led to new developments in the way patient care is evolving.
With a view to the importance of preventive medicine and the optimum treatment of AF and venous thromboembolism (VTE), a significant proportion of the ESC Congress was devoted to the area of anticoagulation in terms of its clinical impact and the overall burden these conditions can place on patients, physicians' resources and health services overall.
According to the National Institute for Clinical Care and Excellence (NICE), there are approximately 83,500 new cases of VTE each year in England alone and across six European countries — Germany, France, Spain, Italy, Sweden and the UK — there are approximately 762,000 VTE episodes each year, as well as 370,000 VTE-related deaths.
Data and practice
A packed educational symposium held during the Congress addressed the theme of 'Non-vitamin K Antagonist Oral Anticoagulants in AF — Translating Data into Clinical Practice' and the delegates heard from an expert faculty of speakers, which included Dr Jeffrey Weitz of Canada, Prof Hein Heidbuchel of Belgium, Prof Robert P Giuliano of the US, Prof Paulus Kirchhof of the UK, and Prof John Camm, also of the UK.
Prof Heidbuchel opened by referring to "the practical guide published in 2013, designed to address the practical implications of using novel oral anticoagulants (NOACs) in your daily practice," in relationto the EHRA Practical Guide on the use of New Oral Anticoagulants in Patients with NVAF, of which he was an author. However he pointed out to the symposium: "These guidelines have now been updated and can be downloaded from the Oxford University Press website."
Providing what he described as "a very quick overview of the updated guide," Prof Heidbuchel described what he called "a new kid on the block".
"You can see [from presentation slides] that certain areas are greyed-out, but I can tell you that the 'new kid on the block' in this update, edoxaban, has now been approved, both in the US and Europe, for use in patients with AF and all the latest information has been integrated in full in this practical guide," he explained.
'AF is a really prevalent condition — we are talking about 2 per cent of the population so in the UK alone, that's 1,200,000 people' — Prof John Camm
"The outline of this practical guide involves 15 clinical settings where the use of NOACs is integrated with some new practice habits that we have to develop. Over the past two years, there has been an enormous amount of new information and we tried to encompass that as much as we could — there are some 264 references," Prof Heidbuchel added.
"There is a new table on the eligibility of AF patients for NOACs… the writing group has 'stuck its neck out' to a certain extent to say that we think NOACs can also be used in patients with severe aortic stenosis, those with hypertrophic cardiomyopathy, and even in patients after valve repair or with prosthetic valves — although there is no data in this area — and certainly not for the first three-to-six months."
He emphasised the importance of establishing the right dosing regimen and explained that the updated guidelines contain dose-reduction schemes that have been validated with data. "We looked at how edoxaban fared in comparison to VKA and we found that there is a preserved benefit, both in terms of efficacy and especially in the safety profile. These schemes have all been validated — you can trust them and it's important to learn them for your clinical practice.
"We have expanded the guide and made it more organised, and we hope it serves you well in your clinical practice."
The updated guide includes, among many other aspects of treatment, guidance on the combined use of antiplatelets and anticoagulants, Prof Heidbuchel added.
Prof Giugliano presented an overview of the ENGAGE AF trial, which randomised 21,105 patients with AF documented within the past year, all of whom had a CHADS 2 score of at least 2 and were randomised in a double-blind, double-dummy system to either warfarin or a higher or lower dose of edoxaban.
The primary efficacy endpoint was a composite of stroke and systemic embolic events. The principle safety endpoint was major bleeding.
"When we looked at comparisons of edoxaban vs warfarin in terms of risk differences for 10,000 patients treated for a year, we see that use of edoxaban instead of warfarin reduced stroke, embolic events or death by 56 per 10,000 patient years, with significantly reduced cardiovascular death by 51, and reduced all-cause mortality by 36 and myocardial infarction by 5 per 10,000 patient years."
In terms of safety endpoints, use of edoxaban instead of warfarin prevented 68 major bleeds, 55 life-threatening or fatal bleeds, 46 intracranial haemorrhages (ICH) and 17 fatal bleeds, 12 of which were due to fatal ICH. "Importantly, and in data we are going to present in greater detail at the American Heart Association meetings this November, there are actually fewer fatal GI bleeds with edoxaban compared to warfarin," explained Prof Giuliani.
Stroke prevention
Speaking on stroke prevention in AF, Prof Kirchhof told the attendees how there are a great many patients in whom stroke is the first manifestation of AF. "About 5 per cent of stroke patients admitted to a stroke unit have AF that was not diagnosed or treated before — the first ECG on them shows AF," he told the Symposium. "So there is an obvious need to anticoagulate these patients to prevent these strokes."
He continued: "We conducted a survey in nine stroke units in Germany and we found that if we do 72-hour monitoring in all stroke survivors who don't have diagnosed AF, we found 4.3 per cent of unknown AF, so you can add approximately another 5 per cent of patients, of all comers into stroke units, who have AF that you can detect with 72-hour monitoring.
"Interestingly — and this is important for clinical practice — this is not only the group of patients who have so-called 'cryptogenic' strokes; these are all comers and many of these AF patients were actually patients who had risks or causes for a stroke in addition to AF," said Prof Kirchhof.
"If you take a closer look and monitor for silent AF for several weeks with a non-invasive tool or even implant a monitor for several years, or if you do this in a bigger proportion of patients, you will find up to 15 or 20 per cent of patients with undiagnosed, silent AF who need treatment," he continued.
"I think that it is probably time now to think about implementing more systematic ECG monitoring in clinical practice among stroke survivors."
'Spoiled for choice'
In a separate session at the Congress, Prof Gregory Lip, Consultant Cardiologist and Professor of Cardiovascular Medicine, and Director of the Haemostasis Thrombosis and Vascular Biology Unit at the University of Birmingham, spoke on the topic of 'The Importance of Tailoring Oral Anticoagulants in AF — Translating Data into Clinical Practice'.
Prof Lip emphasised the need for personalised therapy, stating: "Compared to say, five years ago when you and I had almost no choice apart from warfarin when prescribing, we are now spoiled for choice. So nowadays, we can prescribe according to a patient's particular profile."
He explained that in this context, renal impairment should influence dose adjustments in NOACs, as should body weight considerations, and "for safety reasons, we can choose a lower NOAC dose".
He continued: "Of course, those of us who look after patients know that patients with AF do not remain static; they change over time — their body weight or renal function may change, for example." In summing up, he told the attendees: "NOACs have been an important advance in how we deliver care but dose tailoring is an important consideration. In the ENGAGE AF trial, it was shown that dose reduction led to less bleeding but it's important to stress that efficacy was maintained."
The risk of bleeding in anticoagulation therapy has long been an issue of significant concern among GPs and specialists alike and Prof Lip addressed this by commenting: "Anticoagulation therapy is also shown to be significantly safer in relation to less major and intracranial bleeds."
Proactive treatment which is most effective is becoming more important as AF becomes more prevalent, Prof Lip told the Medical Independent. "It's no surprise that in elderly patients, there is increased renal impairment, so we should be looking at stroke prevention for these patients. So prevention is now crucial for the management of AF."
During the Congress, Prof Jan Steffel, co-Chair, Electrophysiology and Pacing, University Hospital Zurich, Switzerland, presented real-world, interactive patient case studies in AF, illustrating a typical patient, "the type I see in my clinic every day," he told the attendees.

Prof Jan Steffel
The patient he focused on was on multiple medications for a variety of conditions, which complicated his treatment for AF. The 79-year-old man had coronary artery bypass graft surgery in 2003 and had been stable since that time, with a total knee replacement in 1999 and cataract surgery in 2012 and 2013. He also had arterial hypertension with home measurements of 130-140/80-85mmHg.
Among other clinical considerations, the patient was on four medications, with an irregular heart rate of 85 and a systolic murmur but clear lungs and heart sounds. Dr Steffel highlighted that often, when there are a multitude of clinical considerations and multiple medications, the risk of thromboembolism is underestimated and is "frequently overlooked", he cautioned.
Outlining a treatment strategy that ultimately controlled the patient's symptoms and reduced his risk of mortality — as well as the crucial element of controlling bleeding risk — Prof Steffel commented: "The HAS-BLED score is important and should be assessed to give you and your patient a better idea of bleeding risk."
Speaking with MI at the event, Prof Steffel addressed a comment he made in his presentation that aspirin is "pretty much dead in terms of the clinical guidelines" when it comes to cardiac medications. But is warfarin on the same road? "I think for AF, it probably will end up that way," he told MI. "However, there are presently still a lot of patients on warfarin. Those who have been really well controlled on warfarin for years have probably stratified themselves into a group of patients who tolerate, and profit from, warfarin.
"There may be a role for warfarin for a while, but over the next 10-to-15 years, I see it being very much in a minority — probably not to the extent of aspirin, however. And of course, in the US, they still have aspirin in their guidelines for certain patients. In Europe, we tend to disagree on this, but for the moment it is there."
Prof Steffel touched on the importance of patient compliance, for both the patient and the treating physician trying to deliver the optimum level of care. "It's really important and patients tend to prefer a therapy that is easy to comply with. In my experience, patients tend to prefer a once-daily medication and they tend to comply better with that."
He continued: "Physicians tend sometimes to go for safety over efficacy, but the ideal balance is to get a therapy that provides both safety and efficacy."
He also spoke about the issue of compliance in the context of an ageing population internationally, and the potential for greater compliance to ease pressure on health systems in the future. "It's not the drug cost itself that should be the only consideration," he tells MI, "because if you prevent events down the line, that is vitally important. Patients who have a stroke, intracranial haemorrhage or major bleeding, for example, if they — tragically — die, there are obviously no healthcare implications. But if they survive, the cost of those events is enormous.
"So by preventing an intracranial haemorrhage and administering the right preventative treatment, you can avoid both of those scenarios."
'Killer disease'
In a separate session, Prof Harry Buller, Professor of Medicine at the Academic Medical Centre, Amsterdam, the Netherlands, spoke about treatment of pulmonary embolism and VTE in the context of overall mortality. "It's important to remember that VTE is actually the third most common cardiovascular disease — first is myocardial infarction (MI), and second is stroke, but VTE is number three.
"MIs are going down, stroke rates are stabilising but VTE is on the rise," said Prof Buller. "But one of my favourite statistics is this: Each year, more patients die from PE than from AIDS, breast cancer and prostate cancer combined, so there is a real need to prevent and treat this disease. If you look at those other conditions, we are doing a great job with them, but there is a real need to address this killer disease."
He explained to attendees that for anticoagulants, he prefers to use the term 'DOAC' — direct oral anticoagulants — and during his presentation, Prof Buller cited the "massive amount of data" that has been compiled on DOAC use and the potential for this to shape treatment strategies. He spoke to MI about the need for primary care physicians, as well as specialists, to strive to keep their clinical knowledge up to date. "I think GPs also need to be informed about these studies [DOAC NVAF VTE studies] because often, they are going to be looking after these patients.
"As a matter of fact, most of the patients with DVT and a high proportion of patients with PE are actually diagnosed in the hospital and then sent home," he continued. "So GPs know that these patients are going to come to their clinics and be in their care. With respect to edoxaban, these patients will need low molecular-weight heparin for at least five days and you have to make sure that when this is stopped, you start taking the DOAC and keep taking it all the way through."
But is there a value in GPs taking patients' pulses in an effort to detect AF as early as possible? "You're touching on my favourite topic," responds Prof Buller. "I believe that every time a physician sees a patient, their pulse needs to be checked. If you did it with me, for example, you would detect AF; the pulse is very often the first manifestation of AF.
"We are going to start a campaign for World Thrombosis Day very soon," he revealed to MI. "We are going to empower patients so that when they see a health professional, they know they have the right to have their pulse taken. This will be a major focus of the next World Thrombosis Day."
Frail population
Anticoagulation in the frail population was addressed in a presentation at the Congress by Prof Andreas Goette, Chair of the European Heart Rhythm Association Europace Scientific Programme Committee, who began by pointing out: "The European registry shows us that more than 30 per cent, in fact up to 47 per cent, of patients with permanent AF are aged over 75 years, so that gives us an idea of how common it is, especially among those who have long-standing AF."
In this patient population, the stroke risk and CHADs VASC score increase significantly and this is often complicated by chronic kidney disease, Prof Goette pointed out. There is also a much higher risk of bleeding events, "so it is very important to get the treatment right in these patients," he emphasised.
"However, despite this combination of factors, including an increased risk of falls, this high-risk group often do not get they care they need."
He outlined a number of trials in frail patients and emphasised that "it is extremely important to look at these to assess how we are doing, but they do show that anticoagulation is a powerful tool… these studies show that due to a fear of bleeding events, sometimes anticoagulation is not even started, so it is very important and reassuring that we now have alternatives to warfarin for these patient cohorts and sub-groups."
Following patient case presentations to illustrate his points, Prof Goette spoke with MI and said the elderly, frail population is not the single most important patient population in terms of negating cardiac risk: "I would not consider it the most important patient population," he stated.
"We also have patients at very high risk, even at a young age. If you have a patient aged 45, for example, with decades to go in his life, it's also very important to protect this patient against stroke or a major bleed.
"On the other hand, we also have to be realistic," he explained. "Elderly patient cohorts are growing and will continue to grow, so we have to take care of these people. Also, elderly patients these days are a completely different proposition to elderly patients, say, 30 years ago. They are much more active and motivated, so they may in fact actually have a much higher risk than previous cohorts at the age of 80, who were used to sitting at home and reading the newspaper."
Returning to the theme of under-treatment, he told MI: "We did a study in Germany on adherence to treatment guidelines and we found that if a patient is treated in a high-volume centre or by a cardiologist, the likelihood is that the patient receives adequate therapy, in comparison to treatment just by a GP, with the greatest respect to those physicians.
"But what we have also learned from registries like GARFIELD is that within the past five years, the percentage of patients who receive adequate anticoagulation increased from 57 to 71 per cent. So I think overall, we are doing much better, but on the other hand, we have to be realistic and realise that we will never reach 100 per cent because there are often other things going on with the patient that prevent this."
'Call to action'
The Congress also featured a presentation titled 'The Future of Anticoagulation Management in AF in Europe — An Assessment of Today's Challenges with Recommendations for the Future'. This was delivered by Prof John Camm, President of the Arrhythmia Alliance, and Ms Trudie Lobban MBE, founder and CEO of the Atrial Fibrillation Association.
Ms Lobban and Prof Camm were instrumental in producing the Future of Anticoagulation report, launched this summer in Brussels, which creates an evidence base on the current reality of AF-related stroke management in Europe and future recommendations (see MI, 25 June).
Prof Camm spoke to MI about the impact of the report and the follow-up work being done in that regard. "We have had no serious criticism of the report, but what we really need to see now is what action follows its publication," he said. "What it really is, is a call to action; whether or not it will be a success depends really on who takes up the recommendations in it.
"The really important issues," he continued, "are around making AF much more prominent in the minds of policy-makers because it is a really prevalent condition — we are talking about 2 per cent of the population so in the UK alone, that's 1,200,000 people," said Prof Camm, who himself has had AF for a number of years.
"The large proportion of these people are elderly and are automatically at risk of stroke and since many of them are not being anticoagulated, we are missing a lot of opportunities to prevent stroke.
"That's just one example but there are many aspects of AF that are not being correctly managed," he continued. "Cardiology in general has not been good at putting its case forward to policy-makers. However in terms of prevention, cardiovascular physicians have been better in terms of lifestyle, dietary changes and preventative work. Oncology is one example of a specialty that has been very successful in putting its case to policy-makers, because it is a 'heart-string' issue, so to speak.
"Cardiac doctors have been reasonably successful, but not the people looking after heart rhythms. For example, we haven't done well in terms of automatic, implantable defibrillators, external defibrillators and issues related to AF — all of it has been generally unsuccessful, particularly in the UK," he concluded.
This theme was also picked up on by Ms Lobban, who told MI that it is important for medical professionals to communicate clearly with patients when it comes to the meaning of anticoagulation. "We have to get across to patients that being anticoagulated does not take away all the symptoms that they have. All too often, patients don't feel any better, so they stop taking anticoagulants and go on to have an AF-related stroke," she said.
"So the clear message we need to convey to patients is: If you have AF, first and foremost, get anticoagulated and then go on to receive treatment for the symptoms," Ms Lobban continued. "So you need to 'Detect' AF; 'Protect' against AF-related stroke; and 'Correct' against the irregular heart rhythm. Those are the three messages that the clinicians, politicians and healthcare providers all need to be getting out there."
She said the public needs greater education on how to take their own pulse and even blood pressure, as well as being able to measure their own cholesterol to empower patients to take responsibility for their own healthcare.
In common with Prof Camm, Ms Lobban stressed the need for AF to be placed on an equal footing with conditions such as cancer and the importance of making such an initiative attractive to policy-makers, who may flinch at an initial cost in terms of widespread detection, but would see huge healthcare savings in the longer term. "Politicians — and one in particular — have said to me: 'Trudie, make this 'sexy' and you will go far'," she told MI.
"But the truth is, none of these conditions are 'sexy' — cancer is not 'sexy' but somehow the campaigners have worked in collaboration. Prof Camm and I have worked in collaboration but we need to bring more people together. There is a one-in-four chance of someone developing AF and we need to make people aware of that. Someone somewhere suffers a stroke every 15 seconds… so we know what the problem is and we know how to tackle it — now something needs to be done about it.
"Every time someone has a stroke, apart from the human costs to them and their family, it costs exponentially more to treat them than it would for them to take a drug and prevent it," she concluded.
Real-world treatment
Another Satellite Symposium held during the Congress maintained the theme of how clinical data and a sound evidence base must be translated into real-world treatment. Dr Christian Ruff, Assistant Professor of Medicine, Brigham and Women's Hospital, US, was among the line-up of speakers who addressed the issue of 'Engaging with the Real World in AF'.
This was in the context that within recent weeks, edoxaban (Lixiana) has been issued with a final recommendation by NICE as a once-daily therapy for the treatment and prevention of recurrent DVT and PE in adults. The panel explained how this development may assist physicians to provide optimal treatment.
On the matter of switching patients who are seemingly well controlled on warfarin to a once-daily NOAC, Dr Ruff told the packed auditorium: "There may be a theoretical advantage with a NOAC compared to warfarin, in that the intracranial haemorrhage rate seems to be about 50 per cent less because of the fundamental way the vitamin K antagonists and NOACs differ… if a patient has been well controlled for many years on warfarin, perhaps that's not the patient we should focus on switching, but that's not to say that they wouldn't enjoy some benefits."
During the symposium, management of a patient undergoing interventional or elective surgery was also raised. The question of "how to deal with a patient who is currently on a NOAC in this situation" was put to panel member Prof Jan Steffel. "True to the theme of 'engaging with the real world', this is what we are faced with all the time," said Prof Steffel.
"The general stratification is, first of all with respect to the risk in the surgery, if it's a very low-risk surgery you can do it at the trough level of the drug. So basically, lower-risk surgery would be at least 24 hours after the last dose of a once-daily NOAC. For higher-risk surgery, it's usually at least 48 hours."
Offering a final summary of the session, Chair Prof Raffaele de Caterina of the Istituto di Cardiologia, Italy, told the attendees: "ENGAGE AF-TIMI 48 has been the largest study of any NOAC to date, with the longest follow-up. It found edoxaban to be at least as effective as warfarin, with an improved safety profile and superior net clinical outcomes.
"Dose modification of this therapy optimises the balance between bleeding and ischaemic events," he concluded. "This simple, once-daily, oral dosing regimen, consistent across all approved indications, will certainly be a valuable asset in the field of anticoagulation."