You are reading 1 of 2 free-access articles allowed for 30 days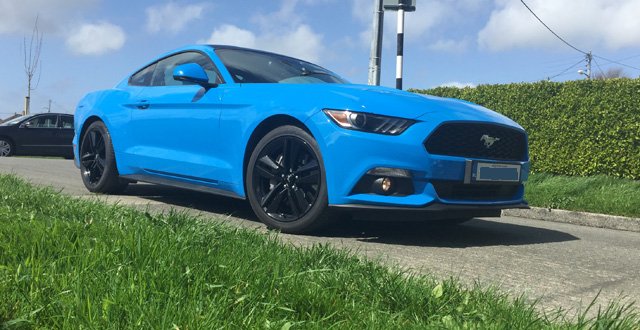 I had the good fortune of celebrating International Mustang Day in a Grabber Blue, 2.3-litre EcoBoost, six-speed, manual example of the famed American 'muscle car'.
After a week behind the wheel of the Mustang, I concluded that this is much more than a car; it's a mobile mood-enlightener with a blue-collar price tag and an on-board penalty point dispenser. People smiled, children waved and took pictures, drivers let me out at junctions, beeped their horns and gave a grinning thumbs-up as I cantered by in the most wonderfully ostentatious car on the road — a reaction you would not get in any other vehicle with a starting price of €55,500. However, I must also note that the 'you have notions' brigade, armed with a shoulder chip full of begrudgery, were venomously pointing their scowling faces over the handlebars of bicycles or through the sweat-sodden windows of various modes of public transport at the brash, blue, pony-car.
The model I had was armed with a monstrous 'Shaker' subwoofer in the boot, reverse park assist, the premium navigation pack and climate control seats. It also had a black roof, matching black 19" rims, was painted in the most spectacular shade of blue known to man and only cost €58,400. As I passed the ocean of overpriced grey German saloons with men and women in tired suits gawping out the window, I couldn't help but wonder why someone would choose a more expensive executive coupé over the Mustang. To get upwards of 300hp from any German marque will cost you substantially more than Ford's price tag. In fact, the non-Quattro 230hp Audi TT starts at €55,740 on the road; that's without any optional extras, of which there are many.
The 'Stang comes in Fastback or Cabriolet, armed with either a 2.3-litre turbo or a naturally aspirated 5.0-litre motor. The GT 5.0 starts at €71,500 and chucks-out the most glorious exhaust note from its V8 engine as it inflicts its 410hp and 524Nm of torque on the world. The EcoBoost, which is Green Party-speak for turbo charger, produces 317hp, 434Nm of torque, reaches 100kph in 5.8 seconds and tops out at 233kph, while also boasting combined fuel consumption of 8.0l/100km and annual road tax of €750, compared to the eye-watering €2,350 bill Revenue will charge you for using the 5.0-litre on the roads.
The Mustang is remarkably well put together. It has a more quality feel than plenty of European and Japanese cars I've driven over the years. The large leather seats were comfortable enough to sleep in and considering it's a coupé, there was a lot of space inside. Everything on the dashboard felt well built and there was ample storage space around the car, including a cavernous central cubby-hole. I could also could fit my golf clubs into the 408-litre boot, with space for shopping, and managed to get two fully-grown male humans into the back seats. However, I must report that the button-festooned steering wheel did feel a little crowded and I struggled with the radio settings on the sizable touchscreen infotainment system. Nevertheless, Spotify worked just fine and the incredible sound system added to the daily occasion that was driving this fantastic machine.
The road I live on is festooned with undercarriage-crunching speed bumps that look for their pound of flesh from low cars, no-matter how slowly they're driven. However, the 'Stang bounded over these obnoxious lumps of tarmacadam with ease, thanks to the car's high-tech suspension set-up.
The Mustang has new front and rear suspension systems and includes a new perimeter subframe, which helps to stiffen the front structure while reducing mass, providing a strong foundation for more predictable wheel control that benefits handling, steering and ride. The new double ball-joint front MacPherson strut system also enables the use of large, powerful brakes, as both the EcoBoost and GT Mustang models feature performance brake packages behind standard 19‑inch wheels.
The geometry, springs, dampers and bushings of the all-new integral-link independent rear suspension set-up have been specifically modified and tuned for high-performance applications, European roads and high-speed driving, while new aluminium rear knuckles help reduce unsprung mass for improved ride and handling.
Without incriminating myself, let's just say that the 'Stang holds the road very well for what was historically billed as a 'wayward American slob'. The car was built to take a lot more than the 2.3 can throw at it, which is reassuring while driving in a sprightly manner. However, daydream for a moment on a clear motorway and you will rapidly find yourself breaking the speed limit by a rather substantial margin. Luckily, the 2.3-litre is armed with large, four-piston break discs to reign-in the bolting pony at full gallop.
Motoring journalists tend to recommend the 5.0 because it's 'a real Mustang' and if you're looking at a Porsche, BMW M car or an AMG, then I would agree. But I feel where this car is really furlongs ahead of its rivals is with the 2.3-litre, as there's no car on the market in Ireland that can offer what it does for the price it commands.
In summary, all I can say is: I double-dare you to test-drive one of these before you buy any German or Japanese sports coupé.