You are reading 1 of 2 free-access articles allowed for 30 days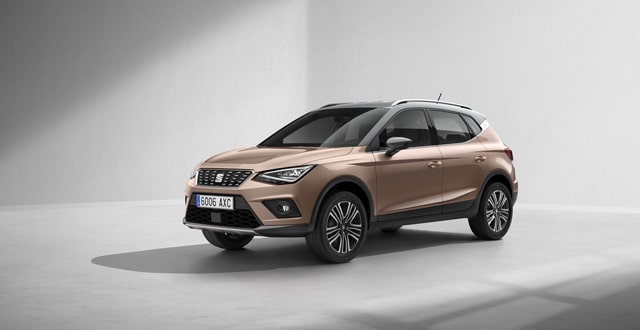 SEAT is back following the success of its first foray into the SUV market with the Ateca, this time with the smaller and more successful Arona. As I previously mentioned when reviewing another SEAT for the Medical Independent, the company was, for many years, referred to as the 'Spanish Patient', due to its inability to turn a profit. But SEAT has since received 1,700 volts straight to the heart, courtesy of Volkswagen, helping the embattled marque conjure-up profits of €137 million as it produces hit after hit from its Madrid headquarters.
The Arona is SEAT's new compact crossover that sits firmly in the popular B-SUV segment and sports all the cute trimmings of a city-born, never-off-roader, like a striking paint job accented by a contrasting roof colour and some eye-catching exterior trim.
When I heard a fellow motoring journalist rave about a surprisingly powerful one-litre petrol engine in a crossover SUV, I scoffed and turned up my nose before saying something mean about it being the illegitimate love-child of a Toyota Starlet GT-Turbo and a Suzuki Jimny.
However, despite my naysaying, the one-litre Arona handles quite well and isn't a slowcoach. The model I tested has Volkswagen's three cylinder 1.0 TSI turbo petrol engine, which comes in two variants. The 95hp version will get you from 0-100kph in 11.2 seconds, and the 115hp model does the same sprint in 9.8 seconds. These numbers, though not exactly fast when compared to a Starlet GT Turbo, are a damn sight better than I would expect from a car that weighs 1,210kg and is being pulled by a one-litre, three-pot motor.
There are eight petrol models on offer and two diesels, with the 95hp starting at €17,995 and moving right up to the top of the range 1.5-litre Arona EVO that produces 150hp. All models come with a six-speed manual gearbox and there is an optional seven-speed DSG auto transmission available in the Arona SE, Xcellence and FR trim levels.
The Arona handles quite well for a car in the B-SUV class, thanks mainly to its MQB A0 platform, which it shares with the SEAT Ibiza and Volkswagen Polo. Despite the car's height at 1,543mm, the Volkswagen-built platform controls the car's body role brilliantly, giving the Arona surprisingly direct steering and controlled cornering.
Its connection to the SEAT Ibiza becomes more pronounced when you sit into the cabin, which is, for all intents and purposes, completely identical to its hatchback brother. Not that that's necessarily a bad thing, as the interior is comfortable, well-built and offers options like Alcantara sport seats, adaptive cruise control, keyless entry, wireless phone charging and switchable dampers.
The interior is nicely laid out and comes with either an 8" or 5" touchscreen infotainment system with Apple Car Play and Andriod Auto available on all models, bar the entry-level Arona S. As well as the usual Bluetooth and DAB tuner, it has 3D navigation and voice recognition and a decent-sized 400-litre boot. However, the seating position for the driver appears to be geared towards people under 6ft tall, as I found myself stooping to see out.
The SEAT Arona claimed the award for the best Irish Small Crossover of the Year at the prestigious Irish Car of the Year Awards, due in part to the brand's phenomenal success in Ireland in 2018, with overall sales up 12 per cent and the Arona counting for 28 per cent of the Spanish marque's sales in 2018.
The model I tested was the SEAT Arona Xcellence 1.0TSI 115hp, valued at €22,815. It had the 115hp one-litre engine, which produced 200nm of torque, had a top speed of 182km/h. This model uses 4.9l of petrol per 100km while producing 113g/km of Co2, putting it in the €200 motor tax bracket.
The compact SUV market in Ireland is brimming with competition, however the Arona is more than a worthy competitor. It's the Irish Small Crossover of the Year, so most definitely one to go for in this segment.