You are reading 1 of 2 free-access articles allowed for 30 days
Minister for Health launches new clinical roadmap on lung cancer management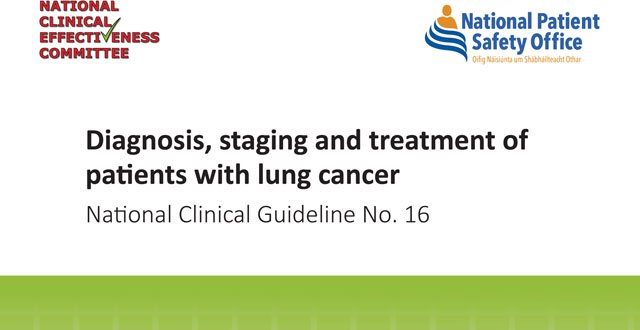 Averaging over 1,800 deaths annually, lung cancer is the leading cause of cancer deaths in both sexes in Ireland.
The new guideline was developed by a group led by the HSE National Cancer Control Programme (NCCP) and was quality-assured by the Department's National Clinical Effectiveness Committee (NCEC).
The Chair of the Guideline Development Group, Dr Marcus Kennedy, said: "Lung cancer is the leading cause in cancer death in both men and women in Ireland. Although public health policies may reduce smoking rates in Ireland, the incidence of lung cancer is currently increasing in Ireland in both men and women due to advancing age, better detection and a reflection of historical smoking trends. This guideline, which is the first national guideline for the diagnosis and treatment of lung cancer, sets a standard nationally, to enable healthcare professionals to deliver safe and effective care and treatment while monitoring their individual, team and organisation's performance."
Speaking at the guideline launch, Minister Harris said: "Last July, I was pleased to launch the second National Cancer Strategy for Ireland. Great progress has occurred under our National Cancer Strategies, with clear evidence-based policy direction from my Department and strong implementation by the HSE's National Cancer Control Programme. A broad objective of our current Cancer Strategy is to have models of care in place that ensure that patients receive the required care, in a timely fashion, from an expert clinical team in the optimal location.
"I am pleased to endorse and launch this guideline. I see this as a critical step towards the delivery of consistent, safe, multidisciplinary, evidence-based lung cancer care across the country. This guideline will help healthcare workers provide care based on the best available evidence. It has been informed by a full public consultation and a review by two international experts."
The guideline applies to adults (18 years or older) with newly-diagnosed lung cancer, or those that have a suspected diagnosis of lung cancer in a hospital setting.
The guideline is intended for all health professionals involved in the diagnosis, staging and treatment of patients with lung cancer. It is also relevant to those involved in clinical governance, in both primary and secondary care, to help ensure that arrangements are in place to deliver appropriate care for the population covered by this guideline.
Aim and objectives
The overall objectives of the NCCP's National Clinical Guideline are:
To improve the quality of clinical care.
To reduce variations in practice.
To address areas of clinical care with new and emerging evidence.
The guideline is based on the best research evidence in conjunction with clinical expertise and was developed using a clear, evidence-based, internationally-used methodology.
Guideline scope
This National Clinical Guideline was developed to improve the standard and consistency of clinical practice in line with the best and most recent scientific evidence available.
This guideline focuses on the diagnosis, staging and treatment of patients with lung cancer. The guideline does not include recommendations covering every detail of diagnosis, staging and treatment. Instead, the guideline focuses on areas of clinical practice:
1. Known to be controversial or uncertain.
2. Where there is identifiable practice variation.
3. Where there is new or emerging evidence.
4. Where guidelines have potential to have the most impact.
The guideline focuses solely on the clinical management of patients with lung cancer. The NCCP has developed GP referral guidelines, standardised GP referral forms, and GP electronic referral for patients with lung cancer.
The document is available at: http://health.gov.ie/national-patient-safety-office/ncec/national-clinical-guidelines/33721-2/.
Survivorship
The NCCP, in partnership with the Irish Cancer Society, has commenced a cancer survivorship programme. The main goal for the NCCP Survivorship Programme is to empower patients to achieve their best possible health while living with and beyond a diagnosis of cancer. This involves providing information, guidance and support to survivors and their families and healthcare professionals in relation to healthy lifestyle, disease prevention and control. It aims to promote a good quality of life and prolonged survival for people who experience cancer.
Patient information booklets/leaflets covering various aspects of the cancer journey are available on the NCCP website.