You are reading 1 of 2 free-access articles allowed for 30 days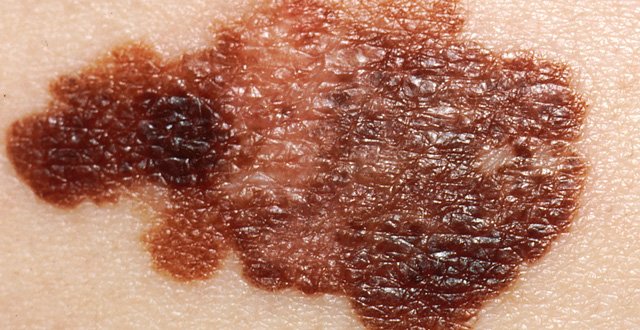 A new US study sheds light on how melanoma cells change from benign to malignant, and how the complex interaction between the cells and their surrounding environment affects outcomes of the cancer.
The transition from the radial growth patterns of benign melanoma cells to the vertical patterns of malignant cells has long been a mystery to researchers. But a study from the lab of Prof Andre Levchenko, the John C Malone Professor of Biomedical Engineering and director of the Yale Systems Biology Institute, US, has found that the cells' stiffness — determined by the specific balance of two signalling pathways — plays a major role in directing cell migration through the complex environment.
Cells essentially sense and follow the nanoscale topography, a phenomenon the researchers have coined "topotaxis".
The findings, published in the online edition of the journal Nature Materials on March 14, could lead to new treatments and diagnostic tests, the researchers said.
"We know now that we can interpret genetic changes in the context of this signalling network, which enables us to understand better why genetic changes may lead to metastatic spread," said Prof Levchenko, who is a member of the Yale Cancer Centre.
These findings also suggest avenues for reversing that invasive transition in cell behaviour. It does not necessarily require restoring the PTEN gene, but restoring the balance of the pathways to their original state through genetic manipulations or using a set of drugs.
90 per cent of invasive melanoma arises in the skin, 5 per cent in the eye and the remainder in a variety of sites including vulva (0.5 per cent) nasal cavity (0.4 per cent) and anus (0.2 per cent), according to the NCR
"In our experiments, we can take a cell that's aggressive and make it revert to a benign form and vice versa," he said. "As soon as you change the balance, the cells start moving in the opposition direction."
Prof Levchenko also sees a potential in the findings for a less invasive diagnostic test.
"We can take cells and drop them on these nanofabricated surfaces to mimic the matrix, and depending on where they move, we can actually tell whether they're benign or malignant," he said. "That gives us an interesting possibility that didn't exist before — to characterise the degree of invasiveness based on how the cells behave."
Ireland
The incidence of both in situ and invasive melanoma in Ireland has risen faster than most other types of cancer in the last fifteen years. The incidence of melanoma in Ireland increased by 138 per cent in Ireland from 1994 to 2010, according to the National Cancer Registry Ireland (NCRI).
Invasive melanoma rose by 79 per cent for women and by 134 per cent for men between 1994-2009, while in situ cases rose by 154 per cent for women and by 341 per cent for men within the same time period, NCRI data shows.
There were 896 reported cases of melanoma in Ireland in 2011, which represented a significant rise on the 2009 total figure of 770 cases.
Even after adjusting for socio-economic factors, the incidence of melanoma is 15-18 per cent higher in the Republic than Northern Ireland, the NCRI's All Ireland Cancer Atlas shows.
Survival rates are also much lower in the Republic compared to Northern Ireland, though overall the Republic's survival rates are about the European average. Skin cancer was the cause of 158 deaths in Ireland in 2011 and 148 deaths in 2012.
Recent research shows men are more likely to die from melanoma than women. In 2013, the Society published The Excess Burden of Cancer Among Men in the Republic of Ireland, which highlighted that even though females were more likely to develop melanoma of the skin, males were more likely to die from the cancer.
Causes
Melanoma forms in the cells that make melanin, which gives skin its colour. Exposure to ultraviolet (UV) radiation, the primary source of which is sunlight, is the main cause of melanoma of the skin. It can be present within an existing or new mole or freckle, or it can also occur in normal looking skin. The main changes to watch for in moles are changes in colour, shape and size.
Sunbed use among young people has been a big issue in Ireland. Young people are particularly at risk of melanoma as there is a 75 per cent increased risk of developing melanoma when sunbed use begins before the age of 30.
According to Dr Patrick Ormond, Consultant Dermatologist and Mohs Micrographic Surgeon, St James's Hospital, Dublin, the most common phenotypic melanoma risk factors include pale skin, red hair, tendency to freckle, and a high incidence of moles.
There is still no consensus or accepted international clinical evidence on the ideal excision margin for all types of melanoma, and it is an area that continues to evolve
While melanoma can occur at any age, the incidence of melanoma is higher in older adults, and is extremely rare in children under the age of 14 years.
Dr Ormond said while a family history of melanoma increases the risk, only five per cent of malignant melanoma cases are genetic. However, if a patient has more than two family members with a history that places them in the high-risk category, and patients who develop a melanoma need to be monitored as they are at a higher risk of developing another one, he noted.
Those who go on sun holidays are at an obviously higher risk of developing melanoma, but Dr Ormond maintained that Irish people still need to improve their sunscreen use and exposure behaviour to Irish sunshine.
Treatment
According to the Irish Melanoma Forum, the majority of melanoma patients are diagnosed with very superficial melanoma (<1mm). The mainstay of treatment for these melanomas remains excision and it is curative in the majority of early superficial spreading melanoma cases.
There is still no consensus or accepted international clinical evidence on the ideal excision margin for all types of melanoma, and it is an area that continues to evolve.
Traditionally wide margins of excision have been used to control local disease and prevent lymphatic spread, but conversely, unnecessarily large margins of excision are associated with greater morbidity and increased cost.
Three meta-analysis and review studies of all the studies to date have found no statistically significant outcomes in local recurrence, regional recurrence and in overall mortality from narrow (1cm) versus wide (3-5cm) excisions.
In Ireland, a 1cm excision margin is still widely accepted for thin melanomas, as is between 2-3cm for larger melanomas but there is limited data to support these practices.
Radiotherapy
The latest data suggests more of a role for radiotherapy in melanoma than previously believed. It can provide effective palliation for patients who develop unresectable locally recurrent or metastatic disease producing bone pain, epidural spinal cord compression, central nervous system dysfunction due to brain involvement, and/or tumour haemorrhage.
Radiotherapy has also been applied after complete excision of a primary melanoma or after therapeutic lymphadenectomy for regional nodal disease as adjuvant therapy to reduce the rate of local recurrence for certain types of melanoma. International studies show it has occasionally been used as a primary treatment for carefully selected melanomas.
Aside from the current indications for radiotherapy – post-operative cases with a risk of local recurrence, close/positive margins and satellite disease – it is also of value after surgery to the nodal basin in certain scenarios, eg, four or more nodes involved, large nodes, etc.
Metastatic
For the 10 per cent of patients diagnosed with metastatic disease, or the patients who develop distant recurrence, the prognosis is very poor: median survival for these patients is eight to 18 months depending on sub-stage.
Single agent chemotherapy (DTIC) and high dose Interleukin-2 are both licensed for first-line treatment in Ireland although their impact on overall survival is not certain. Some patients (perhaps five to 10 per cent) treated with the high dose IL-2 immunotherapy have significant responses, which are durable, but it is not possible to predict who these patients are and the treatment is toxic, according to the Forum.
Novel treatments
Until recently, there had been no approved second-line options for previously-treated patients. However, a number of promising medical treatments for these patients have been licenced in recent years, including the novel agent ipilimumab, a humanised, IgG1 monoclonal antibody that blocks cytotoxic T-lymphocyte-associated antigen 4 and a number of BRAF and MEK inhibitors.
While described as breakthrough treatments, these agents are still a long way off the success of medical treatments for other types of cancer.
Adjuvant trials are also ongoing to see if administering these drugs to high-risk patients without evidence of metastatic disease will improve cure rates over surgery alone.
There is also promising early data for combination therapies, while cytotoxic agents and antiangiogenic therapies have some activity in advanced melanoma, though there are no current accepted predictive biomarkers to select patients for such therapies, according to the Forum.
References available on request