You are reading 1 of 2 free-access articles allowed for 30 days
Meeting of minds: not your conventional conventions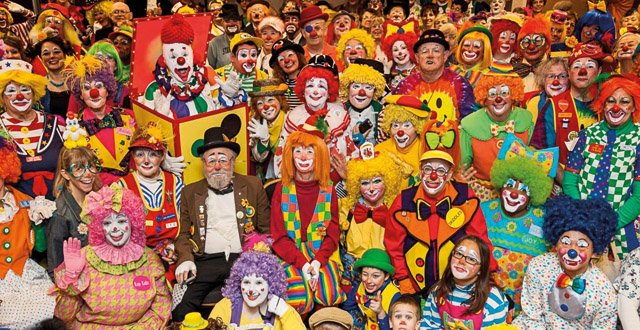 With that in mind, and as a diversion, let's take a look at some of the more unusual AGMs that take place around the world. I would recommend the website of Arthur Drooker (www.arthurdrooker.com), who has spent two years trawling the US to report on some of the most weird and wonderful conventions and is author of the book Conventional Wisdom.
With all due respect to the IMO, many of these look like they might be a lot more fun to attend and Drooker's website is a fiesta of colour and fun. Included are images from the meetings of the Association of Lincoln Presenters, which hosts a raft of Abraham Lincoln impersonators in full presidential garb, who provide realistic-looking Lincolns for re-enactments, plays and other events.
Then there's the Vent Haven Convention in Cincinnati, which must be one of the more confusing conventions, hosting as it does "the oldest and largest annual gathering of ventriloquists" in the world (the Q&A from the floor must be fun). Also included are the World Taxidermy and Fish Carving Championships; the Santa Celebration, hosted by the International Brotherhood of Real Bearded Santas; Merfest, to celebrate 'mer-people' who attend wearing mermaid tails and swim together; Anthrocon, the world's largest convention for anthropomorphics, or 'furries'; and many more. But there is a deeper psychological benefit here: one Anthrocon attendee credited the furry community and its AGM with saving her life — she had felt so isolated before attending the convention that she told Drooker she was "on the verge of suicide".
One of the wonderful things about these conventions is that most of them welcome children and while they may seem a world away from the medical arena — because they are — they do have one thing in common with our own AGMs: they help to provide a sense of togetherness.
The medical community in Ireland has become disjointed and fractured, due in no small part to financial, political and vested interests, with various representative bodies at loggerheads.
So perhaps the most important function of an annual convention is to bring people together to hopefully feel a sense of common identity and a shared sense of purpose.
Full stop — grammar time
Are you one of the many people who are constantly annoyed by grammatical or spelling errors, in print or in emails?
If so, this may provide an insight into your personality type, according to research from the University of Michigan, US. A study titled 'If You're House Is Still Available, Send Me an Email: Personality Influences Reactions to Written Errors in Email Messages' was published last month in PLOS ONE and the authors conclude that personality traits influence our reactions to written errors.
Eighty-three participants read email responses for an advertisement for a housemate. The ad read:
"Hey! My name is Pat and I'm interested in sharing a house with other students who are serious abuot (about) there (their) schoolwork but who also know how to relax and have fun. I like to play tennis and love old school rap. If your (you're) someone who likes that kind of thing too, maybe we would mkae (make) good housemates."
The participants were questioned on whether they noticed the errors and if so, how much they were bothered by them.
Further tests looked at the personalities of the participants and the social judgements they typically applied to the writer.
The authors concluded that extroverted people are more likely to overlook grammatical errors and typos, whereas more introverted people were more likely to negatively judge those who made the errors.
They wrote: "This is the first study to show that the personality traits of listeners/readers have an effect on the overall assessment — what we might think of as the social processing — of variable language. Different sets of personality traits were relevant for the two types of errors.
"More extraverted people were likely to overlook written errors that would cause introverted people to judge the person who makes such errors more negatively. Less agreeable people were more sensitive to grammos, while more conscientious and less open people were sensitive to typos."
You know who you are! All in all, one of the more interesting studies on human perception.
Paradise lost
Many thanks to the reader who sent me the following gag. Your contributions are always appreciated.
Two doctors and a medical insurance administrator die and line-up together at the Pearly Gates. One doctor steps forward and tells St Peter: "As a paediatric surgeon, I saved hundreds of children."
St Peter lets him enter.
The next doctor says: "As a psychiatrist, I helped thousands of people to live better lives."
St Peter tells him to go ahead.
The last man says: "I was a health insurance manager. I got countless families cost-effective healthcare."
St Peter replies: "You may enter. But you can only stay for three days. After that, you can go to hell."