You are reading 1 of 2 free-access articles allowed for 30 days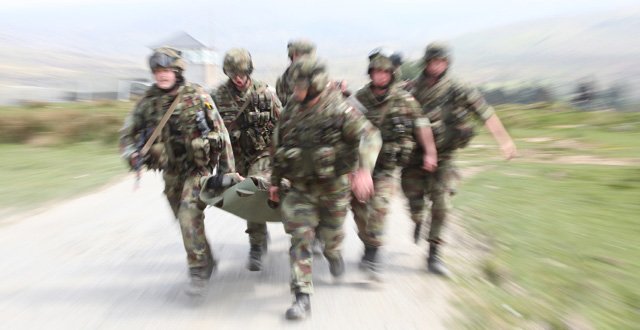 Dr Anthony Hoban and Dr Lisa McNamee are not travelling 'the road less taken', but rather one never before travelled in Irish medical specialty training. They are the first entrants into the new five-year military medicine specialty training programme, which commenced in July and will result in dual specialist qualification in military medicine and general practice.
Military medicine training is aligned with the Trinity College Dublin/HSE Specialist Training Programme in General Practice. Dr Hoban and Dr McNamee have commenced their two-year initial specialist training, which will see them rotate through hospital posts on the east coast, participate in their GP training scheme and in the military environment. The trainees are seconded to the HSE and paid as SHOs during their initial training period.
Commissioned
Dr Hoban and Dr McNamee have been commissioned into the permanent Defence Forces at the rank of Lieutenant. The Minister of State with Responsibility for Defence, Mr Paul Kehoe, attended the inaugural commissioning ceremony at McKee Barracks, Dublin, on 10 July.
As well as hospital-based training, the trainees have been undertaking basic military training at the Defence Forces Training Centre in the Curragh, Co Kildare. They were at the base when they spoke to the Medical Independent (MI) to discuss their experiences to date.
"We are on obstacle courses this week, we are shooting tomorrow, we have learned our basic weapons drills and we will progress that over the next two years — and until we are in the army full time, when we should be certainly deployable and [able] to work to the same standard as the rest of our military colleagues," outlined Dr Hoban, who is currently doing his hospital-based training at St Vincent's University Hospital, Dublin.
Col Paul Carey, commanding the Central Medical Unit; Dr Lisa McNamee; Col Dr Gerry Kerr, Director, Medical Branch; and Dr Anthony Hoban
Dr Hoban and Dr McNamee both undertook the graduate-entry medicine degree programme at the RCSI, graduating in 2013 and 2016, respectively. Each had long considered a career in the Defence Forces before deciding to study medicine. Dr McNamee, who has a background in the arts, commenced military medicine specialty training straight from her intern year, while Dr Hoban has completed basic specialist training (BST) in surgery.
"I originally thought I might spend some time in the Defence Forces and go on to study medicine," explained Dr Hoban. "It just turned out that I did physiotherapy first, and then medicine, and there was always the opportunity to be a direct-entry medical officer, but with the difficulty in terms of specialist registration, as appealing as it would be in the Defence Forces, with this new route there is certainty going forward."
Dr McNamee examined entry to the Defence Forces as an option around the time of her Leaving Certificate. However, she went on to study at Trinity College Dublin, where she attained a Bachelor of Arts degree, and later studied medicine as a graduate entrant.
"Once I started doing medicine, I always kept in the back of my mind the Defence Forces as a possibility. With the direct-entry scheme, as Anthony alluded to there, there was an unclear career progression for medics leaving the Defence Forces — I think that was the main thing that concerned me at the time, and when they brought in the military medicine scheme, I jumped at the chance to apply for that."
'The army doctor'
Director of the Defence Forces' Medical Branch, Dr (Colonel) Gerry Kerr, has been a leading light in ensuring that training in military medicine in Ireland became a reality, a process that took a pivotal step forward in 2015 when the Medical Council recognised it as a specialty. The plan is for two trainees to be taken on per year. A spokesperson for the Defence Forces told MI there were 10 applicants to the first programme.
While the training scheme is in its infancy, both trainees were full of praise for the input and support of the Defence Forces, the ICGP and the Trinity GP training scheme in determining it has been a positive experience to date.
According to Dr McNamee, training as a GP will not only provide more options in the future but expose them, as learners, to a much more diverse patient population than that of the Defence Forces, where most members are young, fit males.
Medical colleagues and friends are inquisitive about the career path they have chosen.
"You are kind of seen as 'the army doctor'… there is a lot of interest in it, with it being new and being novel," said Dr Hoban.
Dr McNamee is currently working in the emergency department at the Mater Misericordiae University Hospital, Dublin, where many of her peers are either on the GP or emergency medicine training schemes, so their interest is piqued. "Training schemes are so well established that a new one is nearly unheard of, especially in the career lifetime of the people I am working with… people are fascinated and they go and look up more about the scheme and they come back with more questions," she said.
Both doctors said there have been no negative reactions, but a certain amount of surprise.
Dr Hoban commented: "I have had a lot of questions from people who are maybe well into their SpR training in medicine and surgery, not fathoming why you would see this as a viable career choice because it certainly breaks from the norm — you know, you do your BST and HST in medicine or surgery or any of the allied specialties in medicine, or GP, and this is something that is new." But the degree of certainty and greater work/life balance, as well as huge variety, offered by the role made his decision a "no-brainer", he explained. In five years' time, Dr Hoban reflected, he will have completed the training programme and potentially will have triple registration in the years ahead, as he is aiming to concurrently train in sports medicine.
Dr McNamee agreed that "there was a certain amount of surprise among people", principally because the military medicine programme is such a new development. She believes the training scheme will facilitate her in building a broad range of skills in medical practice and in developing subspecialty interests, her own being in areas like pre-hospital and humanitarian medicine.
Service commitment
After their two-year initial training, the trainees will proceed to higher specialist training, which will be conducted over three years. During this time, trainees will be promoted to the rank of Captain. According to current rates, year-three trainees will earn €60,769, rising to €64,485 by the fifth year of training (full details of pay and allowances are available in the Defence Forces' document Conditions Governing the Appointment of Trainees in Military Medicine in the Defence Forces Medical Branch 2016). Training will also involve some overseas deployments and placements with the Air Corps and Naval Service.
There is a three-year service commitment to the Defence Forces after completion of the training programme. Thereafter, the doctors may either seek to stay on, or practise in a civilian environment. As an 'army doctor', duties will include supervising military activity, doing military medical assessments, general practice and occupational medicine clinics.
Both of the doctors cite the team environment within the Defence Forces as a key 'pull factor'. According to Dr McNamee, there is a strong sense that the Defence Forces is a vocational organisation, where "you are made to feel valued, you are made to feel completely part of the team here and it is not a given in a hospital environment".
Dr Hoban also described "a fantastic sense of camaraderie" that he said is not always apparent in healthcare settings. The role is also not sedentary and you are expected to be "military-fit".
They hope to see more doctors entering military medicine training in the years ahead.
Dr Hoban and Dr McNamee will be available to discuss military medicine at the Medical Careers Day 2017 on Saturday, 23 September at The Printworks, Dublin Castle, Dame Street, Dublin 2.
For more information on military medicine training, visit the following link on the ICGP's website: www.icgp.ie/go/become_a_gp/faculty_of_military_medicine.
Defence Forces is recruiting for medical officers
There are a total of 188 personnel serving, and an establishment for 238, in the Medical Corps of the Defence Forces. Vacancies include medical officers as well as administrative staff, said a spokesperson for the Defence Forces.
A recruitment drive has recently commenced, specifically targeting doctors, and this competition will run until the end of the year. There will be positions for at least six fully-qualified doctors, the spokesperson outlined.
The Defence Forces has entry criteria relating to age requirements, physical fitness and security clearance, which could render a candidate as being deemed ineligible to join.
According to information released following a parliamentary question in April, there were 21 personnel in the Defence Forces trained as doctors, four as dentists, six as nurses, three as pharmacists, eight as advanced paramedics, and 108 as emergency medical technicians. Some 1,543 personnel were trained as military first-responders, representing the biggest grouping of healthcare-trained personnel in an overall figure of 1,755. Additionally, as part of recruit and cadet training, all new entrants to the Defence Forces complete a first aid response module.
The whole-time equivalent workforce of the Defence Forces stands at around 9,000.
For more information on the recruitment campaign, visit the Defence Forces' website via the following link: www.military.ie/en/careers/specialists/medical-doctor/.