You are reading 1 of 2 free-access articles allowed for 30 days
Medical help from Ireland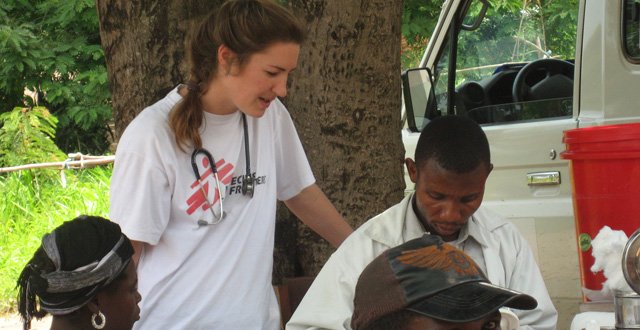 Dubliner Dr Niamh Allen recalls to the Medical Independent (MI) how she tended to the war-wounded in a bunker at a UN refugee site in South Sudan as bullets flew overhead. "In the bunker I felt safe enough and wasn't thinking about the risk to us, but rather the terror that that sound must instil in people not lucky enough to be in a bunker surrounded by sandbags."
Dr Allen's previous work in other African nations had helped to prepare her for such an experience. Having qualified in 2007, she had already worked during her summers in Malawi, Uganda and Zimbabwe, so she knew what she was getting into eight years later when she volunteered to work with MSF in war-torn South Sudan.
She also had an affinity with that part of the world, having been born in South Africa. "I always had a feeling that things were so unfairly distributed in the world, whether it was from what I saw around me or values that my upbringing in Ireland [from the age of 10] instilled in me. I studied medicine with the intent of working in the humanitarian sector, so MSF was always on the cards."
She did three years of clinical medicine before her first mission with MSF. During those years, she worked for three months in the Democratic Republic of Congo (DRC) with another NGO, three months at a trauma hospital in South Africa as a public employee, and also completed a diploma in tropical medicine.
Conflict
"I did my first mission with MSF in 2011, which was for 10 months in DRC, a second mission in Syria from January to March 2013 with Médecins du Monde (MdM), a third mission with MSF from February to March this year in Sierra Leone (during the Ebola crisis), and then a fourth mission to South Sudan from April to June." In between these missions Dr Allen worked in Ireland in hospital medicine, specialising in infectious diseases.
Her mission to South Sudan took her to a country consumed by an ongoing conflict that has displaced about two million people since 2013. While South Sudan became the world's newest nation in 2011, it remains riven by civil war. Civilians are bearing the brunt of the fighting, which is cutting thousands off from access to basic healthcare and food.

Dr Niamh Allen
MSF runs 19 projects across the country, providing free healthcare to those affected by war and poverty, and has also responded to a cholera epidemic in the capital, Juba. Dr Allen worked at the UN IDP (Internally Displaced Persons) Protection of Civilians site outside the town of Malakal in Upper Nile State. It was a refuge for thousands of new arrivals fleeing violence in the surrounding areas, bringing the population of the site to well over 50,000.
"We spent a fair bit of time in the bunker in my last month when the fighting was escalating outside and shelling and artillery could be heard most days quite close by," Dr Allen tells MI.
The conflict also meant additional challenges in getting medical supplies. "When the fighting really escalated in my last month there, we had challenges of getting supplies in as the light aircraft, which was the only way in, were often cancelled due to insecurity. But MSF have a very good supply system so we would always be aware in advance as to which things were running out, so we could rationalise use and cross-over with other items that could be interchangeable.
"We had a large kala-azar — aka visceral leishmaniasis [the disease is the second-largest parasitic killer in the world after malaria] — programme, a large TB cohort, and began testing and treating HIV. The hospital was also full of children with severe, acute malnutrition but also children and adults with malaria, respiratory infections, diarrhoea and dehydration, and many parasitic infections — many conditions that are treatable but can also easily kill, and did. About 70 per cent to 80 per cent of inpatients during my time there were children."
An average day for Dr Allen meant working from about 8am until almost 8pm. It began with morning ward rounds on all patients in the 50-bed hospital and usually there were at least 30 inpatients. "In the afternoon, we had ward rounds again on the very sick patients. In between, we were seeing outpatients as part of our TB and kala-azar programmes, and also running an emergency department and trying to do teaching and training sessions with the staff a few times a week.
"Most days we would also treat minor, and at times major, injuries from war. One incident that still stands out clearly for me was that of a young woman who had walked five days to get to the safety of the camp, coming from a different region. She came to me late one evening in the hospital with her scalp split open, needing multiple stitches. She had gone to the water point to collect water but on joining the queue, the other women didn't recognise her and accused her of stealing their water and hit her over the head with a brick. What more evidence could you need of such complete desperation? These women were so desperate to get a few litres of water to make sure their children could eat, and at a push also wash, that they were completely threatened by someone new.
"Towards the end of my stay, the cholera season was beginning, which is absolutely desperate in a camp of over 30,000, as it has the potential to spread like wildfire, with people sharing close living quarters, with families piled on top of each other in tiny tents and sharing latrines with thousands of others."
The living conditions were also challenging, as Dr Allen explains. "We lived in tents and the hospital was also a tent but was bright and airy and clean and had a high roof and the atmosphere was surprisingly uplifting — an atmosphere created by people caring for each other and looking out for each other, not just the MSF staff but also the mothers of the children taking turns to mind children while one went to the market, or helping to wash and care for sick babies whose mothers were also sick. It was an atmosphere of love and co-operation."
But grief, too, was a constant. "There were also really sad moments, incredibly sad moments when you can't even keep your own tears behind your eyes." She describes one such moment: "Near the end of April, during a week of intense fighting, a 16-month-old boy with severe, acute malnutrition came from a village across the river, almost dead with dehydration.
"We managed to stabilise him on the Tuesday afternoon that he came and rehydrate him, which is quite difficult in a malnourished child, as their heart is weakened and if you give the fluids too quickly, it is easy to push them into heart failure. So we were still watching him really carefully and were delighted that he had done so well. Then they started shooting and shelling, so the ex-pat nurse and myself had to leave the hospital to go to the bunker, and in the hours that followed, he deteriorated and died. And what was also heartbreaking was that for days his mother occupied his bed, waiting for the fighting outside the camp to calm down so that it would be safe for her to travel back to her village."
Coping
Amid the horror, Dr Allen found ways of coping. "My memory of it now is of the laughter and the supportive environment. That's what helped me to cope. The incredible South Sudanese national staff I worked with are a credit to themselves and to their country, a country that has given them so few opportunities to learn and strengthen their skills, and yet here they are risking their own lives to look after their own people, attending on days off to help out or come to my teaching sessions."
She carries happy memories, too, of the patients. "There was their disproportionate gratitude for basic healthcare that much of the world takes for granted. Their way of smiling and laughing and supporting each other, the way they looked after the mothers whose children died, the way they looked after children whose mothers had died."