You are reading 1 of 2 free-access articles allowed for 30 days
Living well: The AIDS West HIV and Ageing Conference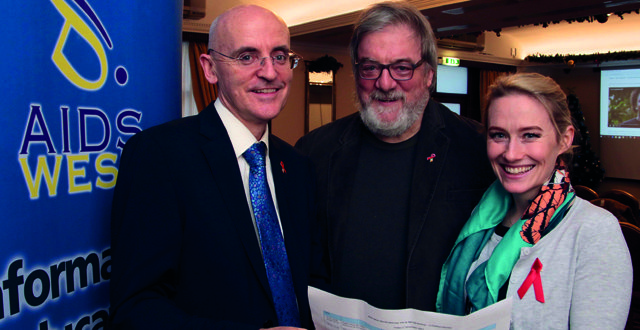 AIDS West, or 'Western AIDS Action Alliance' as it was then known, was set up in May 1987 after a public meeting in the resource centre in Waterside in Galway. Two exceptional and kind people named Dr Evelyn Stevens and Dr Angela Savage were the co-founders and we are very grateful to them — their insight, energy and commitment then has made AIDS West the organisation that it is today.
AIDS West has served the local community with care, compassion and expertise ever since. Our role has evolved over those years and expanded from that initial group of dedicated volunteers into a professional and committed team.
We continue to work every day to support those impacted by HIV and to give clear and up-to-date information and support to those with questions or concerns related to HIV and Sexual Health.
Our primary function is to provide support for HIV-positive people. However, we also deliver extensive education programmes and information in relation to HIV and sexual health. Our aim is to encourage the development of openness and honesty around HIV and sexual health issues in Ireland.
Figure 1: Dr Andrea Holmes's slide on ageing with HIV
AIDS West is known as a centre for reliable, informed, up-to-date information regarding all aspects of HIV and sexual health. We offer evidence-based skills training and support for people with issues about HIV and sexuality and relationships. Through our education programmes, we look to limit future transmission of the HIV virus and reduce the impact of the negative consequences of sexual activity, such as the transmission of sexually-transmitted infections (STIs) and potential unplanned pregnancies. Our new free, community-based, rapid HIV testing service will encourage easier access to HIV testing services, with the aim of reducing unknown onward transmission of the virus, whilst also linking people into treatment and support services earlier.
Conference
Our conference took place in the Ardilaun Hotel, Galway, on 1 December, World AIDS Day 2017, and discussed many medical and social aspects of HIV and ageing. Dr Andrea Holmes, Consultant in Genitourinary Medicine and Infectious Diseases at the Bon Secours Hospital, Galway, and Clinical Director, Galway Sexual Assault Treatment Unit, looked at HIV and ageing from the medical perspective. Dr Helen Tuite, Consultant in Infectious Diseases and General Internal Medicine in University Hospital Galway, focused on HIV and the continuum of care and asked the question: 'How is Ireland doing'? Chair of the UK National HIV Nurses Association, Mr Shaun Watson, gave attendees an opportunity to discuss issues around sex and relationships with a focus on undetectability, disclosure and when to tell, how to tell someone about HIV, negotiating safer sex, sexual dysfunction and low libido. Dr Diarmuid O'Donovan, Director of Public Health, HSE West, Galway, and Senior Lecturer in Social and Preventive Medicine, NUI Galway, focused on HIV and AIDS through a 'Global is Local' perspective. Finally, author and HIV patient Ms Liz Martin outlined how she chronicled a very traumatic life in the book published by AIDS West, Still Standing: An Irishwoman's Story of HIV and Hope.
The event was aimed at people living with HIV and their families and friends, GPs, nurses and all frontline healthcare staff and sexual health staff who work with and support people living with HIV. In addition, researchers, community organisations, drug services, counselling services, policy-makers and commissioners, community leaders, community advocates and others with a strong professional interest in HIV and ageing were invited to attend.
Ageing healthily
During her presentation, Dr Holmes asked the question: 'What can be done to age healthily with HIV?' and summarised that it is essential to:
Know your status early.
Start and stay on HAART (highly-active antiretroviral therapy).
Know you cannot change your age or genetics.
Do the same as people living without HIV.
Dr Holmes discussed life expectancy for HIV patients and highlighted that:
Twenty-year-olds who started antiretroviral therapy (ART) in 2010 are projected to live 10 years longer than those who started HAART in 1996.
The expected age at death of a 20-year-old patient starting HAART after 2008, with a low viral load and after the first year of treatment, is 78 years — similar to the general population.
Improvements in life expectancy are only partly due to the direct effects of ART in reducing viral load and increasing CD4 cell counts.
Half of the reduced mortality seen is due to reductions in non-AIDS-related diseases, better medical care generally and reductions in 'unnatural deaths'.
Injecting drug users were the one group who did not experience improvements in mortality.
Dr Holmes concluded by suggesting that there is a real need for a well-designed study of patients who acquire HIV now in the setting of modern treatment regimens and strategies.
Figure 2: HIV Target Framework
Continuum of HIV care
Dr Tuite looked in detail at the continuum of HIV care and described a conceptual framework that enables countries to monitor the effectiveness of key areas of HIV response (see Figure 2). The framework comprises a series of stages looking at the numbers of people living with HIV, patients accessing ART and those achieving viral suppression.
Dr Helen Tuite summarised that for targets 2 and 3, Ireland is doing really well, but added that improved data collection is needed. A national project is now underway, with extensive collaboration from all involved.
Sexual activity in the older population
Central London Community-based HIV clinical nurse specialist Mr Watson looked at sexual activity in the over-50s population in Ireland and found:
The majority of adults aged over 50 in Ireland are sexually active, with 59 per cent reporting they had sex in the past 12 months.
The majority of sexually-active adults were sexually active. once or twice a month (36 per cent of sexually-active adults) or once or twice a week (33 per cent of sexually active adults).
Adults aged 50 years and over who consider sex to be an important part of their life are also more likely to be sexually active, with those who consider sex to be very or extremely important being sexually active most frequently.
Being sexually active is less likely in older age groups, with 75 per cent of those aged 50-to-64 being sexually active, compared to 23 per cent of those aged 75 and over.
Mr Watson investigated further to ascertain 'What's different with ageing, sex and HIV' and suggested the following:
Fear of rejection, isolation, passing on HIV.
Embarrassment — living with HIV, body image.
Performance anxiety — inability to relax, erectile dysfunction and impotence.
Dealing with issues such as aches and pain, side-effects.
'Nothing?'
The local and global picture of HIV
Dr O'Donovan looked 'globally and locally' at HIV and expressed concern with figures related to HIV and adolescents in particular. In 2016, data shows that there were 260,000 new HIV adolescent infections (contributing to a worldwide total of 2.1 million adolescents living with HIV). It is of great concern that AIDS-related deaths among young people are showing no signs of decreasing, with 55,000 AIDS-related adolescent deaths in the year 2016, with Sub-Saharan Africa accounting for nine-in-10 adolescent AIDS-related deaths.
Personal experience
Ms Martin described her journey living with HIV for 26 years, stating that she had been told she was a bit of a 'medical mystery'. In 1991, at the age of 24, she fled her abusive partner who was HIV-positive. With three young children — and a fourth on the way — all they had were the clothes on their backs and £10. She described how when she tested HIV-positive, her GP told her he had never met anyone HIV-positive before and he said "it will be a journey for me also and we can do this journey together". Ms Martin recalled that "he was a wonderful man and so supportive through the years", as they regularly shared articles and information they had found about the disease. Ms Martin is now involved in educating people about HIV and speaks regularly at conferences and training events. She described how she is a "walking advertisement for living long and living well with HIV, and that it is no longer the death sentence it once was".
Summary
The HIV and Ageing Conference was an excellent opportunity once again for AIDS West service users to ask medical experts in the field a range of challenging questions. There was informative and lively discussion throughout the day and many personal experiences were shared.
The key message from the conference was one of real hope — hope that if a person living with HIV is diagnosed early, accesses medical treatment and adheres to treatment accordingly, then there is every reason that they will live a long, healthy and active life, similar to the general population.