You are reading 1 of 2 free-access articles allowed for 30 days
Lenovo ThinkPad Helix 3701-46G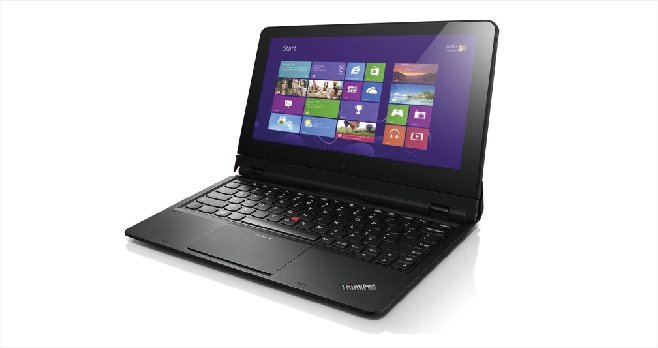 With the ThinkPad Helix, you get the purposeful design, trusted quality and the relentless innovation that you've come to expect from Lenovo. Incredibly versatile, use it in tablet, stand, tent, laptop, or desktop mode — it is a perfectly engineered device that offers a seamless user experience and sets a new standard for two-in-one computing.
Intel Core i5 3427U 1.8GHz.
11.6" Full HD TFT LCD — 1,080p.
Touchscreen.
4GB DDR3 memory.
256GB SSD hard drive.
Windows 8.1.
Intel HD Graphics 4,000.
Up to 10 hours' battery life.
Use as a tablet or laptop PC: Use your Helix as a tablet or snap it into an external keyboard to use it as a fully-capable laptop PC, or display in tent or stand modes. Should you want to use it as a desktop, simply attach it to a dock for use with a larger monitor, full-sized mouse and keyboard — you get adaptability on your terms.
Built for business and for life: Windows brings together everything you do across all your devices — whether at home, at work, or on the go. With Windows 8.1 Pro, you get everything in Windows 8.1, plus enhanced security features like trusted boot, improved biometric support, backup to SkyDrive, anti-malware, device encryption and remote business data removal, as well as simplified technology like tap-to-print, auto-triggered VPN, SkyDrive integration and more.
Full HD display: The Helix's stunning display uses in-plane switching (IPS) technology for high brightness, vivid colours and nearly 180-degree viewing angles.
Available to buy on special offer at
Right-Click, 70 Camden St,
Dublin 2 (01) 475 96 81
for just €799 (RRP €1,200)
Buy online: www.right-click.ie/shop
Email: support@right-click.ie
Web: www.right-click.ie
Call: (01) 4759681
Communicate your health apps — accessible resources for healthcare professionals
Launched in November 2014, 'Understand Me' and 'Speak To Me' are free mobile apps developed in association with the Communicate Your Health (Ireland) Partnership and supported and funded by the HSE National Social Inclusion Unit and the Irish Hospice Foundation.
The apps are accessible resources, designed to assist healthcare and palliative care professionals in caring for patients from diverse ethnic, religious and cultural groups and feature good practice guidelines and information for person-centred intercultural care and the provision of interpreter services.
Background information and key findings
The Interpreters in Palliative Care development project 'On Speaking Terms — Matters of Life and Death' successfully identified the challenges faced by palliative care professionals and community health interpreters when communicating around matters of life and death with patients who have limited English proficiency and who may also come from diverse ethnic, religious and social groups.
Attitudes to talking about death and dying can vary considerably across cultures and while palliative care services are well developed in Ireland, palliative care can have differing meanings and levels of service in other cultures and countries.
Understand Me
The Understand Me mobile app has been developed to assist healthcare professionals caring for people from diverse ethnic, religious and cultural groups who may also have limited English proficiency (LEP).
It features key information on caring for ill and dying patients from specific ethnic, religious and cultural groups, based on the HSE National Social Inclusion Unit guide, Health Services Intercultural Guide: Responding to the Needs of Diverse Religious Communities and Cultures in Healthcare Settings.
Key features
Key information on a wide range of ethnic, religious and cultural practices and beliefs.
Guidelines and information for palliative healthcare professionals working with interpreters:
Advice on assessing language needs of patients.
Best practice for working with interpreters.
Direct access to further resources and information.
Links to HSE National Social Inclusion Unit resources including online tutorials:
Direct link to Health Services Intercultural Guide: Responding to the Needs of Diverse Religious
Communities and Cultures in Healthcare Settings.
Direct link to On Speaking Terms: Good Practice Guidelines for HSE Staff in the Provision of 
Interpreter Services.
Important announcements about health-related community events can be delivered straight to the app.
In-app GPS directions and contact details to all listed palliative care services in Ireland.
A facility for feedback via one-tap calling or email. 

Speak To Me
The Speak To Me app arose from the findings of the 'On Speaking Terms — Matters of Life and Death' palliative care development project.
Funded by the Irish Hospice Foundation and developed with the assistance of the Irish Translators and Interpreters Association (ITIA), the primary focus of the app is to improve the quality of palliative care delivered to people with LEP and to assist community interpreters working in a palliative care context.
Key features
ITIA Code of Ethics for Healthcare Interpreters.
Good practice guidelines for interpreters and healthcare professionals.
A guide to self-care strategies for working in stressful interpreting contexts.
Links to an information video about palliative care featured in the Irish Association of Palliative Care
(IAPC) website.
Key information about core aspects of palliative care.
Both apps are free to download from the App Store (Apple) and Google Play Store (Android).
Feedback request
Have you used or encountered these apps?
In order to build in any necessary refinements and ensure they are working to optimum capability, we are seeking feedback from any healthcare staff with first- or second-hand experience using the apps. To share your experiences and thoughts, please contact: Caoimhe Fox,
caoimherosiefox@gmail.com.
For further information on the apps contact:
Dr Una MacConville, una@unamacconville.com.