You are reading 1 of 2 free-access articles allowed for 30 days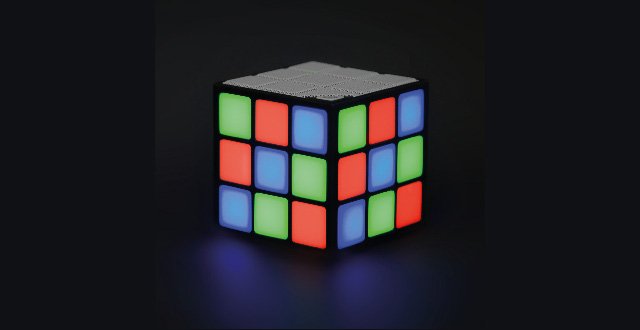 The speaker is of course Bluetooth so it is easy to connect to your smartphone or any Bluetooth device. If you want to answer your phone calls via the speakers, but don't necessarily want to hold your phone while walking around, you can answer through the Cube speaker and simply hang up when you are finished. The LED Cube Speaker looks like the famous Rubik's cube puzzle and the super bright LED lights are extremely sharp.
The Cube has a 3-watt, built-in rechargeable speaker and has impressive sound quality.
For a portable speaker with a difference, you can't go wrong with one of the most stylish speakers on the market.
€39.95 @ www.thegadgetstore.ie and @ Dundrum Town Centre
Buddy Tag
If you have ever been in one of those situations when your little one has decided to wander off on their own, or if you know how scary that would be, then you will appreciate how useful this little device is.
Children have a habit of 'doing a Houdini' at the most inopportune times. The Buddy Tag is a great device to help you monitor and keep your kids safe. The tag is worn like a watch on the child and as soon as they go out of your proximity, a distance set by you, the tag sends an alarm to your phone. The distance can be set up to approximately 100ft. We tested it here and it went to a distance of about 100m. Buddy Tag also comes with a panic button that the child can press when they need help. The Buddy Tag also sends you location maps and times of where your child is by email. This is most useful if they are with a nanny or carer who is bringing them to activities.
This is a great little product that will provide peace of mind when out and about with your little ones, whether it is a walk in the park or shopping.
€69.95 @ www.thegadgetstore.ie and @ Dundrum Town Centre
iLounge
It is all about being comfortable when you use your tablet.
The iLounge pillow holds your tablet in place, so you don't have to. With its unique and ergonomic design, this tablet holder can be used anywhere. Compatible with most tablets, the iLounge is the perfect accessory to keep you and your tablet right where you want it.
€29.95 @ www.thegadgetstore.ie and @ Dundrum Town Centre
SOS Button
Another safety-conscious gadget from B Cool! because personal safety is so important, especially when you are out on your own.
The SOS Button works in conjunction with a free app that sends an alert with your location to your emergency contact instantly. Alerts can be received via text, email, audio message or call. Pre-load your SOS message and send to up to five contacts. This is an essential app that can benefit the whole family, from kids, to teenagers and adults.
You never know when you will need a helping hand, so be prepared with the SOS Button.
€25 @ www.thegadgetstore.ie and @ Dundrum Town Centre