You are reading 1 of 2 free-access articles allowed for 30 days
Learning lessons from an outbreak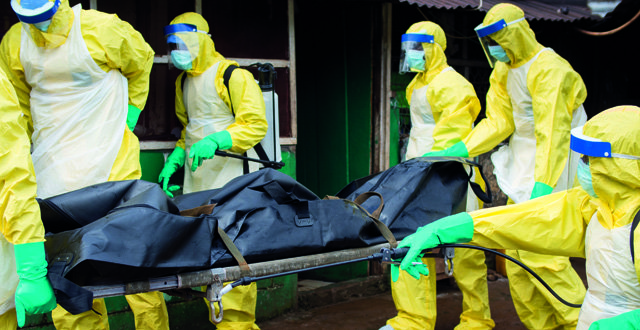 The normally rather sober Financial Times recently carried an opinion piece that declared "the Ebolapocalypse will soon be over". Last month, Guinea's last-known Ebola patient was released, and the country is counting down the days to being officially declared Ebola-free.
Although last week saw worrying reports of a 'flare-up' of new cases in Liberia, experts are hopeful that this crisis seems to be winding down.
The human cost of Ebola has been significant. According to the World Health Organisation (WHO), there have been 28,634 cases of Ebola virus disease (EVD) and 11,314 deaths as of 15 November, during this particular outbreak.
Many healthcare workers have died too, especially those from the West African countries themselves and particularly at the beginning of the outbreak. The American Centres for Disease Control and Prevention (CDC) report that over the course of the epidemic in Liberia, 378 healthcare workers had confirmed cases of Ebola and 192 died (case-fatality rate 50.8 per cent).
In May, the WHO declared Liberia to be Ebola-free and followed that up in November with a similar welcome announcement for Sierra Leone. In October, at the Seventh Meeting of the International Health Regulations (IHR) Emergency Committee regarding the Ebola outbreak in West Africa, the WHO's Director General Dr Margaret Chan concluded that "the 2014-2015 Ebola outbreak in these West African countries continues to constitute a public health emergency of international concern (PHEIC)". However, many experts believe that at the next IHR meeting, the PHEIC might be declared over.
The Medical Independent (MI) has been told that this will be the moment that the Department of Health will launch an official review into the Irish response to the Ebola outbreak.
"This review will examine the appropriateness and effectiveness of the Irish response, including the whole-of-Government response, governance structures, scientific advice, strategic decision-making, the operational response, communications and will take into account reviews of the European and international responses," a Department spokesperson tells MI.
But although experts warn against any complacency, now is an opportune time to take stock of the national and international response over the past 18 months.
Learning
Immunologist Dr Peter Doherty was awarded the Nobel Prize for Physiology and Medicine in 1996. He is the author of Pandemics: What Everyone Needs to Know (2013) and has a deep knowledge of the history of similar crises. So what have been the significant lessons from the most recent outbreak?
"I haven't been close to the action, but one lesson I take from it is that we need to find a mechanism for funding the development and human testing of antiviral drugs," Dr Doherty tells MI.
"The evidence that some apparently-recovered patients are persistently infected, and can suffer a measure of relapse, makes this even more urgent."
The Nobel Prize-winning Australian concludes that there is also a public health lesson on communication.
"The other lesson, which applies equally to HIV/AIDS, is the necessity of reaching out and providing good information and education to people, especially authority figures, in communities where Ebola could potentially be a threat," he says.
Other scientific experts contacted by MI also point towards vaccine development as an area where the international community must redouble its efforts.
Prof Sunetra Gupta, Professor of Theoretical Epidemiology at Oxford University's Department of Zoology, UK, is the author of Pandemics: Our Fears and the Facts (2013).

Prof Sunetra Gupta
"I think the biggest lesson learnt was that having an Ebola vaccine ready to deliver at the outset would have saved many lives," Prof Gupta tells MI.
"It would have cost maybe $50 million and saved $5 billion."
Experts closer to home have also begun to review the national and international reaction to the outbreak.
Prof Cormac Ó Gráda from the School of Economics in UCD recently delivered a paper titled On Plague in a Time of Ebola at a conference in Dublin.
In the paper, Prof Ó Gráda compares the recent outbreak to the 14th Century Black Death outbreak. The paper notes that early in the Ebola outbreak, both the WHO and the US CDC econometric simulations regarding the impact of Ebola (in terms of mortality and finance) proved to be significant overestimations.
Prof Ó Gráda tells MI that he believes it is hard to know whether these organisations will take into account this record of overestimation in any future outbreak. However, he adds that one result of these predictions was "probably" positive, in that the shock value helped to stimulate the international public health response.
Criticism
The Irish health service's response to Ebola during the second half of 2014 was criticised by some.
In late October 2014, the IMO wrote to the HSE's Director General Mr Tony O'Brien in response to the EVD issue. The union had a number of concerns with the health service readiness and insufficient staffing levels.
"The IMO pointed out that there was insufficient public health doctors' capacity to respond as effectively to this type of incident as should be the case," an IMO spokesperson told MI.
"And [we] also made the point to the HSE that the emergency departments were not physically structured or resourced to take in a potential case of EVD, should one have arisen."
The establishment of the EVD Advisory Committee (see panel) and the subsequent initiatives by the HSE on Ebola improved the situation.
International humanitarian organisation Concern Worldwide recently published a hard-hitting short report titled The Politics of Plague, which criticised national governments, including Ireland and international agencies.
Like many other NGOs, Concern, which was on the ground throughout the outbreak, believes the response moved too slowly at first.
"It was not recognised early enough and that was down to surveillance, to a certain extent," Dr Rosalyn Tamming (PhD), Health and Research Specialist, Concern Worldwide, tells MI.
"MSF would have detected it earlier and people did not really respond to them. There was a feeling that when it was recognised it would go away, because we had not had a big outbreak before. There was definitely a delay."

Waterloo cemetery, not far from the city of Freetown, is one of two burial grounds which were authorised for use during the Ebola outbreak of 2014/15 in Sierra Leone. It is managed by Concern Worldwide
But while there has been much criticism of the response of international organisations like the WHO, Concern Worldwide points to structural deficiencies at national level.
"There was a lack of capacity at a health facility hospital level. We know from working in these countries that the ministry of health is extremely weak," Dr Tamming says.
"In Sierra Leone, where we have a big health programme, maternal mortality is one of the highest rates in the world. It just has a decimated health system following on from the civil war.
"We were there as an NGO on the ground, but we are not a medical NGO. In previous outbreaks, like cholera outbreaks, we always take the role of supporting the medical NGOs. So for instance, if MSF [Médecins Sans Frontières] set up a cholera treatment centre, we might provide the water services, do the community education side to it. But in this circumstance, a lot of NGOs either left or went into hibernation. There was a huge mass exodus of non-essential staff. "
In terms of recruitment of support and medical staff, Dr Tamming says that this crisis was "much more difficult" than previous ones.
"We would have our sort of 'usual suspects' that we call on. But the difference with this was that we needed a much higher percentage of medical staff than we normally would."
In terms of support staff, "many said 'no' because of the nature of the outbreak, because there was more of a personal risk to them".
Concern engaged with the HSE, the Irish Defence Forces and other external bodies to source staff for potential secondment, but this proved difficult.
"In terms of the HSE and the Defence Forces, it wasn't a lack of willingness; they did come in and talk to our staff," she tells MI.
"They did have the register for returning aid workers to monitor them. But there was red tape. It just seemed to us that the [UK's] NHS was much more able to facilitate people going.
"Obviously, there are things like when they come back, they can't look after a patient for 21 days, so there is a huge cost associated with that, so you can understand the reluctance in terms of having to replace people, etc. So it certainly was a bit of a difficulty."
But if the process of recruitment was challenging, now with so many healthcare workers who have experienced this campaign, will it make it easier in any future outbreak?
"I think it will. Globally, there is now a huge pool of people who have experience in that outbreak and know the protocol. And some of the systems are quite technical," states Dr Tamming.
'It just seemed to us that the NHS was much more able to facilitate people going [abroad]'
"In the larger scale of things, there were not many international healthcare workers who got sick or died; it may still put people off, but it may be easier next time round to get people to go."
Concern Worldwide is also critical of national governments, including Ireland, who introduced travel bans and other measures beyond those called for by the WHO.
"The damage it can have is that it sends out the message that these countries are no-go areas," maintains Dr Tamming.
"It caused huge problems in terms of us getting staff in or out. A big issue was that a person could say 'okay, I will go, but if I get sick will you be able to evacuate me?' and the answer was 'no', because we were not sure about getting flights in to do that. Now, eventually that was sorted out, but that was a big issue in the beginning, trying to get staff in and reassure them.
"Getting supplies in was another big story; suits and burial bags were all impacted. And the economy of the country also suffered because of this. It did have a huge impact on the countries."
Finger on the pulse — MI Ebola exclusives
Over the past year, this newspaper has broken a number of exclusive stories on the Irish response to the Ebola crisis.
Last month, MI reported that a special medal or another form of recognition for Irish military, medical and aid workers who have worked in Ebola-hit countries is under consideration at Governmental level. The Department of Defence said that recognition for Irish military and civilians is "currently under consideration".
In September, MI revealed that 118 registered humanitarian aid workers had returned to Ireland after working in Ebola-affected countries and had been registered on the HSE Ebola register.
In August, MI reported that a total of €72,000 was spent on the personal protective equipment (PPE) supplied to GPs following the Ebola outbreak last year. Approximately 3,200 GPs received PPE packs.
Talking Ebola — preparing for a pandemic
Concern Worldwide's report The Politics of Plague is critical of what it says were governments' knee-jerk reactions to sensationalist Ebola media coverage, with the introduction of travel restrictions and other measures.
However, the minutes of the Irish EVD Advisory Committee do not show any significant concern for taking actions in reaction to newspaper headlines or shrill radio phone-in shows.
The Committee was established in September 2014 in response to the crisis and its main function was to "advise on clinical, infection prevention and control, laboratory, and public health management of patients with EVD in Ireland". The minutes of the Committee's regular meetings have been seen by this newspaper following a Freedom of Information request.
Each meeting of the Committee began with a broad overview of the global EVD situation and personal reports from Irish doctors who had returned from West Africa were heard. Issues such as the EVD algorithm for acute medical settings, waste disposal and management, controls for after-death care, the management of paediatric cases, the introduction of protective gear for GPs and public information in Ireland were all discussed regularly.
At the early meetings in late 2014, the international news was grim, with a constant rise in Ebola deaths reported. However, the matter-of-fact minutes speak to a committee that did not appear to have been unduly panicked in any way, despite the then increasingly excitable media and public reaction there was to the Ebola outbreak.
At the 22 September 2014 meeting, three Irish doctors who had worked with MSF and the WHO in West Africa gave presentations of their experience; Dr Gabriel Fitzpatrick, Dr Margaret Fitzgerald and Dr Diarmuid O'Donovan.
The possible establishment of an Ebola helpline was discussed at a meeting in October 2014, however "it was decided that it is not feasible at the moment, as there are no resources available".
At the final meeting of 2014 (on 16 December), there was a discussion around "non-compliance of EVD contacts and whether information on one person can be used to protect another's life". A member of the Committee contacted the Data Protection Commissioner "about issues such as obtaining passenger manifests for flight, confirming the legal basis for seeking this information". According to the minutes, the Data Protection Commissioner furnished the Committee with the relevant section of the Data Protection Act to cover these areas.
At the meeting of 23 January 2015, the Committee discussed a then-recent Ebola drill that had taken place at Dublin Airport. The scenario featured a mock patient who was sick and taken to a unit "where staff fainted and had donned PPE. This exercise included the gardaí, National Isolation Unit (NIU), airport staff and HPSC". At the same meeting, in a discussion regarding private hospitals, it was decided that in the case of any Ebola case in a private hospital, the HSE communications team would deal with the media.
Alarm bells: 'The cost of the delay was enormous'
The lack of early response from the WHO and the rest of the international community to the Ebola outbreak has been criticised by many sources over the past year.
However, last week one of the most critical reviews to date was published by a panel convened by the Harvard Global Health Institute and London School of Hygiene and Tropical Medicine.
The hard-hitting analysis of the global response to Ebola was formulated by an independent group of 20 experts from around the globe and published in The Lancet.
The panel was chaired by Prof Peter Piot, Director of the London School of Hygiene and Tropical Medicine and co-discoverer of the Ebola virus.
"We need to strengthen core capacities in all countries to detect, report and respond rapidly to small outbreaks, in order to prevent them from becoming large-scale emergencies," said Prof Piot.
"Major reform of national and global systems to respond to epidemics are not only feasible, but also essential so that we do not witness such depths of suffering, death and social and economic havoc in future epidemics.
"The AIDS pandemic put global health on the world's agenda. The Ebola crisis in West Africa should now be an equal game-changer for how the world prevents and responds to epidemics."
Some of the authors were particularly critical of the role of the WHO and its slowness to act as the outbreak began. This is a criticism that has been echoed by a number of NGOs like Concern Worldwide and medical NGOs like MSF.
"The most egregious failure was by WHO in the delay in sounding the alarm," said Prof Ashish K Jha, Director of the Harvard Global Health Institute.
"People at WHO were aware that there was an Ebola outbreak that was getting out of control by spring… and yet, it took until August to declare a public health emergency. The cost of the delay was enormous."