You are reading 1 of 2 free-access articles allowed for 30 days
Kensington Combination Ultra Laptop Lock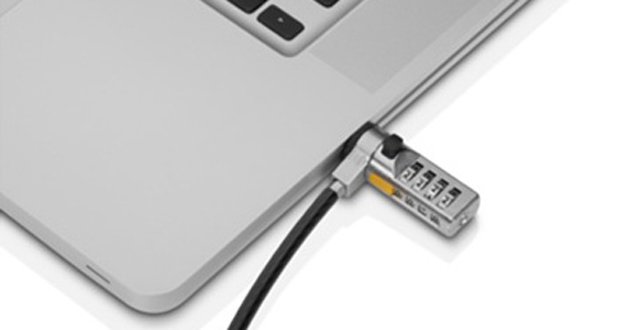 Protect your laptop and personal information anywhere with the Kensington Combination Ultra Laptop Lock. It's ideal for busy workplaces, public spaces as well as home or travel.
The lock is guaranteed to keep your laptop safe, secure and protected from unwanted excursions — and it's the world's best-selling laptop lock too.
The push-button design offers one-hand operation for easy installation, while the Kensington T-bar secures the lock to your laptop. The keyless four-wheel combination is easily resettable and offers thousands of combinations. Simply anchor the lock to a desk, table or fixed structure and you are ultra-secured.
Anchors to desk, table or any fixed structure
Works with the industry-standard Kensington Security Slot built into 99 per cent of laptops
Multi-stranded, high-carbon, aircraft-grade steel cable with carbon-tempered steel core (1.8m long x 5.5mm thick)
Superior strength lockhead to resist tampering
Push-button design for one-hand operation to easily install lock
Keyless four-wheel combination
Easily resettable
Choose from 10,000 possible combinations
Available on at Right-Click for just €39.99
Sharpener Desk Tidy
Keep your desk looking sharp with this giant, super-size pencil sharpener pen pot.
Hugely iconic and instantly recognisable, it's a design classic desk-tidy.
This simple pencil-pot will keep your pencils, pens and desktop clutter looking sharper than the usual dull desk accessory. One of the best things is that no-one can 'borrow' it and never give it back.
It is the perfect desk tidy for any doctor.
The Sharpener Desk Tidy is made from stainless steel and highly sustainable rubberwood.
So not only is it a fantastic gift, it is eco-friendly too.
€24.95 @ www.bcool.ie
and B Cool! The Gadget Store – Dundrum Town Centre
Punch Bag Laundry Bag
Turn a chore into a workout — now you can use your dirty laundry as a punch bag. Big enough to hold a heavyweight-load of washing and tough enough to take a beating. Hang the bag in your wardrobe or the corner of your room until you're ready to take your laundry to the cleaners. Ideal for boxers, trousers and shirts — there's even enough room to throw in the towel.
€29.95 @ www.bcool.ie
and B Cool! The Gadget Store
– Dundrum Town Centre
Skull Tidy
Following on from the Sharpener Desk Tidy, we have this really cool gadget, the Skull Tidy — a perfect novelty item for any doctor's surgery or clinic.
It's also a very practical gadget and can hold pretty much anything, from name cards, to pens, to loose coins. The Skull Tidy also helps keep everything organised and frees-up valuable space on what can be a busy desk. Made from a thermosetting resin, the Skull Tidy is highly detailed, with realistic surfaces and shapes.
Another unique gift from the B Cool! team.
€59.95 @ www.bcool.ie
and B Cool! The Gadget Store – Dundrum Town Centre
Bottle Light
Don't throw out your empties — transform your bottles into lamps with this rechargeable light, shaped like a cork with a super-bright LED that recharges via USB.
Make interesting lights with vintage drinks bottles or create a cosy, improvised table feature. Now that barbecues are on the horizon, why not have your décor looking unique and stylish all at the same time.
€15 @ www.bcool.ie
and B Cool! The Gadget Store – Dundrum Town Centre