You are reading 1 of 2 free-access articles allowed for 30 days
ISR 2016 Annual Spring Meeting, Cork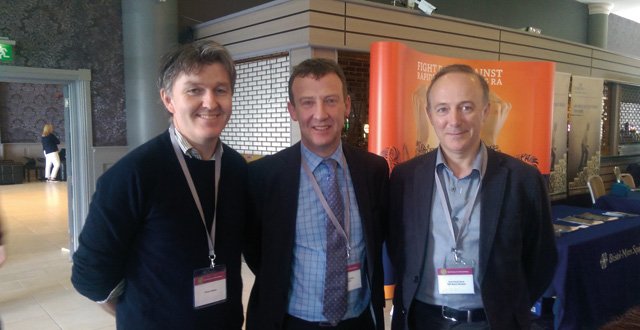 ISR President seeks more paediatric rheumatologists in Ireland
An increase in the number of paediatric rheumatologists in Ireland is one of Dr Alexander Fraser's main aims during his two-year term as President of the Irish Society for Rheumatology (ISR).
Speaking to the Medical Independent (MI) at the ISR Spring Meeting, Dr Fraser, Consultant Rheumatologist, University Hospital Limerick, said that Ireland has an immense shortage of paediatric rheumatologists.
"One of the burning issues is paediatric rheumatology," Dr Fraser stated.
"There is the equivalent of 1.7 whole-time equivalent (WTE) paediatric rheumatologists in Ireland. By international standards there should be six paediatric rheumatologists for the population. That's a priority for the ISR in my Presidency to push that forward with the HSE."
There is also a need to increase the number of adult rheumatologists in Ireland. The plan is among a number of objectives included in a new model-of-care for rheumatology in Ireland.
A clinical advisory group (CAG) meeting recently took place to discuss the model-of-care, currently being devised by the HSE National Clinical Programme for Rheumatology.
All rheumatology consultants in Ireland are invited to be a member of the CAG to work with Prof David Kane, Consultant Rheumatologist, Tallaght Hospital, Dublin, and newly appointed Programme Director.
Speaking to MI, Prof Kane said that a model-of-care is in the process of being finalised and would be published by the HSE when complete.
Prof Kane said Ireland currently has one rheumatologist per 135,000 population, but that it needs one per 70,000.
The Programme aims to drive the discipline of rheumatology forward over the next decade by implementing improvements in quality, access, and cost.
The CAG meeting discussed issues such as how to shorten waiting lists, improve quality and help patients.
It also looked at the issue of resources and the need for more consultant posts and more allied healthcare professionals.
Dr Fraser said a doubling of the number of adult rheumatologists is being sought and that improvements in consultant numbers is a "first requirement" to enable the Programme to provide an adequate service to patients.
"We can't be required to reach targets unless the resources are put forward to achieve that," Dr Fraser said.
In terms of secondary care, the Programme aims to reduce waiting lists for all rheumatology referrals to under six months within one year and to reduce waiting lists for all rheumatology referrals to under three months within two years.
Challenges with CTD and pregnancy
Connective tissue disease (CTD) is the one condition that frightens a lot of obstetricians, particularly if CTD is active at the time of conception, delegates at the ISR 2016 Annual Spring Meeting in Cork heard.
Prof Louise Kenny, Professor Of Obstetrics at University College Cork (UCC), was speaking during her talk entitled: 'Pregnancy and CTD – What can go wrong? How to sort it.'
Many drugs used for CTD often conflict with pregnancy and pregnancy can make their condition worse.
Opening her talk, Prof Kenny emphasised the importance of pre-conception counselling for this group of women to help control the disease pre-pregnancy to optimise outcomes for mother and baby.
In terms of pregnancy interventions, Prof Kenny said aspirin and low molecular weight heparin (LMWH) are the two interventions that save lives and that knowing when to use them is fundamentally important.
The obstetric service in Cork sees women with rheumatoid arthritis (RA), anti phospholipid (APL) syndrome, systemic lupus erythematosus (SLE), scleroderma, and mixed connective tissue disease.
One of the most worrying conditions for obstetricians, Prof Kenny noted, is pregnancy and SLE.
"For a disease that is active in early pregnancy or if we see SLE present for the first time in pregnancy it massively increases the risk of some very specific pregnancy outcomes each with very dire prognoses. Pre-eclampsia, foetal growth restriction and pre-term delivery and in terms of what we worry about probably pre-eclampsia is the one that bothers us most," Prof Kenny noted.
"That's because pre-eclampsia is still a very poorly understood disease. We still don't have any effective treatments. The only effective treatment is delivery. Pregnancy does increase the risk of lupus flare… pregnancy makes diagnosing disease flares very challenging."
Prof Kenny outlined that many features of a normal pregnancy are also features of a lupus flare and that the clinical overlap can make a diagnosis of a lupus flare quite difficult.
Even more challenging is distinguishing a lupus flare in late pregnancy from pre-eclampsia. This presents a diagnostic conundrum as a lupus flare will present as hypertension, worsening proteinuria, and low platelets, which are hallmark clinical features of pre-eclampsia, she said.
A major development that could form part of clinical management in the next year or two is a greater reliance on angiogenic growth factors, Prof Kenny stated. "There has been a huge interest in angiogenic growth factors in the prediction of adverse pregnancy outcomes in the last few years. Particularly placental growth factors (PLGFs), which originate from the placenta and goes up in normal pregnancy and is significantly decreased in women who develop uteroplacental insufficiency and consequently foetal growth restriction and NGR.
"There is a specific interest in whether these very highly specific angiogenic growth factors of adverse pregnancy outcome can differentiate with adverse outcomes in women with SLE or APL syndrome."
She cited the results of the PROMISE study, which recently found that angiogenic factor imbalance early in pregnancy predicts adverse outcomes in patients with lupus and antiphospholipid antibodies.
Published in the American Journal, the study reported that a combination of sFlt1 and PLGF was the most predictive of adverse pregnancy outcome.
"This, if rolled out to clinical use, would give us the capacity to reassure women with SLE and APL that their risk of an adverse pregnancy outcome is very low indeed."
Turning to the use of biologics in pregnancy, there is a huge amount of information now about the safety of biologics, which is very reassuring, Prof Kenny stated.
"It's distressing when we find that women with underlying, quite significant life-limiting disease, such as CTD, but also women with inflammatory bowel disease, are inadvertently advised that they should discontinue biologic treatment pre-pregnancy or in pregnancy. It can have a devastating effect on their health, it can reduce their chances of conception and if they get a flare of the disease as a result it will worsen their chances of exiting the pregnancy with a good outcome."
Lupus mortality rate still high despite treatment improvements
The mortality rate for SLE patients remain a significant problem despite improvements in survival in recent decades, according to one of the world's leading experts in the disease.
Prof David Isenberg, Professor of Rheumatology, University College London, told delegates at the ISR Spring Meeting that survival outcomes for lupus patients had improved substantially, but that many patients still die at a young age from the disease.
Survival has improved from a 50 per cent chance of death at four years after disease onset in the 1950s to an 85 per cent chance of survival at 15 years in 2016.
"The mortality for lupus patients has improved, but it still remains a significant problem," Prof Isenberg stated.
"For a small but significant number of lupus patients death continues to come too soon."
In his discussion on advances in the management of hard to treat lupus patients, Prof Isenberg said the most exciting event in the past 20 years had been the development of monoclonal antibodies.
He added that 10 years ago it seemed reasonable to anticipate, based on improvements in treating conditions like RA and psoriatic arthritis, that lupus patients were also going to experience gains.
But clinical trials in lupus have been, in the main, very disappointing, until recently, he said.
Lupus trials involving biologics like rituximab, epratuzumab, and abatacept have failed, but there is cause for hope for lupus patients with monoclonal antibodies, Prof Isenberg argued.
Furthermore, more recent lupus trials have proved promising, he stated.
"We are now moving from an era of serendipity to sense. After all, why were drugs like steroids, methotrexate, cyclophosphamide… given to lupus patients, was it because we understood how they were exactly going to work in lupus? No, it was not. What we do know is that these drugs are now very good at treating an array of autoimmune diseases, but clearly it's much more sensible if you can identify key molecules, key cells, which are clearly involved in the pathogenesis of lupus. If you involve those cells and molecules your chances of achieving optimised treatment is going to be better," Prof Isenberg remarked.
"We await more successful trials in patients with lupus, but clearly we have to think through our strategies on how we design these trials. The number one thing I always say to companies when they come to ask me for advice is, for goodness sake keep the corticosteroids and immunosuppressant drugs as low as possible. If you allow high doses of steroids and lots of concomitant immunosuppressant drugs you raise the bar so high that it becomes impossible for anyone…to be successful.
"It's also important we consider using these drugs not when everything else has failed, but right at the start of the disease."
Prof Isenberg is currently engaged in a clinical trial recruiting newly diagnosed lupus nephritis patients using rituximab, mycophenolate, and steroids. Coverage continues on page 34
ISR meeting highlights cutting-edge developments
More than 100 delegates attended the 2016 ISR Spring Meeting, which took place in the Rochestown Park Hotel, Douglas, Cork, on 15 April.
The event, which included a postgraduate training day organised by the Cork University Hospital (CUH) academic team, heard from three international experts in the areas of lupus and vasculitis, with clinical cases discussed on each topic.

Dr Alexander Fraser
Speaking to the Medical Independent (MI) at the event, ISR President Dr Alexander Fraser praised the calibre of material presented at the meeting, with renowned speakers from the UK and Ireland delivering presentations.
"It's been a hugely successful day with fascinating speakers from the UK and Ireland who really emphasise the clinical agenda, whereby it's all about patients and the management of very sick patients," Dr Fraser said.
"We've had great talks from speakers followed by clinical case studies so that we could focus in on how we treat patients with more complicated diseases like vasculitis and lupus."
Dr Fraser noted that information on cutting-edge developments being undertaken in major centres is of great benefit to Irish rheumatologists.
"This is huge. I trained in England to a high level. But that was 10 years ago. I work in Limerick, which is a small enough centre and we get patients coming through with very complicated diseases and in 10 years things change," Dr Fraser remarked.
"We keep up as best we can, but this is the cutting-edge. To listen to someone like Prof David Isenberg and the other speakers who are at some of the major centres in the world and listen to what they're doing for their most complicated sick patients is hugely informative and brings you right up to date.
"I think this is the most interesting meeting, for me, that I've been at in years. And a lot of other people feel the same. We look after rheumatoid arthritis, it's a difficult disease, but we manage it. These days patients aren't that sick with it because the treatments are so good. But these areas like ANCA-associated vasculitis and lupus, these are the patients who unfortunately get very sick and can die. It's really important for us to get really up-to-date on what the current, cutting edge treatments are."
Prof David Kane, Consultant Rheumatologist at Tallaght Hospital, Dublin, and immediate past President of the ISR, also praised the event.
"It's a superb day on the sharp end of rheumatology. The toughest cases of severely ill people with autoimmune disease, women who are pregnant, and people who have failed many therapies. We're lucky that we have three superb experts on lupus and vasculitis."
Rheumatologists express disbelief at rising medical insurance rates
Rheumatologists experiencing huge increases in medical insurance fees (up to 500 per cent) have expressed bewilderment at recent rises in practice subscription rates, which some believe could lead to the end of rheumatologists in private practice in Ireland.
The fears were conveyed following a workshop by Dr Rob Hendry, Medical Protection (formerly MPS) Medical Director, Edinburgh, at the ISR Annual Spring Meeting in Cork.
Dr Hendry presented data on rising claims against Irish hospital consultants and how claims began to rise in 2007 and 2008 and spiked further in 2012 and 2013.
Before this, claims against Irish hospital consultants were low and claims against rheumatologists were almost non-existent, Dr Hendry noted.
He showed delegates a list of the top 10 cases Medical Protection currently has involving rheumatologists from UK and Ireland and the reasons for the claims. The value of claims ranged from £100,000 to £1 million, he said
Some of the claims listed included drug reactions and alleged delays in the diagnosis of TB of the spine, ependymoma, lung cancer, septic arthritis of the knee, and multiple myeloma.
Another case involved a systems failure where an MRI scan was not performed on a patient, Dr Hendry stated.
Just two of the top 10 rheumatology cases listed were from Ireland. Yet Irish rheumatologists are lumped with British rheumatologists when it comes to setting subscription rates, it is understood.
Dr Hendry also presented information on how Medical Protection sets subscription rates, highlighting that claims often arise years after an alleged incident occurs.
Outlining the reasons why patients sue, he noted that two-thirds of claims have nothing to do with negligence. The factors that can make a doctor more susceptible to claims include burnout, the volume of practice and unprofessional behaviour at medical school or low grades.
On the issue of reform, Dr Hendry called for transparency of legal costs, a more streamlined and efficient claims process, greater mediation and fundamental legal reform of the medical claims process where unreasonable costs can be challenged.
Following the presentation, Prof Douglas Veale, Consultant Rheumatologist, St Vincent's University Hospital, Dublin, said he was disappointed with the lack of communication from Medical Proection following a number of attempts to find out why rheumatologists in Ireland have been subjected to a 500 per cent increase in subscription rates in just one year.
"It's extraordinary, " Prof Veale remarked.
"That's why I wrote to you because I find it difficult to believe that the cost of claims against rheumatologists has risen to the same extent as it has, for instance, against plastic surgeons or orthopaedic surgeons or cardiologists… I find it difficult to appreciate because we're such a small group of clinicians and our specialty is such a non-interventional specialty."
Another delegate remarked that if the increases continued there would be no rheumatologists left in private practice, which would put pressure on the public system.
ISR President Dr Alexander Fraser said he couldn't comprehend the increase in risk, and said it was actually the reverse.
"The drugs we use now, the anti-TNFs for instance, are not only far more effective than the drugs given in the past, they're safer. The concept of the risk of rheumatology going up is odd because the treatments we use are infinitely safer and more effective," Dr Fraser stated.
Dr Hendry did not present details of claims against Irish rheumatologists specifically and how they had increased. He said that claims against medical interventionalists were high, but that the difference had been the rate of change for rheumatologists.
"The number of claims against Irish rheumatologists remains very low," Dr Hendry told delegates.
He explained the change that has been happening in rheumatology claims in the UK and Ireland in the last two-to-three years resulted in the need to account for future risk, reiterating that many claims are made years after alleged incidents or problems occur.
Relapse rates for ANCA AV remain high despite developments
A major ongoing unmet need in terms of relapse in patients with antineutrophil cytoplasmic antibodies (ANCA) associated vasculitis (AV) remains despite developments in treatments.
According to Dr Rachel Jones, Consultant Nephrologist with a specialist interest in vasculitis at Addenrbooke's Hospital, Cambridge, UK, relapse rates are high and there is a need to identify patients at risk of relapse.

Mr Conor Doyle, Ms Marie O'Connell, and Mr Brian Whately
Dr Jones provided an update to delegates at the ISR Annual Spring Meeting on ANCA AV, highlighting a number of clinical trials and the medications used in these trials.
ANCA is a type of antibody that is associated with conditions such as Wegener's granulomatosis and Churg-Strauss – two common types of vasculitis.
As soon as patients are diagnosed, remission induction therapy commences for three-to-six months. This is followed by remission maintenance therapy and after 12-18 months, attempts are made to withdraw the therapy and follow-up with patients, Dr Jones explained.
"There is always a lag in terms of time to diagnosis, which can be as long as years and certainly a number of months and this is really where we could do more in terms of getting better outcomes for our patients, because the quicker we diagnose, the quicker we start treatment and the better they do," Dr Jones commented.
Treatments for ANCA AV can include methotrexate, cyclophosphamide, and plasma exchange for more severe cases.
It is accepted that azathioprine and methotrexate are good remission maintenance therapies for ANCA AV, but relapse rates are still concerning, she said. Relapse rates are 50 per cent by five years for these two drugs, Dr Jones noted.
"There is still a major unmet need in terms of relapse. Relapses are high over the course of time and the other major unmet need is early mortality in progression to end-stage renal disease. Still, approximately 25 per cent of patients are progressing to end-stage renal disease by five years," Dr Jones remarked.
She added that rituximab is now emerging as a superior alternative to azathioprine in ANCA AV and that it is now used in remission induction and maintenance.
Rituximab is an approved alternative to cyclophosphamide for remission induction in ANCA AV, but relapse rates after rituximab maintenance inceases after two-to-three years are 50 per cent.
But there has been a lot of progress in terms of treatment strategies for ANCA AV in the last five-to-10 years with rituximab and other therapies, Dr Jones said.
"In terms of targeting patients at risk of relapse, now that we know relapses are high and are perhaps on the rise, we do need to identify patients at risk of relapse and stratify in terms of which patients to target for more aggressive remission maintenance therapies and think about using rituximab," Dr Jones stated.
She also highlighted the need to improve strategies to target early end-stage renal disease and death, and said that glucocorticoid-sparing approaches using different therapies, such as plasma exchange, may prove to be the way forward.