You are reading 1 of 2 free-access articles allowed for 30 days
Irish Society of Gastroenterology Summer Meeting 2015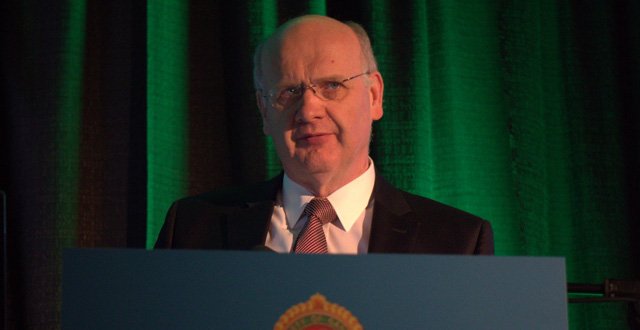 The usual focus of clinical meetings, both here and abroad, is on novel and innovative treatments. The recent summer meeting of the Irish Society of Gastroenterology (ISG), which was held in Killashee Hotel, Naas, was no exception to this tenet, with the role of the cutting-edge surgical technique, endoscopic submucosal dissection (ESD) in upper GI neoplasia and recent treatment developments for ulcerative colitis and Crohn's disease being among the many topics under discussion. But sometimes it pays to dip into the past.
In medicine, as in life, history can be instructive. The epidemiology of helicobacter pylori (H.Pylori) was the topic of three presentations at the meeting, the first of which was delivered by the former HSE CEO and Professor of Paediatrics at UCD Prof Brendan Drumm, which had the title: 'Learning From Our Mistakes'.
Prof Drumm, a noted researcher in this area, said that young people often fail to realise the huge burden that peptic ulcer disease placed on the health service in the late 1970s and early 1980s. In response to the discovery by Barry Marshall and Robin Warren (of Australia) that helicobacter was linked to the disease, Prof Drumm described how he conducted research into whether the bacteria were present in children.
'You practically will never see anybody spending a penny on looking at the epidemiology of inflammatory bowel disease,' according to Prof Drumm
The aim of the study, according to Prof Drumm, was to show how the original researchers were incorrect in their findings, but the opposite turned out to be the case and the study, which found evidence linking the bacteria with gastritis in children, was published in the New England Journal of Medicine, having already been rejected by other publications.
"It shows how you can be lucky in medicine," Prof Drumm stated.
He then gave the example of Howard Steer, UK, as someone who was extremely unlucky. Steer had observed the relationship between spiral bacteria and ulcers in the 1970s, a decade before Warren and Marshall, yet, when he attempted to culture the bacteria from biopsy specimens, it was pseudomonas. Despite Steer accurately describing the link between the bacteria and ulcers, microaerophilic campylobacter isolation techniques were not well known at the time, which affected his results.
"If you are lucky or unlucky in medicine, nobody has been as unlucky as this man," Prof Drumm said.
He described how the bacteria had even been posited as a potential cause of peptic ulcer disease at the beginning of the century, but how these suggestions were ultimately rejected by medical authorities. Prof Drumm contended that sometimes in medicine there is too great a focus on treatments rather than understanding the underlying cause of a disease.
"You practically will never see anybody spending a penny on looking at the epidemiology of inflammatory bowel disease," according to Prof Drumm.
He speculated that the decline in peptic ulcer disease in the West, which is associated with the reduced infection rates of H.Pylori as a result of affluence and improved living conditions, could have erroneously been attributed to H2 blocker therapy without an appreciation of the disease's epidemiology. The experience of the study into H.Pylori may, in Prof Drumm's opinion, be useful in the context of Crohn's disease, which could likewise be explained by a single cause.
Prof Drumm also admitted how both he and other colleagues dismissed a paper that linked H.Pylori and gastric cancer, due to the differences in the causes behind ulcers and cancer.
"In fact, we weren't reading the literature," he told the meeting.
"What we failed to see in the literature was that gastric cancer, which was a huge cause of disease, was also disappearing without anybody having any understanding of why it was disappearing when other cancers were actually increasing. We had responded in exactly the same way by becoming the 'gurus' of the game, in the same way as we had felt we were subjected to early on. So you can actually become the problem the longer you hang around with an issue."
Peptic ulcer disease and gastric cancer
Prof Tony Axon, Consultant Gastroenterologist, University of Leeds, delivered a comprehensive presentation on the reasons behind the rise and fall of peptic ulcer disease and gastric cancer.
Prof Axon outlined how ulcer disease only really became a noticeable health problem in the 19th Century. His hypothesis is that the germ became pathogenic during this time due to increased acid secretion in the stomach, which occurred as a result of improving health in the population, thereby causing ulcer disease and gastric cancer. This development, however, resulted in the H.Pylori 'declaring itself' to the immune system, which had previously ignored the bacteria, creating an immunological response, resulting eventually in the decline of the conditions. Increased acid secretion also provides a less satisfactory environment for H.Pylori and explains the increase in gastro-oesophageal reflux disease (GORD)in the West.
"Therefore now, in terms of infecting people, what you will do is prove a selective advantage to organisms with lower pathogenicity, they will have a selection advantage and, therefore, you will end up with germs that are less pathogenic in the stomach," according to Prof Axon.
"You will also find that there are fewer multiple infections because it is obviously having more difficulty getting in."

Prof KL Goh
Consultant Gastroenterologist at the University of Malaya, Professor KL Goh, gave an East/West comparison of the epidemiology of gastrointestinal disease. Prof Goh explained how, as a result of the improved living conditions in the East, peptic ulcer disease and gastric cancer, which are "diseases of poverty", have started to decline, while there has been an increase in Western diseases such as GORD and colorectal cancer.
"Obesity is increasing exponentially and is putative to the many changes we see with GI diseases in Asia," according to Prof Goh.
GORD
One of the world's foremost experts in GORD, Prof Peter Kahrilas, Professor in Medicine in North Western University, US, gave a detailed presentation on the many different facets of the disease and who responds best to treatment.
Prof Kahrilas, who said that the early definition of GORD was extremely general, advised that the best PPI response is for healing oesophagitis, which is the only indication with a proven dose-response curve. Overall, symptom response for complaints such as heartburn and reflux to PPI therapy is highly variable, according to Prof Kahrilas. While there is a therapeutic gain of between 30-to-40 per cent for heartburn, the therapy is less effective for reflux.

Prof Peter Kahrilas
"The observation about regurgitation is that yes, it responds to PPI therapy but the therapeutic response and the therapeutic gain is significantly less than with heartburn and the placebo response was higher," he said.
If the patient is not responding to PPI therapy, yet the case is still suspected to be related to reflux, it is important to perform a biopsy to rule out eosinophilic oesophagitis, which represents a different pathogenesis. If the case is still thought to be consistent with GORD, manometry should then be performed, "because the occasional case of achalasia will sneak in there and if you still have no relevant findings, this is where one does PH monitoring to try to subdivide these patients."
Of the four relevant phenotypes, phenotype 1, which is indicative of pathological reflux, should respond to PPIs, while phenotype 4 is also straightforward, in that anti-reflux therapy is unlikely to be effective, given that there is no correlation between normal acid exposure and the reflux events.
Phenotypes 2 and 3 are more difficult to manage, and consideration should be given to perception moderators (TCAs and SSRIs) in the cases of the former. Prof Kahrilas said that these patients were not good candidates for surgery, given that there are too many factors likely to be causing their symptoms. Overall, he suggested that referrals for anti-reflux surgery should be made judiciously.
Speaking during the same session, Mr Paul Ridgway, Consultant Surgeon at Tallaght Hospital, Dublin, said the best group of patients for GORD surgery were those who had: typical symptoms, no dysmotility/aerophagia, no oropharynx/respiratory, abnormal DeMeester score and efficacious PPI usage, and wanted to stop taking oral medication.
Ulcerative colitis and IBD
Professor of Gastroenterology at University of Liège Belgium, Prof Edouard Louis gave a presentation on best practice in the care of patients with chronic refractory ulcerative colitis.
He said that medical practitioners should recognise the signs of uncontrolled ulcerative colitis and be aware of the consequences of long-term ongoing inflammation. For such patients, it is important to check for 5-ASA optimisation and adherence, and to avoid repeated courses of steroids. Consideration should be given to thiopurines in cases of steroid-dependent patients without negative prognostic factors. Finally, he said that anti-TNF combination therapy or vedolizumab should be considered in other cases.
The use of anti-TNF therapy and vedolizumab for ulcerative colitis and Crohn's disease was the subject of the talk given by Professor of Gastroenterology at the Academic Medical Centre in Amsterdam, Prof Geert D'Haens. The talk was titled 'Progress in IBD Care — From Immunosuppression to Targeted Therapy'. He presented evidence that showed anti-TNF combination therapy achieved remission rates of between 18 and 35 per cent. Although they are an effective treatment for some patients, they are highly toxic and associated with a significant list of side-effects, he noted.
A new Irish app for liver disease, which was developed by the Liver Unit in St Vincent's University Hospital, Dublin, was another innovative technological tool discussed during the meeting
Another downside to the treatment, according to Prof D'Haens, is that they are associated with a loss of efficacy over time, while a number of other patients do not respond at all to the treatment. Prof D'Haens explained how natalizumab, which is an α4 integrin antagonist in a new class of selective adhesion-molecule inhibitors, achieved remission rates for Crohn's disease of 32 per cent.
However, the medication is associated with increasing the risk of progressive multifocal leukoencephalopathy (PML), a potentially fatal brain condition. This is because natalizumab affects adhesion molecules at the level of the blood-brain barrier system as well as in the gut. The goal, therefore, is to create a similar-acting therapy that is more gut-specific, which is where vedolizumab comes in. The drug, another humanised monoclonal antibody, inhibits adhesion and migration of leukocytes into the gastrointestinal tract.
Prof D'Haens presented evidence from the Phase III Gemini trials for the use of vedolizumab in the treatment of ulcerative colitis and Crohn's disease. For the treatment of ulcerative colitis, vedolizumab met the primary endpoints. According to the results, 41.8 per cent and 44.8 per cent of patients receiving vedolizumab every eight and four weeks, respectively, were in clinical remission at week 52, compared to 15.9 per cent of patients who received placebo, while 56.6 per cent and 52 per cent of patients treated with vedolizumab every eight and four weeks, respectively, achieved durable clinical response compared to 23.8 per cent of patients receiving placebo.
Also, compared with placebo, a significantly greater proportion of ulcerative colitis patients treated with the medication achieved mucosal healing and corticosteroid-free remission at eight and 52 weeks. Also, vedolizumab maintenance therapy every four or eight weeks was significantly more effective than placebo in sustaining response and remission in anti-TNF-naive patients or those with a high rate of prior anti-TNF failure.
Prof D'Haens advised that vedolizumab should be used for patients with moderate-to-severe ulcerative colitis and probably after steroid treatment.
With regard to Crohn's patients, vedolizumab was shown to be significantly more effective than placebo in achieving clinical remission at six weeks in patients with moderate-to-severe forms of the disease. Compared with placebo, a significantly greater proportion of vedolizumab responders achieved clinical remission at 52 weeks, while a significantly greater proportion of these patients achieved CDAI-100 response and corticosteroid-free remission at 52 weeks. The clinical trial showed at week 52, remission was seen in 39 per cent and 36.4 per cent of patients, respectively, receiving vedolizumab every eight weeks or every four weeks, vs 21.6 per cent of the patients receiving placebo.
CDAI-100 response was seen in 43.5 per cent and 45.5 per cent of patients, respectively, receiving vedolizumab every eight weeks or every four weeks vs 30.1 per cent of patients receiving placebo at week 52.
The response to vedolizumab treatment for Crohn's patients takes longer than for those with ulcerative colitis, but, according to Prof D'Haens, the maintenance effects are "equally remarkable". For both Crohn's and ulcerative colitis patients, the therapy was more effective in TNF-naive patients. Prof D'Haens also stressed that the safety profile of the drug was similar to placebo and that there have been no cases of PML associated with its usage.
Safety
Safety was the chief concern of a talk delivered by Prof Martin Lombard, Consultant Gastroenterologist and Hepatologist at the Royal Liverpool University Hospital, UK, who spoke about how the use of endoscopic retrograde cholangiopancreatography (ERCP) should be limited. Prof Lombard was adamant that ERCP should not be used for diagnostic purposes, and should be used primarily to remove stones from bile ducts.
"We now have lots of diagnostic techniques and I don't think we should be using ERCP for diagnosis and we still are," Prof Lombard said.
"I don't know about here, but in the UK there are places still using ERCP for diagnostic purposes. It has a use to get cytology, I guess that's diagnosis, but you already expect a significant pathology there… And we are exploring the use of molecular markers to make a predictive diagnosis, for example, of cancer and [establish] who will have chronic pancreatitis and acute pancreatitis in the future, and so on. And I guess there is manometry measurement of pressure. But beyond those caveats, I really don't think we should be using ERCP for diagnosis. You shouldn't be doing this unless you know what the problem is and what you are trying to achieve."
Prof Lombard maintained that there is "no excuse" for using ERCP without having MRCP, CT or EUS performed beforehand.
There also needs to be more care in training medical practitioners to perform the procedure, he said.
"Ten years ago, the guidelines for training in gastroenterology actually said everybody had to do a number of ERCPs," Prof Lombard said.
"How crazy is that? You are subjecting patients to people who don't know what they are doing. Okay, they might be supervised, but actually that is just going to be damaging. We need to select who does ERCP and selecting people who can and who could be good at ERCP is actually quite difficult. But many centres now have ways of selecting people."
Also, Prof Lombard argued that fewer medical professionals should be carrying out the procedure to ensure that those that do perform it keep up their expertise and skill-set.
"The more you do, the better you are," he said.
"The fewer you do, the longer it is going to take you to find out if you are any good or not because you are not doing enough numbers to actually know."

Dr Christian Selinger
Safety was also discussed in relation to the use of steroids in IBD care. Consultant Gastroenterologist in Nuffield Hospital, Leeds, Dr Christian Selinger, described the development of a steroid assessment tool for medical practitioners to consult when prescribing steroids for the condition. Dr Selinger said that the web-based tool, which consists of a series of questions relating to steroid use, was easy and quick to use and was a useful measure of the quality of care within an IBD service. For example, one of the questions asks the medical practitioner whether the patient has received any corticosteroids over the last 12 months. Dr Selinger said that tool was an important reminder for doctors to limit steroid use, which is associated with long-term toxicity and has the potential for dependency if not adequately monitored.
Technology
A new Irish app for liver disease, which was developed by the Liver Unit in St Vincent's University Hospital, Dublin, was another innovative technological tool discussed during the meeting. Consultant Hepatologist in the Hospital Dr Diarmuid Houlihan explained that the app was developed as an educational tool to assist NCHDs in treating patients with liver conditions. Dr Houlihan said that these doctors are vulnerable to missing key signs of liver problems and also making the wrong treatment decisions.

Dr Diarmuid Houlihan
"They are missed by house officers who have no formal training in gastroenterology or liver disease, where they are on their 15th admission at two in the morning and are more likely to miss something important," he said.
"That is what this app is targeted at. It is also targeted at helping you refer patients more efficiently to our unit and overcome the hurdles you find when you interact with us."
The aim for the unit is to get all patients from their initial referral through to a definitive therapy within 60 days.
Dr Houlihan said there are two issues that impede patient flow through the unit.
The first is the availability of beds, although he said progress was being made in this area. The second is the receipt of information from other hospitals. Dr Houlihan said that treatment of patients is often held up because of delays in receiving investigations from the peripheral hospital. The app contains a facility to help accelerate the processing of these investigations.
"Before we review the patient, we review all their imaging with the MDT [multidisciplinary team] and our guys need the films on a disc and also the report, and that is part of the proforma that will be sent through, to say that you've got the disc and the report and you've sent it with the patient referral," he said.
"That will help speed-up things and get the patient through the system more quickly."
There is also the potential for the app to assist with referring patients for research projects at the unit, he noted.
Biosimilars
The use of biosimilars formed the basis of two talks towards the end of the ISG meeting. Prof Arnold Vulto, Professor of Hospital Pharmacy and Practical Therapeutics at the Erasmus University Medical Centre, the Netherlands, said that medical professionals need to have a greater degree of trust in biosimilars. He made the parallel with the sceptical response many doctors had when generic medicines became available.
Prof Vulto said that biosimilars pose less of a risk to patients than a new drug on the market. He stressed that biosimilars and reference products are versions of the same molecule and that biosimilars do not pose additional risks for patients.
"They offer the same efficacy and safety at a lower cost," he said.
When prescribing a biosimilar, it is important for medical practitioners to guarantee traceability. To do this, Prof Vulto said that they should make accurate notes of the product and batch number, acknowledging that the matter can be complicated as a result of different distribution channels.
Overall, he said it is important that regulators should ensure that medical practitioners are more informed about the safety of biosimilars, and convince them about the financial advantages the use of these products can bring, without compromising the quality of treatment.
In a presentation by Consultant Gastroenterologist in Centro Hospitalar, Porto, Portugal, Prof Fernando Magro, it was argued that while studies have proven the efficacy of biosimilars in rheumatology, more studies are needed to prove their effectiveness for IBD.