You are reading 1 of 2 free-access articles allowed for 30 days
Irish hospitals and a journey into the unknown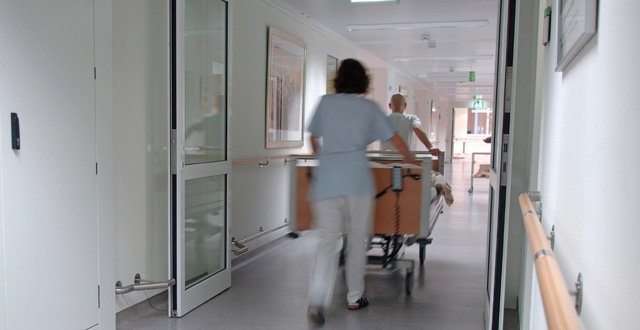 Irkutsk, Ulan Bator and Beijing. The trip of a lifetime!
Fly to Moscow and board a private train on the Trans-Siberian Railway. Stop in Ekaterinburg, where Tsar Nicholas II and his family were executed. On to Novosibirsk and Irkutsk — a name I recognise from playing 'Risk' as a child. Take a cruise out on Lake Baikal, which is so deep it holds one-sixth of all fresh water on Earth. Continue to Ulan Bator and stay in a Ger — a Mongolian yurt. On again through the Gobi Desert, and end with three days in Beijing.
Unfortunately, my brother and his wife were not on that trip.
Days beforehand, Fionuala was admitted to hospital with obstruction of the small intestine. No cancer, just adhesions from previous procedures. Her problems didn't settle with old-style 'drip and suck' (intravenous fluids and nasogastric tube) or with keyhole surgery, so now she's recovering from a full abdominal operation.
Of course, it wasn't straightforward. Hospital care rarely is these days.
The O'Malleys were assembled in Scotland, without the Mongolians, when news broke that Fionuala was taken to hospital by ambulance at 4am with severe abdominal pain. In a busy Dublin hospital, she was treated with intravenous fluids and painkillers. Maybe because the pain was very severe, or because it was all so distressing, Fionuala can't recall meeting a doctor.
At midday, she was discharged with a diagnosis of gastritis. Whew! Just enough time to recover before flying to Moscow.
That's when I began to worry. There's no easy way to confirm gastritis so you can't be sure. And we've been here before.
Some years ago, another 50-year-old from the extended family was discharged from a (different) busy Dublin hospital with a similar diagnosis. She went straight to the airport and flew to Toronto on business. But on arrival she was hospitalised with volvulus, or twisted gut, a very serious condition. Tragically, she died of postoperative complications.
So I was actually relieved to hear that Fionuala's pains got worse next day and she was back in hospital. Irkutsk, Ulan Bator and Beijing can wait. Wouldn't it be better to be ill in an Irish hospital?
I think she would have returned to the first hospital, if someone there had said, 'come back if things don't settle down'. But no-one says that any more.
Instead, Fionuala waited in pain through the night, until the emergency department in the Hermitage Medical Clinic opened at 8am. There, they were very well looked after by former IMO President Dr Mick Molloy. CT scan showed obstruction and she was admitted to a surgical ward. Fionuala said she felt very safe.
Meanwhile, I was seized with a terror, which only eased when I saw the professional care and kindness of the nursing staff and met her lovely, calm surgeon Mr Dhafir Alazawi. Even so, with complications on my mind, I couldn't relax until some days after surgery.
Now that Fionuala is convalescing, I find myself thinking over other aspects. Are we a uniquely unfortunate family with two major misdiagnoses? But I've met other cases, so I know that isn't true. What is wrong with our public hospitals?
Ideas crowd my head. Too many ill people are pushed through a limited number of hospitals. There's a shortage of diagnostic equipment, such as CT scanners. Not enough beds. Hospitals are penalised for trolley admissions, so there's pressure to avoid admission, unless the diagnosis is clear.
I mulled over the way so many people are treated entirely in the emergency department. Doctors (and nurses) can't know patients and their symptoms as well as they would on a ward. They don't see how frightening hospital care can be. Or that if you tell the patient they're okay, the message is 'don't come back'.
Then there's the old Boston versus Berlin debate, in a new format. If we don't have enough CT scanners, we should stop trying to copy US-style care. To do it the German way, we'd have to double the number of hospital beds.
Instead of a trolley cubicle, Fionuala would be in a surgical ward bed, like in her private hospital or an old-style public hospital. On a ward, maybe the nurses (or doctors) would have realised something more sinister was going on. Or maybe someone would have advised her to come back if she had further problems.
Small intestine obstruction is an old illness with remarkably old-fashioned treatments. I wonder if they do it better in Irkutsk, Ulan Bator or Beijing.