You are reading 1 of 2 free-access articles allowed for 30 days
Irish footballing doctors go global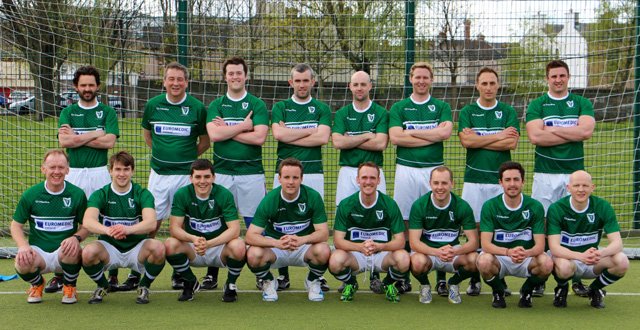 "Although the tournament is in its 21st year, there has never been an Irish team in it before," says Rathfarnham GP Dr Tommy Fitzgerald, who plays centre-half. Brought together by a love of football and a belief in healthy living, the Irish squad is made up of 25 Irish medics, from hospital doctors to general practitioners.
"All of us are practising doctors," Dr Fitzgerald tells the Medical Independent (MI). "A third of the panel has come from St Vincent's University Hospital, which has a football team that plays in the Leinster Senior League. Consultant Physician Dr John Seery set up the team and he's been involved in the Irish medical soccer scene for years.
"All of us play together regularly and are interested in sports. Everyone is very positive and enthusiastic about the competition and we all feel sport is a good recreational activity, with lots of benefits, both physical and mental."
Pictured: Dr Aidan McGrath and Dr Andrew Delany
As part of this philosophy, the team is working with the charities My1000hours, Aware and Pieta House, all of which aim to promote emotional and physical wellbeing, and are working to de-stigmatise mental illness. The panel also took part in the 'Darkness into Light' run organised by Pieta House earlier this month.
As they prepare for the trip, the team has also received huge support from a number of businesses, a fact for which they are tremendously grateful, Dr Fitzgerald says.
"Euromedic Clinic is our main sponsor; they have been very generous to us. Medisec have also sponsored us and we are so grateful and thankful to them."
'A long history'
While this international competition is relatively new, beginning in 1994, Irish medical football has a long history, with the Dublin Hospitals Cup stretching back to 1948.
According to the organisers, this annual tournament is one of the hallmarks of the medical calendar and "sees doctors from throughout Ireland compete for their various hospitals for the Independent Trophy".
The trophy itself is one of the oldest in Irish football, dating back to 1906, and St Vincent's University Hospital currently holds it. The competition is now open to all hospitals throughout Ireland and its organisers are eager to have as much participation as possible.
In terms of rankings, the world of international medical football echoes that of its professional counterpart, Dr Fitzgerald adds.
"The Czech Republic was beaten by Brazil, the host nation, in last year's final in Natal. Team GB is also considered very strong; it has a few semi-pros. But we are putting in some hard training so we hope to put in a good performance."
Pictured are (L to R): Dr Ronan McDermott, Monaghan; Dr Tommy Fitzgerald, Tipperary; Dr Peter Kelly, Dublin; and Dr John Cosgrove, Derry, at Bressie's 'My 1000 Hours' run in the Phoenix Park hosted by the Irish Independent in association with Berocca and Euromedics
The enthusiasm for the sport is the same for all players, but as this is a 'medics only' tournament, the competition rules are a little different.
Doctors are required to show a copy of their passport, degree and a photo, explains Dr Fitzgerald. "It's strict — you have to be a practising doctor, to the extent that at half-time, they are entitled to ask an individual player medical questions to prove that you are a doctor.
"Of your 10 outfield players, two have to be over 35 and two over 40. So it's the tournament's way of getting a good balance, from consultants all the way down to interns."
With so many doctors available, the team has also decided to rotate the position of team physician.
"A few of us have diplomas in sports medicine. Between three or four of us, we are going to take on the role of team doctor and we have a physiotherapist coming with us too."
To keep track of the team's progress, follow them on Twitter, @irelandmedical. More information on the Dublin Hospitals Cup can be obtained by emailing Dr Nathan Wall at irishmedicalfootball@gmail.com.
The Ireland Medical Football Team squad 2015 include: Dr Ronan McDermott, Dr Tommy Fitzgerald, Dr Andrew Delany, Dr John Frizelle, Dr Nathan Wall, Dr Aidan McGrath, Dr Cóilín Collins Smyth, Dr Dean Huggard, Dr Peter Kelly, Dr Denis Curtin, Dr Ronan Murray, Dr Colm Cosgrove, Dr David Cosgrove, Dr Barra Neary, Dr Ronan Cassidy, Dr Ian Daly, Dr Kerry O'Connell, Dr Joe Coyle, Dr John Larkin, Dr Kevin Sheahan, Dr Kieran Sheahan, Dr Dermot Kelleher, Dr Steve Karagiannis and Dr Mark Quinlan