You are reading 1 of 2 free-access articles allowed for 30 days
Irish eye care's vision for change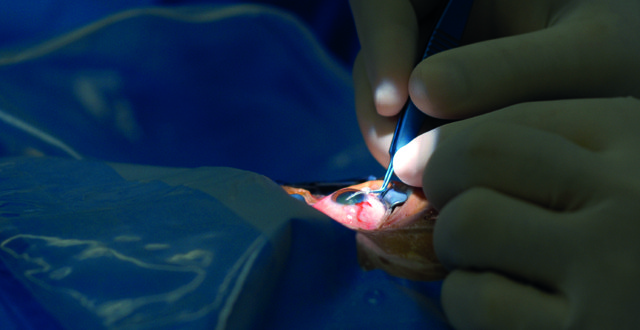 As the tenure of Prof Billy Power as President of the Irish College of Ophthalmologists (ICO) draws to a close, he is optimistic that considerable change in the national model of eye care delivery is within touching distance. This will principally involve a strong orientation towards community-based care.
The imminent publication of the report and implementation plan of the Primary Care Eye Services Review Group is sure to be a major discussion point at this week's ICO Annual Conference, which takes place in Co Cavan from 17-19 May. The HSE convened the Review Group, which includes ICO representation, in 2014. There have been increasing calls for the report to be published and implemented as a matter of urgency, given ophthalmology's huge public hospital waiting lists.
Prof Billy Power
As of April 2017, some 13,552 people are on the inpatient/day case hospital waiting list for ophthalmology, with 3,930 of these waiting 12 months or more. Some 35,497 are on ophthalmology's outpatient waiting list, including 10,082 waiting for 12 months or more, according to figures from the National Treatment Purchase Fund (NTPF).
Integrated care
It is certain that developing an integrated service between the hospital and community will be the review's key focus. "One of the difficulties at the moment is the community service is not well-resourced and not well-structured, so it is not a good service, therefore a lot of what should be done in the community is being done in the hospitals," Prof Power, who is also Clinical Lead of the HSE's National Clinical Programme for Ophthalmology, tells the Medical Independent (MI).
Many patients with chronic stable eye disease – such as stable macular degeneration and glaucoma – are being managed in outpatient departments at acute hospitals. This results in huge return numbers into hospitals, incapacity to see new patients in a timely fashion and ultimately large hospital waiting lists.
The review will describe a primary eye care team that includes medical ophthalmologists, optometrists, orthoptists, and ophthalmic nurses. "These teams will work in each community healthcare organisation or community health area, and depending on the geographic location and the population needs, there may be more than one team and that will be the first time that the community eye service will be delivered in an integrated team manner – for the first time it would involve optometrists working within the community with the doctors, nurses and orthoptists," says Prof Power.
Ophthalmic surgeons in Ireland are doing too many outpatient clinics and not enough surgery, which is one of the structural problems contributing to long waiting lists in ophthalmology, says Prof Power, Consultant Ophthalmic Surgeon at the Royal Victoria Eye and Ear Hospital (RVEEH), Dublin.
"A point I often make, when I meet with people in the HSE, is that if I go into an outpatients in the morning, and a patient is sent into me with a new diagnosis of glaucoma, that patient will attend my clinic every six months for the rest of their days. We end up seeing what we would often call chronic primary eye care problems in the acute hospital setting with no resource to transfer them. So that is the whole purpose of having the large integrated team. And every patient doesn't need to be seen by a doctor on every single visit," he explains.
Community ophthalmic physicians (COPs)
This re-orientation will require a thorough review of the job description of community ophthalmic physicians (COPs) or medical ophthalmologists in the community, he emphasises.
"Where we suffer tremendously in terms of recruitment, and we are a small specialty, is in our posts of community ophthalmic physician. One of the reasons for this is the contract for that post dates back to the 1980s or so, and it hasn't been reviewed since then. Without a shadow of a doubt it is the most poorly paid contract for a medical speciality working in either the community or the hospital setting in the country. The role of the community ophthalmic physician, or the medical ophthalmologist [in the community], is central to the roll-out of the new primary care eye service review."
This has been emphasised with the Review Group in the HSE, says Prof Power. If the role is advanced and better recognised, the training and career pathway will attract trainees, he feels.
"We need a new role and new job description for the medical ophthalmologist in the community, and I think that will be key because we know down through the years, particularly up to recently, we have had tremendous difficulty recruiting trainees [to this area] and the reason for this is because they feel the career options are poor. They are working in single-handed practices, with little or no equipment, in a very isolated manner and they are not working in any form of team. It hasn't attracted the trainees and it is not attracting those who have trained, in the sense that we have people who have left in the last number of years, some of the COP jobs we are unable to fill around the country and that is one of our major problems at the moment, unfilled COP jobs around the community."
The ICO President compliments the work of the review team within the HSE for the "thorough" manner with which they have undertaken their work. He says his predecessors as Clinical Lead, Mr Paul Moriarty and the late Mr Peter Barry, also drove it forward.
He adds: "Brian Murphy [HSE Head of Planning, Performance and Programme Management, Primary Care Division] and the group within the HSE have done a tremendous amount of work in terms of the planning and implementation plan and forward budgeting, so it has taken a long time, but behind the scenes there has been a tremendous amount of work that has gone into it and there is a very genuine feeling within the HSE that this needs to be done and needs to be funded. I am staying on as Clinical Lead and that would be my goal – that we continue, once the report is published, to get to this implementation phase.
"We have a small budget to implement this year and we are hoping we might get one to two primary eye care centres up-and-running before the end of this year. And next year we would hope in the Service Plan that we would get further funding and that obviously we would roll it out. This will not happen overnight, we are not going to be in a position to put primary eye care teams into every area around the country immediately."
Glaucoma
Meanwhile, Prof Power says the ICO Annual Conference would have a very high calibre of international and national speakers. Prof Jonathan Crowston, the Ringland Anderson Professor of Ophthalmology, University of Melbourne and Managing Director of the Centre for Eye Research Australia (CERA), will deliver this year's Mooney Lecture ('Climbing the Glaucoma Mountain – Future Challenges and Opportunities') and will also contribute to the Glaucoma Symposium alongside speakers Mr Leon Au, Consultant Ophthalmologist, Manchester Royal Eye Hospital and Prof Augusto Aruaza-Blanco, Professor of Ophthalmology, Queen's University Belfast.
New methods of delivering glaucoma care is an area of huge interest, according to Prof Power.
"We are a very technologically oriented specialty. For a lot of what we do, we take measurements and we look at images. How we are delivering care now, and how we will be delivering it in 10 to 20 years' time, I have no doubt is going to be hugely different. We will be running virtual clinics where a lot of our patients will be seen remotely – maybe, for example, in the primary eye care centres, they will come in, have their various scans and measurements done, they will be put up on a server which can be viewed by the relevant specialist in Dublin [for example] – be they a glaucoma specialist or retina specialist. They can be reviewed, a decision can be made as to whether they need intervention, surgical or medical, and that can then be relayed instantly to the clinic and avoid the patient having to come to Dublin for an opinion."
Stable glaucoma patients typically need to be seen every six months. "But to be able to do these virtual clinics, where perhaps the patient doesn't need to be seen by a doctor at every clinic at all – many of these can be nurse-led, so for example in the Eye and Ear Hospital they have a pilot nurse-led follow-up glaucoma clinic and then all the scans and visual fields are reviewed by one of the two consultant glaucoma surgeons. The patient is informed if there are [treatment] changes to be made, they are told what the changes are, or if they need a review with the surgeon they are given a review with the surgeon. Again that leads to better efficiencies."
Outsourcing
Such efficiencies are imperative if ophthalmology and other specialties are to make any headway on huge waiting lists. In that respect, Prof Power suggests outsourcing of waiting lists to private healthcare via the NTPF does not represent the optimum solution.
The advantage of outsourcing in this fashion is clear in that there is a tender process, a commitment to a certain number of procedures being undertaken, and the fact that patients languishing on waiting lists have their procedure, explains Prof Power. "The difficulty at the end of it all is that not one cent of [the money] has actually gone in to remedy the structural remedial problems in the public hospital, in that all that money has essentially gone into the private health sector.
"I would always argue that, certainly at the moment, a model has to be developed whereby the public hospital facilities need to be encouraged and helped to have the capacity to do the cataracts and compete on an equal footing in respect of getting NTPF cases. So, for example, in the Eye and Ear Hospital, through private funding [raised via fundraising efforts] they recently identified a space within the hospital and converted it into a separate standalone high volume cataract theatre and they recently appointed two dedicated cataract surgeons to run that, and they will compete for NTPF cases." The hospital funding went towards the theatre build costs and it is hoped it will be operational in the next couple of months.
Lack of theatre time is an ongoing concern. Elective theatre time for ophthalmic surgeons, particularly outside Dublin, has been hugely constricted by limited capacity and the demands of emergency and cancer surgery.
"A lot of our departments in the general hospitals have suffered enormously in the past 10 years, with the pressures on theatres for casualty and cancer. So if you pick the large centres, for example if you look at Galway, Limerick, Cork, the regional hospitals in each of those places, they have absorbed more and more emergency work and highly specialised work, cancer work, and a lot of the elective work has obviously then been hit because of that."
There is also the historical and ongoing shortage of theatre nurses. "I can never remember a time when it was not difficult to recruit theatre nurses. But generally, what you find is that when there is tremendous effort and focus put into it, it can be done."
Key difficulties concern nurses' salary and accommodation and living costs in Dublin, suggests Prof Power. Similar issues face doctors, as does the pervasive issue of burnout, which will be another focus at the ICO Annual Conference.
According to a recent study of hospital doctors in Ireland led by the RCPI, one-in-three were found to have experienced burnout and up to 10 per cent reported severe-to-extremely-severe levels of depression, anxiety and stress. However, over 70 per cent of doctors were strongly motivated to practise medicine.
Most doctors in ophthalmology enjoyed their work, but the specialty had the highest proportion who would not want others to know if they had a mental health problem, according to the RCPI report.
Doctor burnout is something that is rightfully gaining more attention, says Prof Power. College CEO Ms Siobhan Kelly is currently a member of a HSE working group devising a strategy on doctors' health.
Prof Power says a truer picture usually emerges in these anonymised studies, whereas in the "hurly burly of work" and other commitments, it tends not to be something doctors talk about. Often, clinical work is not the stressor, but rather the lack of appropriate supports such as administrative backup, says Prof Power.
"I suppose people feel it is the norm for everybody and maybe they don't discuss it with one another," he notes.