You are reading 1 of 2 free-access articles allowed for 30 days
In focus — hospital life through a lens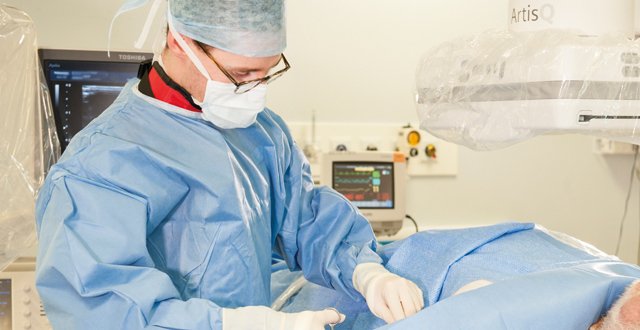 If a picture speaks a thousand words, I think a medical photograph can speak ten thousand."
That is according to Mr Tommy Walsh, an award-winning medical photographer at Tallaght Hospital, Dublin, who is also a member of the Institute of Medical Illustrators (IMI).
Mr Walsh jokingly says he has been involved in this specialised area "too long", remembering a pre-digital era when he started in the "darkroom in the Meath".
"We used to use slide film," he says. "And slide is unforgiving. If you went to theatre and took a photograph on slides, you got one shot and by God, you got it right. You didn't make a mistake. It was a great grounding."
But technological advances have been rapid, with "huge changes in recent years and we are totally digital now". Analogue is on the way out and digital is on the march.
"X-rays are all digital now; there are no prints of x-rays. We're going totally digital so people will log on to the patient's files and the photograph will be attached and you can see the patient's blood test, their radiology all in the one go. So there is no more rooting around in notes.

Mr Tommy Walsh
"Also, the modern cameras produce phenomenal detail."
Medical illustrators communicate treatments and conditions and the imagery produced is commonly used to help diagnose conditions and assist with the planning of complex surgery. Medical illustration has witnessed incredible changes in the areas of design, video, graphics and clinical photography. In Tallaght, the illustration and communication is done through photography.
Mr Walsh describes in enthusiastic detail a job where no one day is ever the same, yet it fulfils a uniquely important role in the modern workings of a hospital. He is based in the hospital's Department of Medical Photography and Illustration with Ms Niamh Carolan, who provides administrative support and looks after the graphic element in the department.
Dermatology
On the Monday before our interview, he was working in dermatology. "If there is a suspicious lesion, a consultant will send the patient down to get a close-up photograph.
"Moles are another important part of the work," he says, pointing out that his photography often chronicles a patient's mole in incredibly close detail over months to see if it changes.
"It is very specialised, you are looking at serial representative photography. And that can be often over a couple of years with some patients. So you are doing the same shots every time to help with their assessment. Continuous assessment is a huge thing.
"So in its basic form, it's an aide-memoire to the consultant. Every mole is different, every lesion is different.
"But we never know what we are going to get on any day. I was called to theatre yesterday [Wednesday]. We were photographing a new technique that they are using and they want to show that technique at a conference for peer review. I spent an hour-and-a-half in theatre; the detail you end up with is phenomenal.
"We are a huge teaching hospital, and teaching would be a huge aspect of what I do," he continues.
'Clear communication'
One definition of medical illustration says that it emphasises "clear communication" as its key feature. It is this that makes it different from art inspired by science or medicine. Do doctors and other medical staff appreciate the skill involved in producing this photographic communication?
"I think it's hugely appreciated," says Mr Walsh. "I joke that I promise to leave medicine alone if they leave photography alone. I think that with the training that we have now and the standard of work we do, I think when they see the quality that we can produce, consultants and the doctors are astounded.
'If there is a suspicious lesion, a consultant will send the patient down to get a close-up photograph'
"It's very interesting; I love what I do, dealing with patients more than anything else."
This mention of the patients is important. A good 'bedside manner' as a medical photographer is crucial in putting patients at ease.
"It is hard on patients coming in. Some people have never shown anyone the condition they have, maybe only their doctor, and they are showing it to me to get a photograph," he notes.
"You have to have that people skill, if you don't you're 'snookered'.
"You can't be in any way cold — you have to be welcoming, you need to have sensitivity."
It is important to be aware that admittance to hospital can be an emotional time.
"Some of them might have been told bad news. You are also dealing with children."
Ireland's main hospitals have medical photographers. For example, the Medical Illustration Unit in St James's Hospital, Dublin, was established in 2005.
Mr Walsh names a number of "excellent" medical photographers in various hospitals. There are less than 20 members of the IMI registered in Ireland and it is in the UK where positions and interest are increasing most.
"During recent years, there has been growth in the demand for our services, despite so many medical professionals taking their own [images]," says Ms Katy Hamilton, who works as a medical illustrator with the NHS in Queen Elizabeth Hospital, Birmingham.
"However, I believe that as the importance of documenting conditions rises, so does the need to get professional photographs to provide that visual evidence."
Ms Hamilton is also involved with the IMI in providing career advice.
"With this in mind, interest in medical illustration/clinical photography has grown, particularly with the range of new courses on offer from Cardiff and Staffordshire Universities," she tells MI.
"Interest comes mainly from photography graduates who are looking to take their next step towards a scientific photography career. However, enquiries from other medical professionals who wish for a change in direction, to other professional people seeking a new challenge, are very common.
"My advice to anyone thinking about medical illustration/clinical photography as a career would be to gain some work experience in a practicing medical illustration department before committing to it," she says.
"For those who do find that no other career will do, clinical photography promises a varied, enjoyable and interesting future. In recent times advances in 3D, thermal and ophthalmic imaging, along with the traditional aspects of photography, combine to provide a career which looks to the forefront of scientific imaging techniques to better document medical conditions and the treatment of patients."
Mr Walsh agrees that looking towards the UK might be the best advice for those who are interested in the career.
"In Ireland it is difficult, [there are] so few positions," he says. "But it has developed an awful lot, if you will pardon the pun. We have become much more professional; the standard is so high.
"You see jobs advertised in the UK. I would tell someone who is interested in getting into the area that they would need to get into a department and get under someone's wing, under a senior who is qualified, and learn from them."
Education
The areas in which medical photography helps to communicate information are growing all the time, according to Mr Walsh.
"We work an awful lot with the allied health professionals — physio, occupational health," he says.
"How does someone with a stroke get in and out of bed? We have done a series of photographs of how to do it, and we have given them [the patient and carer] the leaflet.
'In Ireland it is difficult, [there are] so few positions. But it has developed an awful lot, if you will pardon the pun'
"Patient positioning is also important. You can write a dozen notes saying that a patient should be lying on their side. But what we do now is take photos of the patient, and show the picture of their best medical position. It tells the carers what their best position is, both medically and in terms of comfort."
With education such an important aspect of life in Tallaght, he adds that "leaflet design and poster production" are very important.
He continues: "Poster design for academic medical conferences; I have a particular interest in them. Posters are really important, because they are a precursor to going to publish. We turn out lovely posters here. We don't charge for the academic medical poster to be printed for staff. I think it shows Tallaght Hospital's commitment to teaching and education that it does that.
"The staff here have won awards all around the world for presenting with their posters and it's very competitive."
The close bond between medical illustrators