You are reading 1 of 2 free-access articles allowed for 30 days
Immunity, impunity, mutiny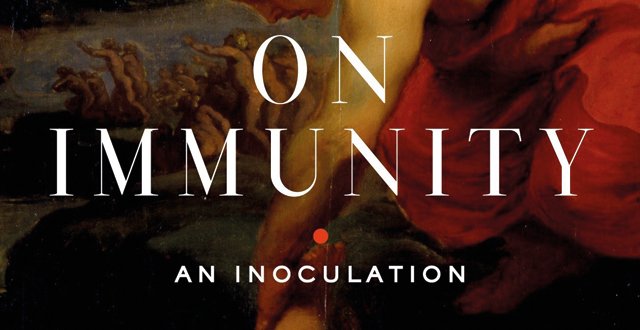 Book title: On Immunity: An Inoculation
Author: Eula Biss
Publisher: Fitzcarraldo Editions 2015
Reviewer: Prof Denis Gill
Its author Eula Biss has one son who is allergic, about whom she seems both hyper-reflective and hyper-reactive at times. She has certainly talked the talk, walked the walk, done her homework and reading, research and provided much to chew over.
So to commence the cud-chewing, a sample of Biss's quotable quotes:
"I would not let my son be cursed by my own carelessness or cupidity."
"Vaccine resisters saw their bodies not as potentially contagious but as highly vulnerable to contamination and violation."
"Vaccination works by enlisting a majority in protection of a minority."
"The idea that toxins rather than filth or germs are the root cause of most maladies is a popular theory of disease among people like me."
"I suspect that Coca-Cola is more harmful to children than vaccination."
"The idea that the consumer is always right, imported to medicine, is a dangerous dictum."
This is a considerate, worthy, wordy, contemplative book replete with relevant allusions and historical anecdotes. It seems to be written for a literate, graduate, informed audience. Much is made of military associations, such as conscientious objectors, killer T-cells, immune and defence systems.
Biss's book is a healthy antidote to the successive anti-vaccine diatribes (on the Internet) and to ill-informed vaccine denier 'celebrities' being paraded and pandered on US TV stations.
Andrew Wakefield loved the media, and the media uncritically and unquestioning loved him during the 'MMR scare' in the UK. Wakefield was a charlatan and an imposter. In the year 2000 we experienced in Temple Street Children's Hospital a measles outbreak with 300 admissions, 10 children in ICU and three deaths, all attributable to his misrepresentations.
Immunisation has two objectives: to protect the individual and to protect society. Immunisation is a very socialist activity. I wish that vaccine advocates would drop the term 'herd immunity' (which many equate with guinea pigs and lab mice). The term 'community immunity' is much preferable. One hundred per cent vaccine uptake = disease eradication, 90-95 per cent uptake = disease elimination. In these areas, infectious diseases are not transmitted and the unvaccinated children can share in community protection.
A child with diphtheria can infect four other children. A child with measles can transmit to 18 other children in the prodrome phase. A child with influenza can spread it to countless others. Children are promiscuous coughers, sneezers, nose-rubbers, and hand- and face-touchers. Adults with waning immunity are spreading pertussis back to infants. Prevention of transmission is one of the keystones of immunisation. In the US today, unvaccinated children are likely to be Caucasian, have a mother in her 30s, and live in a house with an income of $75,000 or more.
Vaccination in Western countries protects against 13-15 conditions and involves a lot of shots and boosters. Its success in eradicating diphtheria, polio, tetanus, measles, rubella, Hib disease and invasive tuberculosis has produced a generation of mothers (to whom vaccine decisions are mostly left) unaware of these conditions, but inappropriately scared of trace amounts of the universal aluminium, other unidentified 'toxins', adjuvants, etc.
Biss, herself the daughter of a doctor, is besotted by her son, obsessed by Dracula, highly anxious (because he is highly allergic), a baby-monitor user, fearful of pesticides, bisphenol A, phthalates (in shampoo) and triclosan. She rightly rails against excessive sterilisation of infants and their households. She is, in my opinion, TOO SOFT on Wakefield. But she takes on Dr Bob Sears, a US vaccine commentator who plays on mothers' fears and promotes his own false 'selective' and 'alternative' vaccine schedules.
Biss observes that we resist vaccination in part because we want to rule ourselves. Other vaccine deniers play on fears, uncertainties and anxieties. When a mother has to make a decision about vaccination, her reason and emotion may come into conflict. No mother knowingly wants to harm her child. Biss is undeniably pro-vaccination, but with a questioning mind and quivering pen.
Vaccination, in the end, is about building and boosting immunity based on trust that doctors, nurses, health authorities and vaccine committees, on informed reflection, want to help and not harm children. I like Biss's final sentence: "Immunity is a shared space — a garden we tend together." Metaphors of military defence permeate this book and our immune imagination.
Not an easy read, but an honest one. Biss has a fertile mind and fluent pen. Her book concludes with 20 pages of notes and 10 pages of sources.
Immunisation is an evolving science — I suspect that today's medical graduates will look back in 2050 with horror at our current practice. Nonetheless, sanitation, immunisation, antibiotics and oral hydration were among the greatest health advances for children in the 20th Century. Immunity — yes. Mutiny — no.