You are reading 1 of 2 free-access articles allowed for 30 days
IICN Neurology Update Meeting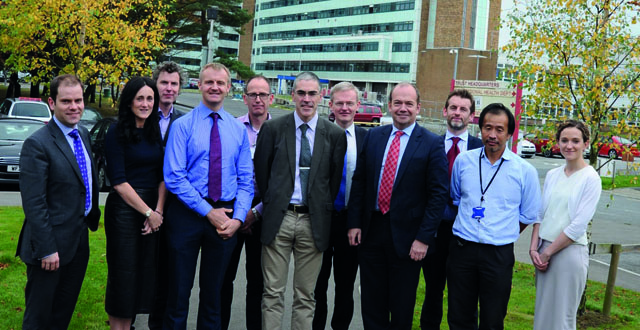 The Neurology Update Meeting, directed by Dr Mark McCarron, was a neurology education day aimed at general physicians and GPs. The meeting consisted of a series of short talks with clinical tips for managing neurological patients. Topics included epilepsy and pregnancy, acute stroke, Parkinson's disease, motor neuron disease and palliative care, dementia, multiple sclerosis, brain tumours and headache.
It was the first IICN Neurology Update Meeting hosted by Altnagelvin Hospital. Registrations exceeded 115 delegates, with some astute delegates sharing their attendance with a colleague. Thanks to the Northern Ireland consultant neurologists, who enthusiastically gave of their time and expertise to educate a mixed audience with variable neurology experience.

Dr Michael McBride, Chief Medical Officer for Northern Ireland
Ms Carrie Wade, local neurology secretary, and the IICN's Ms Colette Fitzpatrick made this meeting a success with their meticulous organising skills and gentle suggestions for the director of the meeting, a local and naïve neurologist, Dr McCarron.
Dr Michael McBride, Chief Medical Officer for Northern Ireland, was warmly welcomed to the meeting as he took time out of his very busy schedule to attend. He met delegates at the meeting and congratulated Dr McCarron, Dr Ying Kuan, Clinical Director at Altnagelvin, and staff at the Centre for Medical and Dental Education, the venue of the meeting, on a most successful educational event.

Dr Mark McCarron facilitating the live video link-in of Prof Rustum Al-Shahi Salman
Prof Rustam Al-Shahi Salman was beamed in directly to the meeting from Edinburgh via video link and divided his talk on intracerebral haemorrhage into bite-sized portions for the admitting clinician, the neurologist and the GP. Prof Al-Shahi Salman is an academic clinician interested in brain haemorrhage, and his research focuses on the cause, prognosis and treatment of haemorrhage using a variety of clinical research designs, including systematic reviews, case control and cohort studies, and randomised controlled trials.
Dr Ellen Campbell delivered an update on management of epilepsy in pregnancy. Dr Raeburn Forbes lectured on managing acute and chronic headache 'in the age of austerity' and Dr Ferghal McVerry provided an update on management of acute ischaemic stroke.

Dr Ferghal McVerry providing an update on the management of acute ischaemic stroke
One front-man for the meeting, namely this author, Dr McCarron, had however more to bite on when Dr Nicola Duffy, a local Derry GP, produced a 'brain cake' (see photo) decorated with sulci, gyri and gelatine-like falx.
The meeting format provided opportunities for delegates to put questions to, and inform, speakers regarding concerns and difficulties they had in accessing information and services for patients.

Dr Karen McKnight, Chairperson of the morning session, with Dr Seamus Kearney
Dr Raymond Murphy, Vice Dean of IICN, congratulated Dr McCarron and his speakers on an excellent meeting and noted that the involvement of delegates maximised the educational benefit of the meeting.
The delegates then donated £275 to the Alzheimer Society at afternoon tea/coffee in return for the local tray bakes from the aforementioned Dr Duffy as well as Ms Jacqueline McKee, stroke nurse and the daughter of one of the Altnagelvin secretaries, Fiona Havord.
The meeting was a great success, with a very enthusiastic atmosphere, and marked the first IICN meeting that was over subscribed and from which delegates had to be turned away.
Irish Neurological Association Meeting 2016
The President of the 52nd Irish Neurological Association Meeting, Dr Peter Boers, is pleased to invite participation in the meeting, which will take place on 5 – 6 May 2016 in the Strand Hotel, Limerick.
The call for abstract submission will be issued in early January 2016.
Further information will be posted on www.iicn.ie as arrangements for the meeting are finalised.