You are reading 1 of 2 free-access articles allowed for 30 days
IICN 2015 Registrars' Prize meeting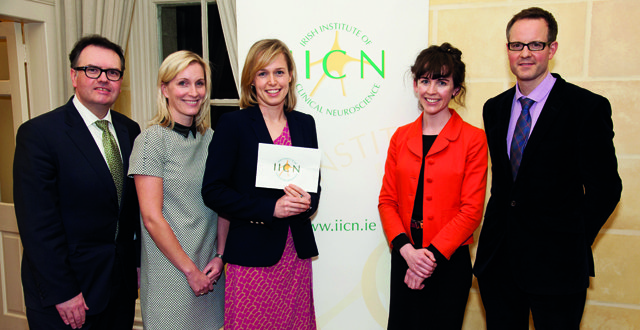 The 2015 Irish Institute of Clinical Neuroscience (IICN) Registrars' Prize took place on 13 November. The presentations took place in the magnificent setting of the Merrion Room in the RDS, Dublin, and the meeting was very generously supported by Biogen Idec Ireland. Registrars and consultants from the fields of clinical neurology, neurosurgery, neurophysiology and neuropathology were in attendance. A total of 19 registrars contested the Interesting Case competition and eight registrars fought it out in the original research category in the afternoon. Participants were drawn from Belfast, Cork, Galway, Waterford, and Dublin. The sessions were chaired by Dr Allan McCarthy and Dr John McHugh.

Dr Siew-Mei Yap; Dr Ronan McGinty; and Dr Eamonn Shaikh
The standard of the competition was extraordinarily high and independent judges in each section had the unenviably difficult task of choosing the winners.
In the Interesting Case competition, the winner was Dr Eimear Maloney of St Vincent's University Hospital, Dublin. Second place was awarded jointly to Dr Karen Doherty of the Royal Victoria Hospital, Belfast, and to Dr Eavan McGovern of St Vincent's University Hospital, Dublin.

Dr John McHugh
Dr McGovern was also the overall winner of the Original Research Prize for her presentation on age-related sexual dimorphisms in temporal discrimination in adult-onset torsion dystonia.
The outstanding contributions of all participants was remarked upon by all who were in attendance. The meeting serves as an important and welcome reminder of the talent and the endeavour that exists among trainees in clinical neurosciences in Ireland. It underlines the importance also of the mentors and trainers who grow, facilitate and over-see research and clinical academia across the island.
Endeavour
It is no coincidence that contestants and prize-winners from the IICN Registrars' Prize have gone on to win accolades in international meetings based on their work in Ireland.
The majority of presenters go on to publish their work in peer-reviewed international journals; this endeavour elevates the standards within the group and makes the Registrars' Prize a meeting of international quality.
Now more than ever, it is important that the consultant body needs to continue to work and fight to preserve this competition. Whilst the calibre of Irish trainees is reassuringly high, their opportunities for international-quality research within Ireland depend upon the availability of dedicated funding for their work.
Furthermore, the colleges need to collaborate with consultant trainers to pave a secure route that encourages and allows registrars to pursue research within their clinical training. Such measures are needed to secure the onward development of academic clinical neuroscience in Ireland.