You are reading 1 of 2 free-access articles allowed for 30 days
IHCA still has influence, insists Dr Crotty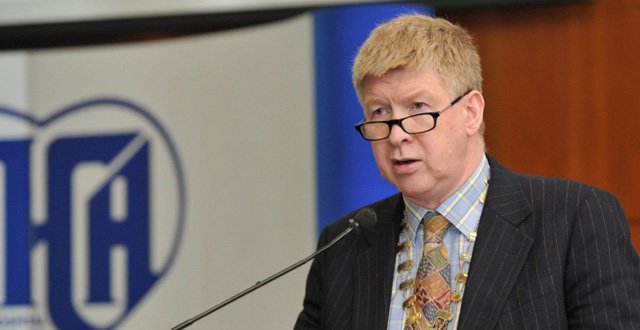 The IHCA does have leverage and influence over Government health policy, the Association's President Dr Gerard Crotty has insisted.
Answering questions from the Medical Independent (MI) following his address to the IHCA Annual Conference last weekend, Dr Crotty rejected assertions that the Association has little influence because it is outside the Haddington Road and Lansdowne Road public sector agreements.
"We do have influence; we have close meetings with the Minister and the Department, the HSE," he maintained.
"We do have the leverage in the fact that we do represent the vast majority of consultants. Any way forward that does not respect this is not going to get traction, because the vast majority of consultants are members of the IHCA."
Calling on the Government to respect the original 2008 consultant contract, Dr Crotty was highly critical of the IMO vote on a renewed consultant pay scale, which passed at the beginning of this year.
"It was discriminatory and divisive to ballot a small proportion of consultants on a contract that actually does not apply to them, but applies to the new entrants to consultant posts," he said.
"We do not think that is the way forward and that won't actually improve the system. The crisis in recruitment has continued since then and we don't believe that will actually rectify the situation."
However, in his address to consultants at the weekend, Minister for Health Leo Varadkar made a special appeal directly to the Association to rejoin public pay talks.
"I would again ask you to consider your position. Surely it's better if we work together to address the issues and create solutions?" he asked.
"It is simply not possible to have some sort of special arrangement or bespoke process to negotiate consultant pay. Consultants are public servants and the same system of collective bargaining that applies to all other public servants should also apply."
An IHCA spokesperson told MI that over 100 delegates had attended the conference, a significant increase on last year and the year before. He speculated that both the central location of Tullamore, and the fact that the Minister for Health was in attendance, had boosted numbers.
"People are interested in the issues as well, and I think there was good discussion and good debate this morning," the Association spokesperson told MI.
Meanwhile, outlining the IHCA's 2014 financial position, IHCA Secretary General Mr Martin Varley described the "very strong income situation and balance sheet".
The closing net balance of the Association at the end of last year was just over €3 million.
Membership numbers for the Association are also up. There are currently 2,489 members of the IHCA, up from 2,441 the previous year.
There has been a general upward trend in IHCA membership numbers in recent years; in 2009 there were 2,218 members.