You are reading 1 of 2 free-access articles allowed for 30 days
IAD 50th Anniversary Spring Meeting April 23-25 2015, Maynooth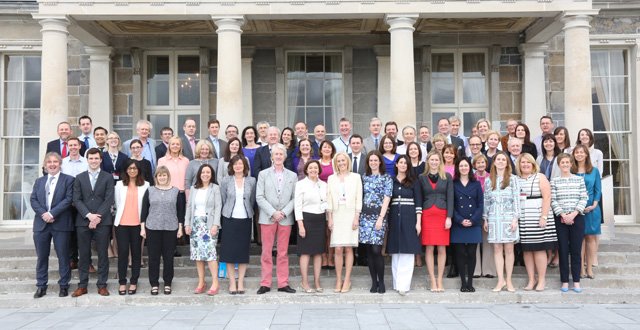 IAD President calls for increased resources in dermatology to help cope with rising demand
President of the Irish Association of Dermatologists (IAD) Dr Rosemarie Watson has called for more resources to cope with the increasing demand for dermatology services in Ireland, and for proper investment in the treatment of diabetic foot ulcers.
"Our speciality has its challenges. The rising paediatric and elderly population is putting increasing demand on our services. The rise of skin cancers, some of which need urgent attention, is pushing patients with inflammatory and other skin diseases, which severely affect quality of life, further down the waiting list.
"On the positive side, there has been more than a three-fold increase in consultants since I returned here to take up my post in 1992. At that time there were 10 public consultants, but more are needed, and how does one address that?" she commented during her opening address to the 50th Anniversary Spring Meeting.
Dr Watson said "outside-the-box thinking" was needed to make sure every euro was being well spent. She also noted that Ireland has internationally-renowned dermatology clinicians and clinician scientists. These include current and past Presidents of the British Association of Dermatology, and a past President of the European Academy of Dermatology.

Pictured L to R: Prof Louise Barnes; Prof Frank Powell; Dr Rosemarie Watson; Minister for Health Leo Varadkar; and Dr Gillian Murphy
Welcoming Minister for Health Leo Varadkar to the Meeting, Dr Watson said she had "every confidence" he would "do his utmost to help dermatologists to deliver a dermatology service that offers timely access to all patients who need our expertise".
Speaking to the Medical Independent (MI), Dr Watson described the Meeting as "an absolute success" and pointed out that "unprecedented numbers of all ages, over 200" attended, as well as over 60 nurses.
"The scientific programme was amazing. On the opening night, the Minister gave a very comprehensive talk and we have great hope that he will find a way, along with the Department, to listen to us and our needs. We hope to talk to his people [about helping to solve outpatient waiting lists]," she said.
The speakers during the Meeting's scientific sessions were "world famous" and gave very practical tips for delegates' clinics. They also discussed the latest advances in science that are now going hand-in-hand with clinical practice, "so that was very, very enjoyable," Dr Watson said.
"Prof Michelle Pietri was very well received, as was Prof Gary Sibbald, who is a world leader in healing, who had some very practical tips. If we had someone with his expertise in Ireland, I think we could save the Government a lot of money, because the management of diabetics is one of the most expensive things, apparently. A recent study in Wales showed the management of leg ulcers was using up 5 per cent of the health budget, so his tips were helpful and we all felt we would love to have him in our clinics with us."
She also praised the quality of the presentations by the Association's junior doctors as "most impressive". There were 40 abstracts submitted for presentation but just a selection were presented due to time constraints.
"A lot of the projects were geared towards making treatments easier for patients and being aware of costs to the patients was also very important. We had some very practical areas covered by our poster session too, for example new advances in treatments for angiofibromas.
"We also saw a lovely poster… on how important it is to listen to the patient, because what you think may be the primary problem in the consultation may not be what the patient thinks is the primary issue. So that was very useful," Dr Watson commented.
She also praised the presentation by Prof Alan Irvine on atopic dermatitis.
"It is wonderful that a small island like ours has the calibre of clinician scientists like him. He is recognised and respected all over the world and gave a very exciting talk about how far we have come with eczema, because it has fallen a bit behind psoriasis with regard to treatments in recent years, but that will all probably change in the next five years. Medicine is moving at such an explosive pace, we need these meetings on a regular basis to keep up to date.
"Of course, one of the most important parts of a meeting also are the conversations that happen in the corridors; lots of exchanges of ideas and support. We are kind to each other and look out for each other and I think that is a very important part of the meeting as well — the social aspect."
Concluding, Dr Watson noted that the IAD has 70 active consultant members (a third working in Northern Ireland) and 30 trainees.
In the Republic, there are 33 consultants in public practice and 14 in exclusively private practice.

Mrs Betty Barnes and Dr Rosemarie Watson presenting Dr Joe Barnes with the inaugural IAD Lifetime Achievement Award
Minister voices his support for employing more dermatologists
Minister for Health Leo Varadkar wants to hire more consultant dermatologists to help address lengthy waiting lists and demand for dermatology services.
Addressing the IAD 50th Anniversary Spring Meeting in Maynooth, Minister Varadkar acknowledged that dermatology waiting lists are among the worst in the public sector. He said he wanted to talk to the profession about their ideas to reduce lists, especially for the very long waiters, and suggested changes to the GP referral pathway could help, adding that he was open to outsourcing to the private sector, if absolutely necessary.
"I would be interested in advice on interim solutions on whether there is a better referral pathway… and I would be interested in the thoughts of your Association on how we might do that, and deal with some of those very long-waiters, about whom I am very concerned," the Minister told the Meeting.
He said, being six years out of clinical practice, he thought there would have been a better referral pathway for dermatology at this stage, using an online system, photographs and teleconferencing.
"While we have done bits of that here and there, it is disappointing we do so little of that in Ireland. While dealing with waiting lists will have to involve the appointment of more consultants, there must be much better referral pathways, and I'm sure many of the referrals you get are unnecessary and by the time their appointment comes up, the problem has either gone away or got considerably worse. Obviously, that is even more worrying," Minister Varadkar stated.
Meanwhile, he praised the IAD for "promoting dermatological collaboration on a North-South basis, and for building a strong relationship between both parts of the island".
The Minister welcomed the re-establishment of the National Clinical Programme for Dermatology back in March. He said he didn't "know as much about dermatology as maybe I should," having only completed a one-month rotation in dermatology in St James's Hospital, Dublin, under Dr Rosemarie Watson, but did learn a lot from it.
He also asked delegates at the meeting to "support and co-operate with" the HSE's new hospital groups structure.