You are reading 1 of 2 free-access articles allowed for 30 days
HSE signs collaboration agreement with Sudan Federal Ministry for Health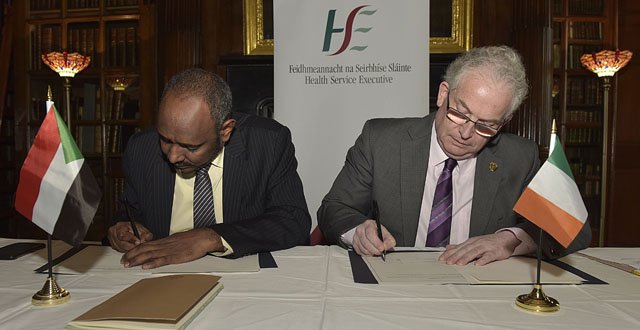 The agreement was signed by HSE Director General Mr Tony O'Brien and Dr Isameldin Mohammed Abdalla, Under-Secretary, Sudan's Federal Ministry for Health, on behalf of the two governments.
The agreement builds on a long-standing relationship between the two countries in the area of healthcare and results from a process over several years to consolidate and institutionalise this relationship.
The agreement will facilitate a range of initiatives in education and training of health professionals, research, and in improving the quality and safety of healthcare.
It also seeks to maximise the benefits of migration of Sudanese medical graduates working in Ireland and will facilitate effective involvement of the Sudanese medical diaspora in Ireland to support their own country's health system, including education and training.
Welcoming the agreement, Mr O'Brien said it will be beneficial to both countries: "The relationship between Sudan and Ireland, especially in health-related matters, dates back several decades and this agreement will strengthen that relationship further."
Also welcoming the agreement, Dr Abdalla said it will "assist Sudan in building the capacity of its health workforce and in improving the quality and safety of healthcare for our patients, their families and the wider population".
Since the early 1960s, Sudanese doctors have come to train in Ireland and the number of Sudanese doctors registered here has increased 10-fold, from 64 in the year 2000 to 403 in 2010 and 679 in 2015.
The World Health Organisation (WHO) Global Code of Practice on the International Recruitment of Health Personnel provides a framework for ethical recruitment and social accountability. Ireland has committed to implementation of the code and one response is the International Medical Graduate Training Initiative, by which international graduates receive training in Ireland and then return to practise in their home countries. In 2017, Sudan became just the second country to enter into an agreement to participate in the initiative.