You are reading 1 of 2 free-access articles allowed for 30 days
Hope that tomorrow will be different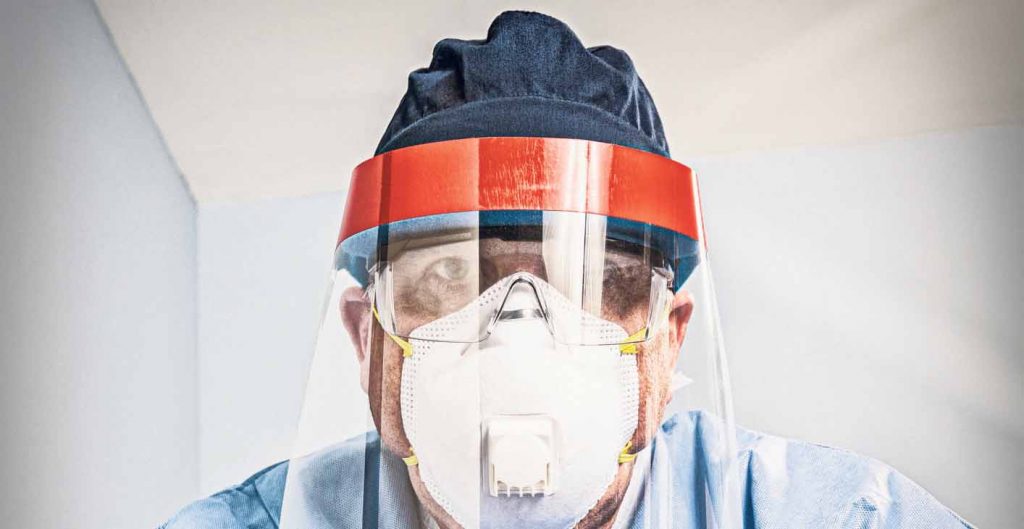 The time for incrementalism in health is over — we need moonshots
The last few months have been very tough on our nation. Families have lost loved ones, sometimes in the setting where they have not been able to be with them in their final days and hours. Many of us have not been able to mourn our lost loved ones in the normal fashion. The economy was put into hibernation. Many have lost their jobs. 
Frontline healthcare workers have also been in the trenches of this battle against Covid-19 — we have needed to rapidly transform how we deliver care, whilst at the same time being particularly at risk of contracting this highly transmissible, highly virulent infection.
We have seen agility, innovation and flexibility in our hospitals and a re-fashioning of the interfaces across our health system. The cost of this change was born by the many clinical leaders who stepped up — individuals and teams who put their hands up, despite the context of miserably low baseline staffing levels and resources when juxtaposed with international comparators. I am thinking especially of specialist hospital consultants, public health specialists and medical scientists.
I feel very proud of our wide interdisciplinary team and the very many examples of committed public service. I, along with many other colleagues on the coalface of acute care, also feel exhausted. We in healthcare have long advocated and remonstrated regarding such aspects as our lack of specialist staff, lack of specialist consultants (lowest numbers of consultants in the EU), emergency department overcrowding, acute hospital bed capacity, horrendous waiting lists, and lack of ICU capacity.
We have managed to get through the first surge of this pandemic — despite our under-resourced health system — because of a combination of the good fortune of pre-warning, societal cohesion and the vocation and self-sacrifice of our hospital staff. The situation in northern Italy, which has a multiple of the per capita ICU bed capacity of Ireland, functioned as a rallying cry for the Irish hospital sector and also reminded the Irish public that if they didn't play their part, the acute hospital sector would become overwhelmed. We are, in the words of Bilbo Baggins: "Thin, sort of stretched, like butter scraped over too much bread."
As we face into the autumn/winter and a likely second surge, more than anything else, we need hope. We need hope that investment in the health service will give us the breathing room to allow us to reopen our economy. The Irish people demonstrated incredible social cohesion in staying at home and allegiance to the hospital sector. We need to hope that in return for all of our Herculean efforts during this first stage of Covid-19, we will be rewarded with a system that has the capacity to meet need — both for future surges of Covid-19 and for the future of our population.
We hope for a system where we do not constantly experience the moral injury of seeing patients languish in emergency departments and on endless waiting lists, experience excess pain, morbidity and yes, mortality, because of the impact of the lack of capacity in our system. For too long we have all held on, like the Dutch boy with his finger in the dam.
Therefore we need hope; hope that help is coming and that tomorrow will be different; better. Hope that we will soon work in a health service where all have timely access to high-quality care and where doctors have safe call rosters, manageable workloads and the opportunities to innovate, lead and flourish.
New Minister
I wish Simon Harris well in his new brief as Minister for Higher Education, Research and Innovation. History will remember him as the Minister who delivered repeal of the Eighth Amendment, for his stewardship of a health service that hastened a General Election, and as a Minister who engaged collaboratively with his frontline health leadership with energy and honesty once the Covid-19 crisis exploded.
I cannot but be honest that I am very disappointed that he did not address the consultant recruitment and retention crisis during his term, despite ample opportunity and steadfast appeals to do so. The best time to fix this was 2012. The next best time is now.
To Stephen Donnelly, our new Minister for Health. Your success is our success. If you succeed, not only do we get an improved health service, but we will have the resilience and flex within our health service to allow the economy to reopen, We wish you all the best — never more has agile, collaborative, compassionate, inclusive leadership been more needed.
My experience of Stephen Donnelly is that he is passionate about delivering timely access to quality care and that he understands that to do that, one must work with the doctors, nurses and other health and social care professionals providing care and the patients and advocacy groups so that the service is designed to meet changing patient needs.
I am delighted that we have a new Minister for Health with his level of enthusiasm for the role. So many politicians avoid health, viewing it as the ultimate poisoned chalice. In fact, I wouldn't be surprised if multiple individuals have declined the honour and challenge of the health portfolio down through the years. Minister Donnelly has been working towards this opportunity since he started running for elected office. At a time when so many of our hospital leaders and frontline healthcare workers have put up their hands in the battle against Covid-19, Minister Donnelly has also put his hand up to take on the challenge of health.
It gives me hope that he has been appointed. I see in him the idealism, intellect, experience, enthusiasm and bravery to take the bold steps necessary in health to deliver the monumental changes needed to ensure timely access to quality care. I also see in him the pragmatism to take and make decisions that are needed to re-establish confidence and trust — even those that might run counter to perceived departmental wisdom.
Collaboration
A great friend of mine says medicine is about making the world a better place. Politics, when done right, is the same. When we develop a collaborative, shared vision, the limit of what we can deliver is but the limit of our imaginations. The time for incrementalism in health is over. We need moonshots.
I believe that if we all work together as Team Health, we can in the first instance withstand the next surge of Covid-19 and ultimately deliver timely access to high-quality care for all patients. The goal must be that, in the end, no-one waits on a trolley in an emergency department for a prolonged period of time and no-one waits longer than six weeks for access to excellent patient-centred care.
Priorities for the new minister must surely include some of the following critical infrastructural steps:
• Expansion of universal access to healthcare.
• Ensuring capacity for a Covid-19 rapid response.
• Ensuring hospital bed and ICU capacity for the longer term.
• Opening of the National Children's Hospital.
• Opening of the National Maternity Hospital at Elm Park.
• Implementation of National Health Strategies.
The consultant recruitment and retention crisis is a touchstone issue for many frontline healthcare workers and signals a decade of broken promises and loss of trust and confidence. Pay parity for so-called new-entrant consultants needs to be prioritised so that we can start to fill the empty posts, now in excess of 500, and therefore achieve the stated aims of the Programme for Government.
Reform of the Medical Practitioners Act is also necessary so that more of our excellent internationally-trained doctors have access to specialist training and hopefully many will choose to see a future here in our public health service.
Consultant status for public health specialists and investment in capacity in public health is essential as we look to the future — not only future surges of Covid-19, but future pandemics.
In the end, it all comes back to a need to provide timely access to high-quality care. We need a Team Health approach, collaborative and innovative. To quote our new Taosieach, "I believe that in every decade we are presented with one major choice, a choice where, if we call it right, we change the future for the better."