You are reading 1 of 2 free-access articles allowed for 30 days
High-altitude hand-washing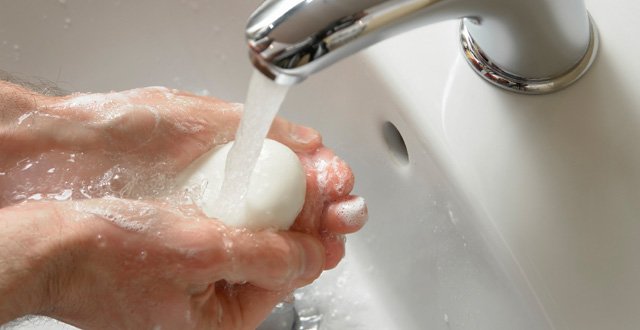 As a pre-pubescent school­boy, our local airport was 12 miles from home, but a world away from my working-class North Belfast life. Sometimes, in Dai­sy's Chippy, I wouldn't just be queu­ing for a fish supper, but waiting to board a flight to Zurich. For a few sec­onds I became a wealthy, short-trou­sered businessman; Daisy's chipped formica counter was now a gleam­ing chrome-edged desk and her fat-stained lino floor acquired a patina of polished marble, across which air hostesses sashayed. Alas, Daisy never flashed a coquettish smile while wish­ing me a pleasant flight, instead limit­ing herself to "Ya wantin' salt 'n' vine­gar, love?"
Decades later, although I would like to wash my hands of the whole (forgive the dread phrase) 'flying ex­perience', I can't even do that if there is no soap on board. For example, the headline of Francesca Gillett's piece for the London Evening Standard (24 October 2017) — 'Ryanair denies claims it removed soap from plane toilets to save money' — evokes not so much the aura of glamorous jet lin­er travel as one of high-altitude Dick­ensian squalor. And Larissa Nolan's piece in the Irish Independent (23 July 2006) from more than a decade ago — 'Basic hygiene takes a wee hol­iday on Ryanair flight' — reports on a flight from Malaga to Dublin, which was notable for an absence of both soap and toilet paper.
Given the human gut's grow­ing contemporary popularity with coach parties of noroviruses, it is imperative for aircraft to be well supplied with soap and water, as none of us would wish to share a pressurised cabin on a lengthy trip with, say, a nauseous passenger dis­persing norovirus-enriched vomit among his or her fellow travellers. But this is precisely what happened during a flight from Los Angeles to Auckland in 2007. Reporting on 'Gastrointestinal illness associat­ed with a long-haul flight', in Epide­miology and Infection (2009, 137: 441−7), Holmes and Simmons de­scribe how, six hours into the jour­ney, a queasy passenger failed in his bid to reach the refuge of the rest room and "vomited in the aisle just before reaching the toilet". Tracing the trajectory taken by the vomi­tus, the authors record how the in­dex case "tried to control this with his hands but said he could have splashed people sitting in the aisle seats in his haste to get to the toilet". They further describe the subse­quent emetic mayhem that unfold­ed within the toilet's cramped con­fines, including the fact that the fe­verish traveller "remarked that the crew did not appear to have any dis­infectant 'to sanitise the rest room'".
But when there's microbial tu­mult in the clouds, at least we can be sure that the water is of high quali­ty… can't we? This year, Handschuh et al from the University of Limerick (UL) recounted in the journal PLOS One (2017, 12: e0170567) their 'As­sessment of the bacterial diversity of aircraft water: Identification of the frequent fliers'. Between 2009 and 2013, they tested 184 water samples from 31 short-haul aircraft, eight long-haul aircraft, a water ser­vice vehicle and the airport fill point. They identified 82 bacterial species from eight classes, including Bacil­li, Sphingobacteria and Cytopha­ga, stating: "While no water-borne pathogenic bacteria such as enter­otoxigenic E.coli, Legionella, Ente­rococcus and Clostridia, etc, were found, many of the bacteria iden­tified are potentially pathogenic. These bacteria can survive the chlo­rination regime, possibly through the formation of biofilm."
There's a problem with hygiene during air travel, and passengers should expect to be able to wash their hands with soap and water while aboard. But while we're mak­ing a fuss about bug-laced water and lack of soap up there, it is worth not­ing that we happily tolerate 'clarty' hands down here. For example, in a recent UL investigation of published peer-reviewed studies of health­care workers' hand-washing habits, Kingston et al described 'Hand hy­giene-related clinical trials report­ed since 2010: A systematic review' in the Journal of Hospital Infection (2016, 92: 309-20). They found that their "analysis of the outcomes of the eight studies that provide both base­line hand hygiene compliance data and post-intervention compliance data allow for calculation of an over­all mean baseline compliance rate of 34.1 per cent before intervention".
As for the general public, if only we were as scrupulous in our hand-hygiene habits on earth as we ap­pear determined to be at 30,000 feet, there would be fewer cases of infectious gastrointestinal up­set. But we're not. For example, in 'Dirty hands: Bacteria of faecal or­igin on commuters' hands', Ju­dah et al, writing in Epidemiology and Infection (2010, 38: 409-414) describe how they swabbed the hands of 404 commuters waiting at bus stops near to London Eus­ton, Cardiff Central, Birmingham New Street, Liverpool Lime Street and Newcastle Central railway sta­tions. They found not only that 28 per cent of commuters had bacteria of faecal origin, but also that "… the proportion of people with contam­inated hands increased the further north the city of investigation…".
It's not just microbiologically 'grim up north', but up high too, and if we wish to engage with each other in a civilised manner, it behoves us to keep our hands clean, irrespective of latitude or height.