You are reading 1 of 2 free-access articles allowed for 30 days
Health and climate change — is time running out?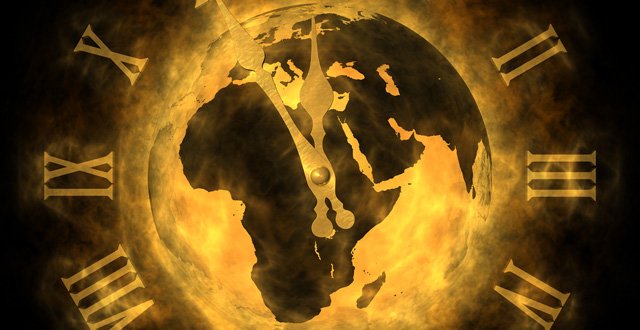 In the run up to the United Nations Climate Change Conference (COP21) in Paris (30 November- 11 December), the World Health Organisation (WHO) has not held back on its rhetoric on the importance of this issue.
"Climate change is the greatest threat to global health in the 21st century," says the WHO in a recent statement on COP21. "Health professionals have a duty of care to current and future generations."
As politicians, academics and health professionals from around the globe gather in the French capital to discuss what public health measures can be taken at an international level, there is much concern over the epic challenges the future will bring. While more than 190 nations are expected to attend this event, experts are currently divided on whether the conference can agree on a legally binding agreement on climate change, which is COP21's optimistic goal.
Current and future impact
The backdrop is serious, as the facts make clear. In June the Lancet Commission on Health and Climate Change found that climate change could have "potentially catastrophic effects" for global health. The Commission experts concluded it had "the potential to reverse the health gains from economic development that have been made in recent decades".
But one of Ireland's leading climatologists tells the Medical Independent (MI) that this is not something that only future generations need to be concerned about. The impact on health is currently felt and will continue into the future.
"Impacts of climate change globally are already on a major scale," says Prof John Sweeney, Lecturer at the Geography Department in Maynooth University, Co Kildare.
— Mortality increases in Ireland do occur during heat wave conditions and these are likely to increase with further warming
"The WHO estimates that 150,000 excess deaths already occur [annually] from climate change impacts in various categories and this figure is estimated to rise to 250,000 within the next 20-30 years.
"These are principally in the 'indirect' increases expected in malnutrition, malaria, diarrhoea and heat stress. The direct damage costs from health are estimated to run at €2-3 billion per annum within 15 years."
Prof Sweeney shared the 2007 Nobel Peace Prize as one of the contributing authors of the Fourth Assessment Report of the Intergovernmental Panel on Climate Change (IPCC). He also spoke at the recent AGM of the Irish Doctors Environmental Association (IDEA).
Irish impact
Not all parts of the globe will be impacted in a similar way by the major shifts in the global climate that experts predict. Our own island will have unique public health challenges to face it seems.
Prof Sweeney's work with colleagues at Maynooth University has helped illustrate these specific impacts that climate change will have on Irish health. "Research at Maynooth University confirms that mortality increases in Ireland do occur during heat wave conditions and these are likely to increase with further warming," he tells MI.

Prof John Sweeney
"However, marked reductions in winter mortality are likely to accompany this trend and overall heat-related deaths in Ireland will reduce due to winter warming and hopefully better building standards. The vulnerable populations are as always the elderly, children, those with pre-existing respiratory and cardiovascular complaints, and those with occupational exposures."
There will be other health effects such as greater allergic problems and also increasing challenges with 'tick-borne' disease, Prof Sweeney explains. "Allergenic impacts from an earlier and longer pollen season will also be apparent," he warns.
"The most obvious impacts will emerge in incidences related to warmer conditions in air and water, which will encourage infections more like Salmonella, campylobacter, etc.
"Around mid-century, tick-borne diseases are likely to become problematical, as are issues related to public water supplies. Increases in melanoma, eye cataracts, etc, will also be noticeable."
In 2008 the Royal Irish Academy (RIA) published its Scientific Statement on Climate Change and Health in Ireland. The document also makes some worrying predictions on the localised impact on Irish health.
"In the absence of an increase in protective behaviour patterns, the incidence of skin cancer will increase, and in addition, the patterns and seasonality of allergies, including hay-fever, may also change."
The RIA document argues that the "greatest adverse impact on health" may come from changing precipitation patterns, with heavy rainfall and possible flooding expected particularly in the north and west of the island. This could have a serious impact on drinking water supplies.
"An increased risk of Legionnaires' disease may arise from increased exposure to air conditioning systems."
Intervention
This all sounds daunting so what can be done at governmental level? Prof Sweeney believes current and future Irish governments have a role to play and public health measures are important.
"More environmental health intervention will be required to alert the public to specific conditions, which may impact on their health," maintains Prof Sweeney.
"[We need] greater awareness ultimately on the part of Government of the need to link Irish greenhouse gas emissions to health problems both at home and abroad, and taking on the vested interests denying this is essential if we expect the rest of the world to co-operate in avoiding some of the most severe health impacts which lie ahead."
The Department of Health in consultation with the HSE is currently preparing an interim sectoral plan for the health sector
Current investment in health facilities and also our natural environment may protect us from some of the more unwelcome developments, the RIA acknowledges.
"Although the mosquito that carries the plasmodium organism is currently present in Ireland and mean temperatures will be sufficient to allow plasmodium vivax to multiply in this mosquito, the lack of sufficient habitats and a robust public health infrastructure renders it unlikely that malaria will become a public health problem," the RIA document states.
Global impact
Ireland may be an island but it is far from isolated, with the integration into both the globalised economy and global eco-system.
Prof Pim Martens holds the Chair of Sustainable Development at Maastricht, Netherlands, and Leuphana University, Lüneburg, Germany. Prof Martens has a long track record tracking the impact of climate change on public health. In 1998 he published the book Health and Climate Change and is the founding Director of the Maastricht University Graduate School of Sustainability Science. He takes a global view of the challenge.

Prof Pim Martens
"Although there are several important health impacts to be expected from climate change, I think the impacts on the spread and transmission of diseases transmitted by a vector [mosquitoes, flies] – the so-called vector-borne diseases – will be biggest," contends Prof Martens.
"Especially I think about dengue and malaria with the most vulnerable regions, the African Highlands."
The global rise in temperature will also have some very direct impacts on global health. So what will be the biggest public health impact globally of climate change?
"Heat in its many forms. From heat waves to the forest fires in Moscow in 2010 and the west US and Australia, to the parched earth and reduced grain, especially wheat, and migrants and social disruption and reduced productivity," says Dr William Rom who is the Sol and Judith Bergstein Professor of Medicine and Environmental Medicine at NYU School of Medicine, US, and author of the 2011 textbook Environmental Policy and Public Health: Air Pollution, Global Climate Change, and Wilderness.
In the US, climate change is more a political issue than it is here in Ireland. For instance, whether it is influenced by human behaviour or not is still a significant topic of debate within the current US Republican Party primary contest, with many leading political figures on the right describing themselves as climate change 'sceptics'. This has global importance, as the US, after China, is the second largest emitter of carbon dioxide emissions.
However, Dr Rom tells MI that a number of American organisations have taken a leading role on the issue, despite much international criticism of the US government's restrained approach to climate change.
"Yes there is a robust US response, with a really outstanding document from the US EPA on Climate Impact on Human Health this year," Dr Rom states.
"They are doing their job. But the political opposition to the US Clean Power Plan and renewable energy is postponing the gargantuan effort needed to build solar panels atop every household and wind turbines along all coasts and down the Great Plains of the US. We are truly running out of time.
"The opposition refuses to believe the science due to the money of those still invested in fossil fuels."
So has sufficient planning and thought gone into the public health impact of climate change at a global and national level?
"No – I do not think so," is Prof Marten's blunt assessment.
"What should happen more than currently is the case, is integrating the potential impacts of climate change on health in the 'regular' health prevention and curative programmes.
"Realising that adaption in health terms to climate change will also benefit human health in general would really be a step in the correct dimension."
Healthcare workers
So do healthcare professionals have a uniquely important role in facing the public health challenge of climate change? And have they been engaged enough in the topic thus far?
Prof Martens believes doctors are becoming more clued in, but that it is coming from a low base.
"The interest of the medical community is increasing, but is still very minimal," he says.
"The main thing is that medical doctors are trained in such a way that they are hardly used to taking the correct approach for health impacts related to climate changes. For example, local versus global; short-term versus long term."
In preparation for COP21, the WHO has also emphasised the importance of healthcare professionals in tackling the impact of climate change.
"Health professionals are also on the front line in protecting people from climate impacts, from more heat waves and other extreme weather events, to outbreaks of infectious diseases such as malaria, dengue and cholera, to the effects of malnutrition," says the WHO.
"Health professionals around the world are also strong advocates for healthier environments, providing clean air, abundant and safe food and water."
Dr Rom feels that physicians and scientists have a particularly important role to play in the debate.
"We have polled the American Thoracic Society and published the results; more than two-thirds believe global warming is happening and is caused by human action," he tells MI.
"Many of these doctors feel this is already impacting their practice, ie, COPD, asthma exacerbations.
"But doctors are seldom in the lead politically. They can influence their patients. Especially physician-scientists who have the gravitas and respect to move this dialogue forward.
"I am 70 years old and have decided to spend my next 40 years, my mother is 95 strong, teaching and researching and working in the public sector on climate change," Dr Rom continues.
"We have a new NYU College of Global Public Health and I will teach climate change there to the MPH students and engage projects to move the topic forward."
Irish approach
In contrast to the US, in Ireland the 'debate' over the impact of human activity on climate change is essentially settled, with no significant political or scientific voices questioning the link. Officially the HSE says: "Human influence on the climate system is clear. This is evident from the increasing greenhouse gas concentrations in the atmosphere, positive radiative forcing, observed warming, and understanding of the climate system."
There is also a growing interest among doctors in Ireland on climate change and its impact on health, as signalled by the activities of bodies such as the IDEA, and also the IMO. Last year IDEA spokespersons Dr Philip Michael and Dr Elizabeth Cullen proposed a specific motion on climate change at the IMO AGM in Maynooth, Co Kildare. It was carried by the membership and stated that "in view of the fact that the WHO and the World Medical Association (WMA) have both stated that climate change is the greatest single threat to human health this century, the IMO urges an immediate and focused proactive response by the HSE, Department of Health and the Irish Government in order to ensure sustainability and efficiency in dealing with this impending crisis in line with international best practice".
It is not only representative bodies that are providing advice in the area. The Institute of Public Health in Ireland (IPH) promotes co-operation for public health on the island of Ireland and three years ago it published its document Climate Change and Health: A Platform for Action.
"In Ireland, North and South, agriculture is an important part of the economy and way of life, but it also represents a large contribution to total greenhouse gases (GHG) emissions," reads the document.
"To meet UN targets by 2020 there will need to be significant improvements in reducing emissions from agricultural activities.
"The reduction of greenhouse gas emissions in the food and agriculture sector could also help prevent the burden of chronic disease.
"The 20th century change from largely plant-based diets to energy-dense diets high in fat and animal foods has played a key role in the upsurge of diet-related, preventable health problems such as heart disease, diabetes, some cancers and obesity."
The IPH ends its document with what it called ten steps for action on climate change and health in Ireland. These proposals include encouraging the public to eat a healthy diet sourced from a low carbon food chain, and to reduce waste and to improve energy efficiency in houses, workplaces, schools and other settings to reduce overall GHG emissions.
The Irish Government's response to climate change
Despite the public health impact of climate change in Ireland at a governmental level, it is the Department of the Environment, Community and Local Government that takes the lead role in this area.
The Department has policy responsibility for climate change and represents the Irish Government on this issue at international conferences such as the upcoming COP21 in Paris later this month.
However, both Department of Health and HSE officials have input into these matters on an organisational basis.
"The National Climate Change Adaptation Framework entitled 'Building Resilience to Climate Change' was published by that Department of the Environment in December 2012," a Department of Health spokesperson tells MI.
"This provides a strategic policy focus to ensure adaptation measures are taken across different sectors and levels of Government to reduce Ireland's vulnerability to the negative impacts of climate change.
"Each climate sensitive sector is required to develop and implement sectoral and local adaptation action plans, which will form part of the comprehensive national response to the impacts of climate change. As part of this process the Department of Environment, Community and Local Government has set up a Steering Committee at which both the Department [of Health] and the HSE are represented."
The Department is currently working with the HSE to complete a climate change adaptation plan for the health sector. The spokesperson added that issues dealing with climate change and public health will be incorporated into planning around other issues
"The Department of Health in consultation with the HSE is currently preparing an interim sectoral plan for the health sector," the spokesperson tells MI.
"Adaptation planning for the health sector is two-fold; incorporating the impact on the physical and mental wellbeing of the population, and the operational delivery of the health service."
The HSE warns that flooding, rising sea levels and severe weather events may have direct and indirect effects such as: "Direct effects – increased injury and drowning. Indirect effects – electrocution, carbon monoxide poisoning, displacement and significant disruption including for healthcare, mental health effects."
Climate and health in Ireland — examining the key facts
* In the Republic of Ireland agriculture is the single largest contributor to GHG emissions at 27.3 per cent of the total, followed by energy (power generation and oil refining) at 21.8 per cent, road transport at 21.1 per cent, residential at 11.2 per cent and waste at 1.6 per cent (EPA 2010).
* In Ireland, climate change may also be expected to impact adversely on health, resulting in increases in mortality from cardiovascular or respiratory diseases, particularly in people living in cities.
* In Northern Ireland GHG emissions from the energy sector (power stations) represent 22 per cent of total emissions, agriculture 21 per cent, road transport 22 per cent, residential 16 per cent, industrial combustion 5 per cent, and waste 3.8 per cent (AEA 2009).
— Source: IPH Climate Change and Health: A platform for action
-Six of the 10 warmest years in Ireland have occurred since 1990
-There has also been a reduction in the number of frost days and shortening of frost season length.
-There has been an increase in annual rainfall in northern and western areas with decreases or small increases in the south and east.
"These changes are reflected in Ireland's natural environment with an increase in the growing season and with greater number of animals suited to warmer temperatures being evident in Ireland and its surrounding waters," according to the EPA.
— Source: EPA Ireland