You are reading 1 of 2 free-access articles allowed for 30 days
Heading for Zika zero hour?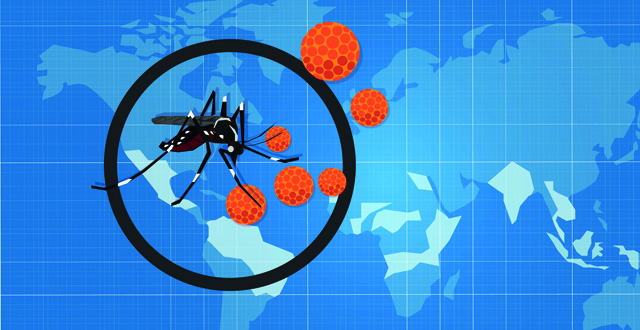 In May 2015, the first appearance of Zika in the Western Hemisphere was reported when Brazil confirmed that the virus caused a mysterious outbreak of thousands of cases of mild disease with rash.
Less than a year later, Zika was declared a public health emergency of international concern (PHEIC) by the World Health Organisation (WHO), only the fourth time that a PHEIC has been declared. "This definition implies a situation that: is serious, unusual or unexpected; carries implications for public health beyond the affected State's national border; and may require immediate international action," according to the WHO.
"In less than a year, the status of Zika has changed from a mild medical curiosity to a disease with severe public health implications," warned Dr Margaret Chan, WHO Director-General, in March.
As of the beginning of this month, the WHO reported that 44 countries are experiencing a first outbreak of Zika virus since 2015 and nine countries have reported evidence of person-to-person transmission of Zika virus, probably via a sexual route.
The WHO confirms that substantial new research has strengthened the association between Zika infection and the occurrence of foetal malformations and neurological disorders.
This month, health authorities in Spain say they have identified the first case of the birth defect microcephaly in the foetus of a pregnant woman infected with the Zika virus.
"I think what is coming out of the investigations is that Zika is much more serious and much more severe then maybe what was originally suspected," warns Prof Samuel J McConkey, Head of the Department of International Health and Tropical Medicine, RCSI.
"Of pregnant women that get the Zika virus, a much higher proportion have brain-damaged babies then any other virus we know of. The extent of the brain damage is quite profound," he tells the Medical Independent (MI).
Prof McConkey's chief concern is that the spread of the virus to the wider developing world is a dangerous possibility.
"My concern over the next three-to-six months is that the Zika virus epidemic could spread to Africa and Asia and cause a lot of brain damaged babies and so on. I'm not that sure if that has been forcefully addressed," he says.
These same concerns about a wider international outbreak were echoed by Dr Chan in March.
"On present knowledge, no-one can predict whether the virus will spread to other parts of the world and cause a similar pattern of foetal malformations and neurological disorders," she said.
"We need to build the knowledge base quickly, very quickly."
There is currently no vaccine available, although Dr Chan said: "For vaccines, 23 projects are being worked on by 14 vaccine developers in the US, France, Brazil, India and Austria. As the vaccine will be used to protect pregnant women or women of child-bearing age, it must meet an extremely high standard of safety.
"WHO estimates that at least some of the projects will move into clinical trials before the end of this year, but several years may be needed before a fully tested and licensed vaccine is ready for use."
She emphasised the importance of speed, mentioning that "more than half of the world's population lives in an area where the Aedes aegypti mosquito is present".
Dr Graham Fry, Tropical Medical Bureau
Response
There is added interest in the WHO's reaction to the spread of the Zika virus, as the Organisation is coming off the end of its global reaction to the Ebola outbreak, a reaction that garnered both criticism and praise from international observers.
Experts that MI have talked to believe that the WHO's response to Zika has been impacted by some criticism it has faced over its early (and some argue slow) response to the Ebola outbreak.
"Zika is one of the mildest and least important arboviral conditions, certainly in comparison to dengue, yellow fever, Japanese encephalitis, etc, except under certain circumstances — during pregnancy," Dr Graham Fry, Medical Director of the Tropical Medical Bureau, tells MI.
"In my opinion, it is arguable that perhaps the WHO's significant early and fairly profound response and reaction to Zika has been because of the criticism the body received over their somewhat slow response to the West African Ebola outbreak."
Prof McConkey agrees that the recent lessons from the Ebola outbreak and the criticisms of it have impacted on the WHO response to Zika, a response in which he finds much to praise.
"I think the WHO were quite quick off the mark and used their structures to address it [Zika]," he says.
"I think the WHO has learned a lot from its response to Ebola. Some people outside of WHO felt WHO were a little bit slow to call the Ebola outbreak a PHEIC.
"That may have been the case; in point of fact, I think they were good in leading some of the new technology and research development with the Ebola vaccine. Some parts of the WHO performed very well in the Ebola outbreak, in my view. Other bits in terms of international response were a bit slow."
Prof McConkey points out that during the Ebola crisis, it was not until cases started appearing in the developed world that a significant international effort really began.
"The major scaling-up in international efforts only happened when it became clear that spread was going to happen to the developed world," he says.
"The WHO has learned from that and was much quicker and appropriate to call the current Zika virus epidemic a PHEIC, which it has done.
"I think Dr Margaret Chan and the WHO have identified that the Zika virus epidemic is a threat to the whole world and that we need a co-ordinated action by large groups of people and lots of money and lots of people, and science, to understand what is actually happening, all working together to address it effectively."
An Olympian-sized headache?
The Summer Olympics will be held in Rio de Janeiro, Brazil, in August and there have already been concerns raised over issues regarding Zika.
"So we have guidelines and messages for them [athletes] regarding it, that just make these games a little more complex than previous games," Prof Sean Gaine, Chief Medical Officer of the Irish Olympic Team, tells MI.
"But in many ways, it has helped us be able to focus everybody on the message we would have had in the first place, which would be the need to be cognisant of the public health issues in this part of the world."
Dr Fry says that as the start of the Games approaches, it will be interesting to see what travel advice will be provided.
"Once WHO proclaimed a 'Global Emergency' in relation to Zika, the bar was seriously raised and, while much still remains unclear regarding the seriousness of this disease, governments and other international bodies have being playing 'catch-up' with regard to the advice they are proclaiming," says Dr Fry.
"It will be interesting to see what changes occur from the advice issued by the major international bodies as the Olympics draw closer."
Prof McConkey says that the Olympics may not be as significant a factor in the developing Zika epidemic as some have feared.
This is because it is taking place in Rio, which is not located the most intense areas of Zika spread in Brazil. He says that the nature of the event, which unlike major soccer tournaments will most likely not see tens of thousands of fans travelling across the globe to the event, may also make it less of a challenge.
"I would be more worried about the 100 million in Bangladesh, Indonesia, India, Pakistan and West Africa," says Prof McConkey.
"This is where it's hot, it's wet, there are mosquitoes, they do have Aedes — basically, the available money to actually do something is quite limited in those countries.
"They do not have huge amounts of money at hand to establish a mosquito control programme, so that's where I think the need for surveillance is needed to see if Zika is there.
"And then money to help with scaling-up control activities like spraying for mosquitoes, indoors spraying, larvicides, getting rid of mosquito larvae, controlling breeding sites, covering water tanks, covering wells.
Ireland
The HSE confirmed that, to date, there have been three cases of Zika virus disease identified in Ireland. Two were linked to travel to Columbia, the other to Barbados. With the recent high-profile case in Spain, and with Irish tourists ready to make international summer trips, the issue is also of domestic as well as international concern.
"In Ireland, we don't have the Aedes mosquitoes so the risk of inherent Zika and other arboviral infections will be negligible," Dr Fry tells MI, although he adds that a "small risk of suitcase-borne mosquito infection does remain though".
However, while this island should be broadly protected by nature and geography, other parts of Europe could be facing into a summer with some challenges.
"However, in other parts of southern Europe, it is very likely that this summer we will see pockets of confirmed cases of Zika, as they do have the mosquitoes and all that is needed is an infected human host to start the cycle in these regions," says Dr Fry.
"Once established, it can spread very easily — especially as only approximately 20 per cent of those infected show clinical symptoms. In other words, a large number of individuals could be asymptomatic carriers.
"This carrier state is not clearly understood or confirmed at this point in time, so it may not be a major issue.
"The main protection against Zika is mosquito avoidance on a personal level and from the public health side, it involves reducing breeding sites for the mosquitoes, which is a difficult task as these mosquitoes thrive in urban settings and can breed in very small amounts of water," says Dr Fry, citing gutters, old tyres, water containers, etc.
In March, MI revealed that the Health Threats Co-ordination Group discussed the response to Zika at its most recent meeting in February.
The Health Threats Co-ordination Group was up until recently called the Ebola Virus Disease Coordination group.
Its new title "reflects a widening of the scope of the group to cover preparedness and response to all health threats and PHEIC," a Department of Health spokesperson told MI.
"It includes representatives from all relevant Government Departments and agencies."
The Group is scheduled to hold its next meeting on 25 May.
Representatives from the Department of Health participate in EU Health Security Committee audio meetings, which inform member states of the latest developments and to ensure a co-ordinated response across the EU.
The Department also co-ordinates with the Department of Foreign Affairs regarding travel advice (see panel on right).
The Health Products Regulatory Authority has been in touch with the Department of Foreign Affairs regarding the developing Zika situation.
In addition to these discussions, separately, a Zika virus disease subcommittee has been established by the Health Protection Surveillance Centre (HPSC) to advise on Zika-related matters in the Irish setting.
"The subcommittee held its first meeting on 9 February 2016. Diagnostic tests for Zika are carried out in National Virus Reference Laboratory in Dublin," said the Department spokesperson.
"The HPSC has been liaising with the Department of Foreign Affairs and Trade to ensure appropriate and up-to-date advice is available for Irish travellers to affected countries.
"They have also been with the Olympic Council of Ireland and the Department of Foreign Affairs and Trade concerning preparations for the Olympic Games in Rio de Janeiro later this year."
However, the Department also confirmed that there is no separate budget to deal with any possible issues arising from Zika.
"Any issues arising from Zika Virus will be covered from within the current health budget," says the spokesperson.
Zika facts and figures
Zika virus is an emerging mosquito-borne virus that was first identified in Uganda in 1947 in rhesus monkeys through a monitoring network of sylvatic yellow fever. It was subsequently identified in humans in 1952 in Uganda and the United Republic of Tanzania. Outbreaks of Zika virus disease have been recorded in Africa, the Americas, Asia and the Pacific.
Zika virus disease is caused by a virus transmitted primarily by Aedes mosquitoes.
Zika virus is transmitted to people through the bite of an infected mosquito from the Aedes genus, mainly Aedes aegypti in tropical regions.
People with Zika virus disease can have symptoms that include mild fever, skin rash, conjunctivitis, muscle and joint pain, malaise or headache. These symptoms normally last for two-to-seven days.
The best form of prevention is protection against mosquito bites.
The virus is known to circulate in Africa, the Americas, Asia and the Pacific.
Sexual transmission of Zika virus is possible. All people who have been infected with Zika virus and their sexual partners should practice safer sex, by using condoms correctly and consistently.
Pregnant women's sex partners living in or returning from areas where local transmission of Zika virus occurs should practice safer sex, wearing condoms, or abstaining throughout
the pregnancy.
People living in areas where local transmission of Zika virus occurs should practice safer sex or abstain from sexual activity.
All facts sourced from the WHO Zika website.
Global spread?
So what is the biggest current challenge facing public health officials in the Americas in the face of the spread of Zika?
Dr Fry warns that "if the asymptomatic, infected individual is capable of infecting mosquitoes, then controlling the spread of Zika in regions where the Aedes mosquitoes thrive will be an almost impossible task", while Prof McConkey worries about its impact on adults.
"Zika also causes a severe brain disease in adults, encephalitis," says Prof McConkey. "But the frequency of this, its severity and outcome are not yet known.
"This is another important unknown factor in the current outbreak, which will become apparent over the next three-to-six months. If it causes bad outcomes in adult brain infections this would be much more serious.
"There is a need for urgent scientific studies on this topic."
But for Prof McConkey, it is the real possibility of spread to Asia and Africa that is most worrisome.
Prof Samuel McConkey, RCSI
"There has been a very big flurry [of activity] in the United States and President Barak Obama allocated a billion dollars rapidly to control and understand Zika better," he says.
"Also WHO has allocated a lot of research and funding for control activity in South America and Central America.
"So there has been a lot of activity in the US and generous funding in South American and Central America.
"But it's quite conceivable that the virus could spread to places like Indonesia, Malaysia, Pakistan and densely-populated African countries.
Developing Zika travel advice
The Department of Health has told this newspaper that it "provides regular updates to the Government Task Force on Emergency Planning on all health threats, including Zika virus. All Government departments and relevant state agencies are represented on the task force".
Both the Department of Foreign Affairs and Trade and the Department of Transport, Tourism and Sport are represented on the Health Threats Co-ordination Group, along with relevant agencies from the transport and other sectors.
"The Health Protection Surveillance Centre has ongoing contact with the Department of Foreign Affairs and Trade to ensure that travel advice is up to date and to provide advice concerning arrangements for the Olympics," said the spokesperson.
The Department of Foreign Affairs has also issued advice on its website.
"It is essential that pregnant women, or those considering becoming pregnant, discuss any travel plans to affected areas in advance with their healthcare provider," the advice currently reads.
"Based on guidance from Irish public health experts, the Department of Foreign Affairs and Trade strongly recommends that pregnant women consider postponing their travel to affected areas, and in particular to areas classified as having an increasing or widespread transmission of the Zika virus."
For more information regarding travel advice, log on to www.dfa.ie/travel/travel-advice/zika-virus-update/.