You are reading 1 of 2 free-access articles allowed for 30 days
Good will hunting: recognising the value of healthcare charities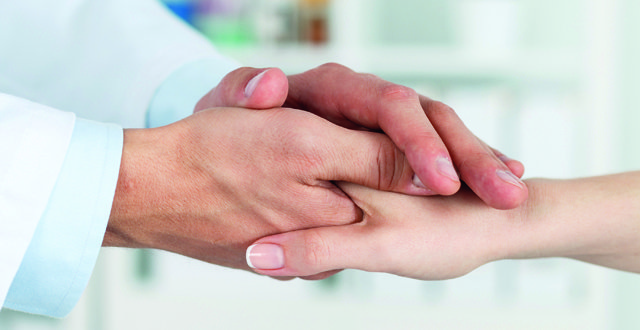 Fast-tracking access to medical services, funding medical research and building/refurbishment of healthcare facilities, buying vital medical equipment, and raising awareness are all part of a day's work for many of Ireland's patient-focused charities.
They also provide invaluable support, reassurance and care to the huge number of individuals who develop serious illness and disease every year. Yet their crucial role in the healthcare arena is often overlooked.
Moreover, charities have been forced to overcome a number of challenges in recent times thanks to the recession, salary scandals and an increasingly crowded charity market.
Challenging times
Recently-published research found that Ireland is the third-most generous country in Europe in terms of charitable donations. More than 1.1 million people made a donation to a charity in response to a 2014 Christmas charity appeal. In 2012, more than €800 million was donated to charity by Irish people.
But in late 2013, the charity sector was dealt a major blow when reports of salary tops-ups paid in some voluntary hospitals and charities hit the headlines.
Scandals around poor governance and salaries at the Central Remedial Clinic (CRC), which provides support for people with disabilities, and at Rehab had a hugely negative impact on the charity sector as a whole.
The scandals shook public confidence in charities and had a direct impact on charitable donations, with fundraising falling by 10 per cent for some charities, according to research.
The events led to a renewed media focus on salaries and costs in charities, with little focus on the work performed.
'All charities that understand the value of governance, trust, of brand recognition, realise that the charities regulator is a very good thing'
The recession has also proved to be a significant challenge for the sector, with some State-funded charities losing all funding, forcing them to explore other fundraising avenues.
Small healthcare charities must compete with larger charities for donations and public attention in a very crowded market.
There are around 8,500 charities nationally, which is considered a large amount for a country the size of Ireland.
Faced with an increasingly flooded charity market, charities have had to become more innovative and sophisticated in their approach to fundraising in order to continue providing supports to patients.
But despite the setbacks suffered in recent times, there is still cause for hope for the sector and patients are receiving much-needed assistance.
The Mercy Hospital Foundation was established on the cusp of the recession in 2007 and despite this, has managed to dramatically increase fundraising.
Mercy Hospital Foundation CEO Mr Micheál Sheridan says that in the past eight years, fundraising has risen significantly.
"We estimated that in the year before the Foundation was established, the hospital received around €50,000 in public donations, whereas now those public donations, and support from the community, are probably generating €1.6 million of our income at the moment," Mr Sheridan stated.
The Foundation's annual income is in the region of €2 million. Mr Sheridan believes that the reason behind the increase in funds during the recession is down to the Foundation's professional approach to fundraising.

Mr Donal Buggy
The Irish Cancer Society, one of the largest and best-known healthcare charities in the country, has an annual budget of €20 million.
Of that figure, about one-quarter is reinvested to raise that money, according to Mr Donal Buggy, Head of Services at the Society.
Support
The impact charities have on patients' lives is well documented and measured by charities themselves.
"Our cancer information services through our cancer nurse line and daffodil centres, which are in 13 hospitals right around the country, would have about 60,000 interactions every year," Mr Buggy told the Medical Independent (MI).
"We have a night-nursing service, which provides 10,000 nights of palliative care to about 2,500 cancer patients. We have a financial aid service, which distributes over €1.5 million to 2,000 cancer patients.
"We have a volunteer driver programme that is delivered by over 1,000 volunteers and brings patients to 10,000 cancer appointments every year. We have over 500,000 people [who] look at and use our online cancer information services every year. Over 1,000 people would avail of our counselling services annually. Obviously, quite a significant number of the population would be engaged in our cancer awareness campaigns and our cancer prevention campaigns."
The Society also runs an affiliation programme for cancer support centres and will spend over €500,000 supporting the programme in 2015 alone.
"We have an affiliation programme for cancer support centres and that is to help with issues around governance, training, appropriate charitable structure, board management — that type of thing. We fund those services to provide counselling and other group supports right around the country," Mr Buggy explained.
Over 100 charities operate in the cancer space nationally, from local cancer support centres, to national charities like the Irish Cancer Society and cancer-specific awareness-raising charities such as Brain Cancer Awareness Ireland.
The direct impact on patient wellbeing can also be seen in the work undertaken by the Mercy Hospital Foundation.
"Since 2008, we've been funding a rapid-access clinic for prostate and testicular cancer within the hospital and what we have seen as a result of that is, for men with prostate cancer, we've reduced the timelines from what was the initial diagnosis and treatment over the last four-to-five years by four-to-six weeks, as there's now a dedicated clinic in place for those men," Mr Sheridan said.
"They're getting access to the care that they need quicker and we would also know that to be true for young men with testicular cancer. They are having what we would call 'next-day surgeries'.
"We had a young man once that found a lump on his testicle and was referred into the hospital on a Thursday or Friday morning. He met the urologist and the urologist was confident it was cancer and suggested he would operate the following Monday, but the man was going on holidays and asked could he postpone the surgery until he came back. The consultant left the room, came back in and asked had he eaten breakfast. He hadn't, so he fitted him in that afternoon and he headed off on holidays with his family and kids."
The Foundation is also supporting the hospital in helping to make its care of the elderly ward more homely for dementia patients.
"We've been turning the day room in the ward for the elderly into a more homely environment so we're putting in couches, a kitchen table and chairs and a flame-effect fire to help those people to feel more at home," Mr Sheridan explained.
In addition, the Foundation is investing approximately €50,000 into the medical oncology ward, which has funded painting the entire ward and the replacement of recliners for patients undergoing chemotherapy.
On a micro level, small amounts of cash, as little as €50, are sometimes donated by the Foundation to families who need the money to urgently travel to Dublin with a sick child.
A new study on bowel cancer and a test that could help bowel cancer patients avoid unnecessary chemotherapy is also being funded, with €72,000 to be invested.
Several research studies like this are being supported by hospital foundations across the country and are leading to clinical improvements for patients.
Smaller charities
Brain Tumour Ireland was established three years ago in late 2012 and is funded entirely by donations from the public through various fundraising initiatives.
It is run by a committee of volunteers who receive no remuneration.
The charity is small, but provides vital support to patients, as somewhere between 400-500 people are diagnosed with a brain tumour in Ireland annually.
"As a small, relatively new organisation, it can be difficult to raise awareness of our issue, given the number of well-established excellent charities working in Ireland," a spokesperson for the organisation told MI.
"We provide support through various events, bringing patients and carers together, and we also signpost the existing support services in Ireland."
As well as being a small, relatively new charity, the organisation also faces challenges in raising awareness about brain tumours, which are categorised as a rare disease.
"The media is generally supportive of the work of charities and is a great outlet for us to raise awareness. Unfortunately, there isn't always enough of a media focus specifically on brain tumours, which are classified as a rare disease.
"Talking about a brain tumour experience can help others going through it and can also help with early diagnosis, so it is important we continue to work to raise awareness of brain tumours in Ireland."
Since its launch, Brain Tumour Ireland has been contacted directly by about 65 individuals per year.
It also reaches many more people through its website, www.braintumourireland.com, and social media outlets like Facebook and Twitter.
Its annual budget is less than €10,000 and is used to cover patient wellness days, remembrance services, carers' information sessions and minor administrative costs.
"While it was difficult to fundraise in the climate of a recession, things are improving now that the economy is recovering and we are noticing an increase in the numbers of people fundraising for us.
"Our outgoings will most likely increase in future years, depending on our work plan and our approach to medical research funding. We are currently working on a strategic plan, which will direct our work for the coming years and prioritise our funds," the spokesperson said.
Patients and volunteers
Mr Stephen McMahon, Chairman of the Irish Patients Association (IPA), is acutely aware of the positive impact healthcare charities have on the lives of patients.
"They perform an enormous contribution that often isn't recognised and it's a lot more than just simply raising money; it's also the services and trust they command with the populations that they represent," Mr McMahon commented.

Mr Stephen McMahon, IPA
The IPA was State-funded up until 2013, when all support ceased. Like many other charity organisations, it has had to adapt to survive.
"In the last 18 months we used the scarce resources and energies we have to develop the 'Pact for Patient Safety'. There are over 23 patient groups between Ireland and mainland Europe that have signed up to this… that sets the patient safety agenda not just for Ireland, but the whole of Europe. We did that by engaging with patient groups and seeing what they saw as key issues," Mr McMahon noted.
Ireland is among the top-10 most generous countries in the world when it comes to volunteering and helping strangers. Indeed, many of Ireland's charities simply could not survive without the good will of volunteers.
"I always feel very proud of being Irish, particularly in the space of non-Government organisations," Mr McMahon stated.
"The leadership and the commitment of the Irish people to support their charities and the commitment internationally that they make per head of capita is quite remarkable. The reach they have on the international field in giving international support and aid is something that I think we should be proud of and I don't think it's highlighted."
Transparency and accountability
Following the financial scandals concerning some charities, many bodies are more eager than ever to demonstrate transparency relating to their dealings.
A spokesperson for Brain Tumour Ireland stressed how important it is for donors to see how their funds are being spent.
"Transparency is hugely important when it comes to donations to the charity sector and so we welcome the establishment of the Charities Regulatory Authority, with which we are registered. The strategic plan we are currently working on will also be published on our website. It is important that our fundraisers can see where their funds will be used."
Mr McMahon also believes transparency is vital if charities are to prosper.
"Transparency is very important. If you're looking for transparency among governments and they make decisions, well then it's equally reciprocal that the same is done with civil society. Everyone is looking for more transparency," he said.
Fundraising Ireland has also highlighted the importance of transparency.
It is one of the organisations behind the development of the website www.goodcharity.ie, which aims to provide the public with accurate information on how charities operate.
Mr Buggy said it has been a difficult environment in which to fundraise but that the Charities Regulatory Authority can help to restore trust.
"The one thing that we've seen over the past couple of years is that trust can be lost very quickly and a lot of challenges in the sector have been around governance, openness and transparency," he stated.
"We had a situation where we have been self-regulating as the charitable sector for a long period of time and I think we're at a point in time where that's not good enough anymore.
"There are people who are relying on the services we provide and if we cannot guarantee an income in relation to those services, then people are going to be left stranded without those supports. So all charities that understand the value of governance, trust, of brand recognition, realise that the charities regulator is a very good thing and the sooner the charities regulator really gets up and running and helps to restore public trust in charities to make sure that the services are not undermined by an erosion of public confidence, the better it will be for us.
"There is a job of work for the charitable sector to rebuild public trust and confidence in the work that we do and also to communicate the work we do so there is an understanding of what the Irish Cancer Society is and what the other charities are and why it is so important that their work is funded."
Survival
As the demands posed by the Authority increase, however, it is clear that some charities, particularly smaller entities, could face future difficulties.
Some believe that the number of charities in Ireland needs to reduce and that opportunities to share valuable resources and infrastructure should be explored.
Mr McMahon thinks that some charities may have to work together in the future.
"I think that the charities themselves, some of them, will have to see if there are synergies of opportunity to work together, so that you might find two disease group charities working side-by-side, sharing certain synergies like back-office facilities or IT resources and so forth, so they can direct more funds to the frontline of what they're doing," he stated.
Mr Sheridan believes the State could do more to help charities by changing the amount at which VAT refunds can be made.
"The huge impact that Government could have on charities and organisations like ourselves is to look at the VAT burden on charities," Mr Sheridan argued.
"For example, we would be able to apply for VAT refunds on any equipment that we purchase that's over €25,390… but it would be really significant if that was reduced to zero or brought down significantly because that VAT burden for us is very significant and would allow us to put any refunds we get from that scheme back into other projects within the hospitals.
Regulation of the charity sector in Ireland
ssues around regulation, governance and transparency in the charity sector have never been more pressing in the wake of the scandals that emerged in late 2013.
Despite self-regulating for many years, the urgency for a professional authority to monitor the sector and help restore public confidence was clear.
The Charities Regulatory Authority was established on 16 October 2014 in the wake of a crisis in confidence in charities and its remit is governed by the Charities Act 2009.
The Authority is an independent regulator under the auspices of the Department of Justice and Equality and is funded by the Justice Vote.
It aims to work with the charities sector to ensure compliance under the Act, to offer guidance and support, and to ultimately increase transparency, accountability and public confidence in the sector, a spokesperson for the Authority told MI.
"Prior to our establishment and on an ongoing basis, the Charities Regulatory Authority is working with regulators from other jurisdictions to find and adopt best practice," the spokesperson stated.
"Given our organisation is just one year old, it is too early to draw comparisons with regulators in other jurisdictions at this stage."
Under Section 40 of the Charities Act 2009, some 8,500 charities that had a charitable tax exemption with the Revenue Commissioners at the time of the regulator's establishment were automatically deemed registered with the Authority.
A further 125 organisations have applied for registration on the public register since its establishment and there are a further 852 applications in progress.
The Authority was unable to provide exact figures on applications relating specifically to the healthcare sector.
According to the spokesperson, part four of the Charities Act 2009 deals with the protection of charitable organisations covering compliance issues and has yet to be commenced.
"In the meantime, we have an interim complaints procedure in place. To date we have received 202 complaints and concerns about charities, covering a broad range of issues. This figure includes instances where a number of complaints were received regarding one individual charity and should not be taken as an indicator of investigations which are being conducted by the CRA."
It is not known exactly how much money is donated to charities in Ireland annually but the Authority hopes to collate this data in the future.
"We aim to capture this information as part of the annual reporting process. Annual reports are due 10 months after a charity's financial year-end. It is not anticipated that we would have reliable figures available on this data until 2016/2017."
The Authority is still very much in set-up mode but its establishment has been widely welcomed by charities, who are eager to see it fully developed.
"There are questions to be asked as to whether the office of the Charities Regulatory Authority has enough resources to actually take on the role that is required," Mr Buggy said.
"I think certainly the Irish Cancer Society and the charities sector at large would like to ensure that there would be appropriate resources for the work of the regulator to be robust and brought about earlier. We won't know until we see it up and running. It will be something we will be keeping an eye on and try to ensure that the work of the regulator meets the requirements of the sector."
Mr Sheridan says the introduction of the Authority is hugely significant and will hopefully lead to renewed confidence among the public.
"The regulator is a huge addition to the sector and over the next few years we will see a marked change, hopefully in terms of public opinion, that we will be seen as a well-regulated sector," Mr Sheridan stated.
"If charities are expected to step up to the mark in terms of meetings the demands of the regulator and meeting needs in terms of proper governance, it takes intelligent and smart people to do that. Therefore, the sector needs to be given the space to invest in good practices and good policy development and that costs money. That goes back to my point earlier. We can't just be judged on what are costs and salaries are; we have to be judged on the impacts we're having in the communities we work within but also then judged on good governance. That's a key challenge for charities to be able to [do] and be responsible for putting good practices in place."
Besides the work of the Authority, other agencies have been working to foster a sector focused on high standards.
Fundraising Ireland is the association for professional fundraisers and aims to promote excellent standards in the sector.