You are reading 1 of 2 free-access articles allowed for 30 days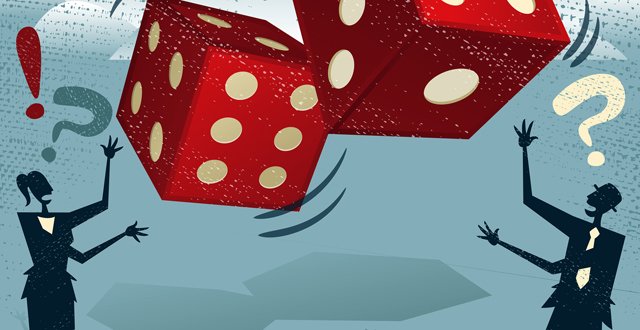 Gambling is a significant feature in Irish life with the National Lottery, bingo, horse racing, the expanding role of online betting and bookies on street corners. Many experts also regard risk taking and gambling as an important part of the narrative of our recent economic recession and property-price bubble.
While most people can enjoy 'taking a punt' without it having much adverse impact on their lives, some succumb to gambling addiction. In recent times, well-known local sports stars like Oisín McConville and Keith Gillespie have spoken publicly about their struggles with gambling addiction.
Gambling is a multi-million euro business with strong lobbying muscle. While promised legislation on gambling regulation has been delayed, those working in the field have witnessed rapid developments.
Consultant Psychiatrist Dr Colin O'Gara has been the Head of Addiction Services at St John of God Hospital, Dublin, since 2007.
"My practice from 10 years ago to now is utterly changed," he tells the Medical Independent (MI).
"It would have been completely land-based back then. Now it has almost entirely flipped over to an online problem with young people online, mainly."
The dramatic increase in smart-phone usage and better broadband quality has also increased other process addictions such as online porn use, and a "grouping of process addictions like Internet gaming and shopping", says Dr O'Gara.
Gambling addiction is a process addiction and it has been included (as 'gambling disorder') in the most recent edition of the American Psychiatric Association's classificatory system, Diagnostic and Statistical Manual of Mental Disorders, Fifth Edition, 2013 (DSM-5). Pathological gambling is also listed under 'disorders of adult personality and behaviour' in the World Health Organisation (WHO) International Classification of Disease Manual (ICD-10).
The essential feature of the disorder is described in ICD-10 as "persistently repeated gambling which continues and often increases, despite adverse social consequences such as impoverishment, impaired family relationships and disruption of social life".
Data void
While he sees first-hand the changing nature of the problem, Dr O'Gara, like everyone else in this field, face problems with a dearth of statistics. The lack of prevalence studies means there is a significant gap in the data available.
"We don't have any, unfortunately, and I think it just reflects the lack of investment in gambling treatment and research," he says.
But despite the lack of information, Dr O'Gara believes some estimates about the scale of the problem can be made. "My sense is that we can't be any different to the UK, and we are possibly worse.

Dr Colin O'Gara
"Gambling is culturally ingrained just like alcohol is. One per cent [of gamblers who have gambling problems] would translate to 40,000 people in the population; the industry likes that figure because it suggests very few people. The reality is that there is more like 5-7 per cent at risk, which would be anything on the problem gambling severity index.
"That is people spending more than they want to, running into harmful consequences of gambling. That would translate into 150,000 to 200,000 people in Ireland running into problems with gambling."
There is also an international figure of 25-30 per cent of industry revenue coming from problem gamblers. These are UK and Australian figures. "My sense is it would be no different in Ireland," says Dr O'Gara.
Difficulties with scientific and medical data on the prevalence of gambling addiction are not unique to Ireland.
"Gambling is relatively commonplace among the general population and for many an enjoyable leisure activity, but for some it can cause serious problems," Dr Crawford Moodie, a member of the Gambling Research Group at the University of Glasgow, UK, tells MI.
"Exactly what proportion of a given population experience problems is difficult to determine. Where funding is available, large-scale surveys are often used to provide prevalence estimates.
The first thing that is needed is independent regulation, rather than self-regulation
"While useful, those experiencing difficulties with gambling may not be available as they are gambling. Or [may not be] willing, for fear of the person at the door or on the phone being a creditor, or able because they have worries over their phone or Internet being cut-off for failing to pay bills.
"Data on treatment may help provide some insight into the extent of problem gambling, although problem gamblers may not know where to get help, or be too embarrassed or wary of seeking help, and gambling behaviour is very seldom asked about in healthcare settings. It's often alluded to as the 'hidden addiction'.
"For the latter, healthcare professionals could choose to ask patients suffering from depression and substance abuse about their gambling, given that these factors can underlie or accompany problem gambling behaviour."
Research
Ireland is witnessing a number of attempts to fill the data void. There is now an online gambling nationwide survey (www.gamblingsurvey.ie), supported by Dr O'Gara and others, and this summer saw the publication of a significant report on gambling in Ireland.
Dr Crystal Fulton is a Senior Lecturer at the UCD School of Information and Communications Studies. She led the UCD research team behind a recent study into gambling in Ireland, 'Playing Social Roulette: The Impact of Gambling on Individuals and Society in Ireland'. It "was not a prevalence study", Dr Fulton tells MI, but the research is still regarded as very important in its field.

Dr Crystal Fulton
"This study focused on the social impact of gambling on gamblers, their families and friends, and society in Ireland," she continues. "The purpose of the study was to increase our understanding of the issue of problem gambling in this country, the impact of problem gambling on people's lives, and the services available to treat and prevent problems with gambling.
"It was focused on social impact. Gambling addiction affects more than the individual who has a problem with gambling; it also affects families, friends and communities. As a result, this study explored this wider social impact."
The UCD School of Information and Library Studies conducted the survey, funded by the Irish Research Council and the Department of Social Protection.
The survey makes a number of important public health recommendations. "An appropriate national strategy for service provision, encompassing the various Government and private bodies, which address cause and outcomes of problem gambling, is required," says Dr Fulton, when listing the main recommendations made in the report.
"Development of addiction services to address gambling addiction in Ireland is urgent and critical. This includes a unified approach to training and development for counsellors to international accreditation, as well as for healthcare workers generally.
"Cross-organisation co-ordination and collaboration among volunteer organisations and service providers is critically needed, including those who deal directly with addiction, as well as organisations that provide additional supports."
A further recommendation looks to make services for those impacted by gambling addiction available across the island.
"Addiction services for gamblers and their social connections should be located in multiple locations in the Republic of Ireland to facilitate those seeking help," says Dr Fulton. "Services should be independent and neutral."
As reported in the previous issue (MI, November 5, 2015), the HSE has told MI that a new survey to be carried out this year may provide a clearer picture of the extent of gambling addiction in Ireland.
The Department of Health is preparing the National Advisory Committee on Drugs and Alcohol (NACDA) population prevalence survey 2015, which will include a series of epidemiological questions about personal gambling.
"This baseline data will enable the Irish Government to measure the nature and extent of gambling in Ireland and to monitor the negative health effects in the future," a spokesperson for the HSE tells MI.
The HSE also admits that the current prevalence of gambling addiction in Ireland is "mainly unknown".
"While some EU member states have included gambling in population surveys, many are missing critical data. An EU-wide standardised survey has yet to be established for gambling.
"Available data suggest that 40-80 per cent of adults across Europe engage in gambling annually. In Ireland, in 2012 an estimated 64 per cent of adults played the National Lottery, and according to the Institute of Public Health, up to one per cent of the Irish population have gambling problems," the HSE spokesperson says.
Legislation
The Government has been slow to act when it comes to legislation around gambling. The General Scheme of the Gambling Control Bill was approved by the Government in July 2013, but the legislation has yet to be passed.
Taoiseach Enda Kenny, when was asked about the delay in the Dáil late last month, said: "I do not have any great news on that legislation other than that it is due next year. It is complicated."
The Government has now given a general date of spring 2016 for publication.
There has been much Opposition criticism of this legislative delay despite the Government's defence of the complexity of the issues involved. But for Dr O'Gara, this legislation cannot come quick enough.
"The first thing that is needed is independent regulation, rather than self-regulation," he says.
"Then taxation; even the industry says it's in favour of taxation. Yes, there are inherent issues in regards the taxation of the online bit, but there is plenty that can be got on with.
"Fixed odds betting terminals (FOBT) need to be kept out of Ireland at all costs; they are an absolute scourge in the UK."
Minister for Justice Frances Fitzgerald was asked about FOBT in the Dáil in July and replied that they were "defined in the Scheme of the Bill, which includes explicit provision for their prohibition".
Many experts in the area feel governments have generally been much too reluctant to get to grips with the gambling addiction problem.
"Governments are very often a significant part of the problem," says Dr Crawford Moodie.
He tells MI the contrast between governments' attitudes towards tobacco compared to gambling is stark. "Not only do they [governments] fail to recognise gambling as a public health issue, but they endorse, support and promote it, which is one of the main reasons underpinning the unprecedented global expansion of legalised gambling.
"While the UK and Irish governments have made a concerted effort to tackle tobacco this century, to the extent that tobacco control policy in the British Isles is among the most stringent in the world, they have liberalised gambling laws."
Prof Gerda Reith of the Sociology Department of the University of Glasgow, is also an expert on gambling addiction and has published extensively in the area. What does she think is the biggest public health challenge facing governments regarding gambling addiction?
"The increasing accessibility of gambling, in terms of sheer quantity of gambling opportunities as well as new technologies that make them easier to access, such as online, mobile, gambling apps, social networking sites," says Prof Reith.
"The latter also have implications for youth, who are increasingly exposed to gambling opportunities. Also, and very importantly, the fact that gambling harms tend to be concentrated among low income social groups, those with least money to lose often suffer the greatest impacts of gambling problems."
Prof Reith's own research has revealed interesting aspects of gambling addiction.
"My own research into the longitudinal dimensions of gambling behaviour has found that problems can be very variable over time, and very influenced by social factors, such as life crises like losing a job, relationship problems and depression.
"At the same time, support from social networks such as friends and family can have a significant positive impact in helping people to overcome problems, so it's important to include family [and] friends in interventions whenever possible."
So are there any good models internationally that we can learn from?
"New Zealand is a good model," says Prof Reith. "There, problem gambling is treated as a public health issue, and included in national legislation.
"As such, funding and resources are made available for prevention, education, treatment measures, as well as research programmes. All of these measures help to ameliorate the problem, as does a strong regulatory framework, which has good oversight of the industry."
What can be done?
Gambling addiction forms an important part of the IMO's recently published position paper, Addiction and Dependency.
"There is little reliable information, however, on betting patterns outside of the National Lottery, or on the average weekly expenditure of Irish gamblers on the habit," the Organisation notes.
"Expenditure in gambling grew from €1.6bn in 2001 to €3.6bn in 2006, with share prices of companies associated with gambling services continuing to rise, demonstrating confidence in the industry."
The IMO makes a number of specific policy recommendations in the area and these include:
Fund research into the extent of problem gambling and its effects on individuals and their families in Ireland;
Introduce regulatory control measures that limit the frequency of advertisements for gambling services;
Develop educational programmes that raise awareness of the issue of problem gambling in the social, personal, and health education curricula.
Let's talk about sex
Sex addiction is another process addiction about which there is very little nationwide data. Sexual addiction has not yet reached classification status in the DSM. However, Dr O'Gara feels it is only a matter of time before this changes.
"Number one, it's a highly stigmatised issue," notes Dr O'Gara.
"Number two, there is no cohesion internationally around the classification; it is not accepted.
"However, my view is very clear. I have treated enough people at this stage in extreme distress that I have no question that the entity will meet the criteria in due course. But it is plagued by relationship difficulties, affairs and things like that, which then get translated into that category, so it really suffers from that."
A HSE spokesperson tells MI that it "does not provide specific services for persons with a sexual addiction". However, the spokesperson added that anyone presenting for sexual addiction would be offered the same range of interventions as those who present with gambling and other process addictions.
The changing face of the problem gambler
The changing demographic of problem gamblers is worrying experts. Dr O'Gara says they are getting younger and this is primarily because of the migration of gambling online.
"I talk in school to kids; sometimes half the class tell me they are gambling," he says.
"That's illegal. These kids would be 14-15 years old having access to parents' credit cards."
When it comes to gender, it is still mainly men who are regular gamblers (outnumbering women 10-1), although this is changing somewhat.
"Land-based gambling is almost exclusively male, if you enter a bookmakers it is very hard to see women, except you see women behind the counter certainly," he says.
"In regards [to] online, we are seeing a big shift. It is the slow invasion of social media platforms, so gambling on Facebook, Candy Crush and that sort of stuff. The morphing of different platforms with buying tokens in role-playing or shooter games, with gambling elements coming in."
Dr O'Gara says that despite the obvious changes in the field, services have not kept pace.
"There are no services in Ireland for gambling," he says.
"Gambling is what I call the prototypal process addiction — it has been accepted in the classificatory systems. It is not like gambling has suddenly appeared; it has been there for ages, it's in the media all the time, we have high-profile examples of stories of problem gambling. It is there as a regular topic discussed, but there are no services in Ireland, and if you look in the UK there is also a dearth of services.
"It is really down the pecking order, very much the poor cousin in the world of addiction. But that is where it has to start, I guess."
MI asked the HSE what services it provides. While there may not be specific gambling services, "some counselling and rehabilitation services provide care to those presenting with a gambling addiction through one-to-one counselling, financial advice and onward referral to other statutory and voluntary groups where appropriate, such as Gambler's Anonymous", says a HSE spokesperson.
"The delivery of these services is based on the 'four tier' model of treatment intervention, and services are designed to respond to the individual's specific identified needs. Interagency working between the HSE and other community, statutory and voluntary agencies form the basis of this delivery, as the target is to provide services, where possible, in a community environment.
"Those who present for gambling addiction are offered the same range of interventions and supports as those who present with other addictions (primarily drugs or alcohol), or a mental health concern."