You are reading 1 of 2 free-access articles allowed for 30 days
G-Technology G-DRIVE 1TB ev ATC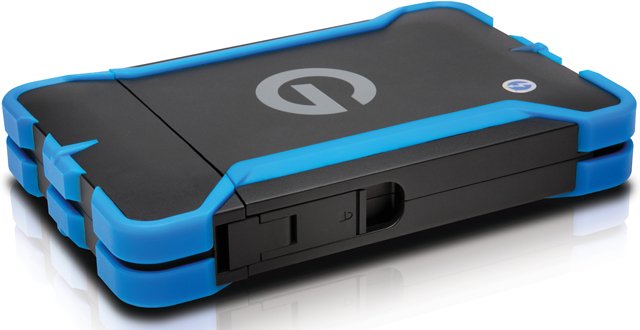 The G-DRIVE ev ATC is as rugged as you want to be. This all-terrain drive solution shields a high quality, lightweight, removable G-DRIVE ev RaW USB hard drive. Featuring a watertight drive compartment, your data is further protected from pressure, shock and dust. The ev All-Terrain Case is compatible with the Evolution Series, also fitting the G-DRIVE ev or G-DRIVE ev SSD.
Perfect for in-the-field backup, editing, transferring, and storage, this durable 7,200 RPM drive leverages the speed of Thunderbolt while providing you with flexibility and the ease of use of USB. Formatted for Mac, it can be easily reformatted for Windows and comes with a three-year limited warranty.
KEY FEATURES
Rugged drive solution
Watertight drive compartment
Protected from pressure, shock, and dust
Removable USB drive
Evolution Series compatible
Up to 136MB/s transfer rates
Three-year limited warranty
Water-tight drive compartment can be submerged in up to one foot of water for 30 seconds
Rugged solution with drop spec up to 2M
Fast 7,200 RPM hard drive
Solution will float with the G-DRIVE ev RaW (or other compatible ev series drives)
Can withstand up to 1,000lbs of pressure
PRODUCT SPECIFICATIONS
Capacity:
Up to 1TB
Drive Interface:
One x USB 3.0 and 1x SATA
Disk:
7,200 RPM
Compatibility:
Mac OS 10.7+ Windows 8.1, 8 and 7 (via reformat)
Size (L x W x H):
All-terrain case – 6.46"x 4.25"x 1.20" / G-DRIVE ev RAW – 5.14" x 3.29" x 0.65"
WHAT IS IN THE BOX
G-DRIVE ev ATC
USB 3.0 cable (for use with G-DRIVE ev)
Quick start guide
Three-year limited warranty
The G-DRIVE 1TB ev ATC is available at Right-Click for €229.99
Also available with a Thunderbolt connection for 3249.99
Petron Stealth Crossbow
The Petron Stealth Crossbow is the daddy when it comes to indoor and outdoor projectiles. Extremely well built and robust, the Stealth Crossbow can shoot over 20 metres (60ft) with amazing accuracy. Armed with 12 Stealth sucker-tipped suction darts, it is perfect for office skirmishes or target practice.
€34.95 @ www.thegadgetstore.ie and BCool! The Gadget Store – Dundrum Town Centre
OrbitKey
Organise your keys!
The OrbitKey is a beautifully made key ring that has just recently been kick-started and we think it is really cool. The OrbitKey basically keeps your keys organised, all together, and very neat too. Looking a bit like a bow, the orbit key comes in pure leather of different colours and elastomer. It can hold up to seven keys and the beauty is you can put them in the key ring in the order that suits you. So you know where each key is and can slide it out at the time you need it. There is a pretty clever lock-nut that holds it together and allows you to put up to seven keys (depending on the thickness of the keys) on the ring.
The leather used in the OrbitKey is very good quality, is double sided for extra strength and it also comes with an optional car key attachment. It is also very easy to set the keys up with the instructions provided, so it should only take a minute before you are good to go with all your keys organised and secure. The OrbitKey is the perfect gift for the person who has everything.
From €24.95 @ www.thegadgetstore.ie and BCool! The Gadget Store – Dundrum Town Centre
Immerse Virtual Reality Headset
Virtual reality is something that has long been exclusive to the world of sci-fi movies and other mediums of that genre. Recently, of course, it is something that is advancing and is in use today. However, it has never been so affordable!
Fancy walking with dinosaurs or getting your adrenaline pumping on a rollercoaster?
Well, with the Virtual Reality Headset you can experience these scenarios from the comfort (and safety) of your living room!
The Virtual Reality Headset enables you to watch 3D movies, play simulated games and experience virtual simulations by downloading content directly onto your smartphone.
With 360-degree content, and a screen view that will adapt with your head movements, you will get lost in hours of fun in a virtual world of your choice.
The Immerse Virtual Reality Headset is also significantly cheaper than most of the very expensive brands out there and it is a great way to enjoy 3D movies on your phone too! A great introduction to the world of virtual reality.
€34.95 @ www.thegadgetstore.ie and BCool! The Gadget Store – Dundrum Town Centre
Eclipse Batman Lamp
I'm Batman! Well, sometimes we all wish we were. Batman has managed to become one of the hippest, coolest superheroes ever! The movies are huge and merchandise, with the famous batman logo on it, easily outsells all the rest. It must be because he is a dark character and not so perfect, so perhaps we see a little of ourselves in him!
Adding to the cool that is Batman, is this really cool Batman light. It is a great idea, utilising both the dark and light, the good, and the tormented side of batman. The light behind the logo creates a wonderful effect on surrounding objects, especially when it is put up against a wall. The bat logo then stands out with menacing brilliance and so becoming a really cool light for a bedroom, study, or elsewhere. The Batman Eclipse Light is USB powered and creates a stunning Batman logo silhouette. Perfect for those who like even their light to be a little on the dark side. We know this is going to be a big hit so order yours early to avoid disappointment.
€24.95 @ www.thegadgetstore.ie and BCool! The Gadget Store – Dundrum Town Centre