You are reading 1 of 2 free-access articles allowed for 30 days
G-Technology Epson WORKFORCE PRO WF-8510DWF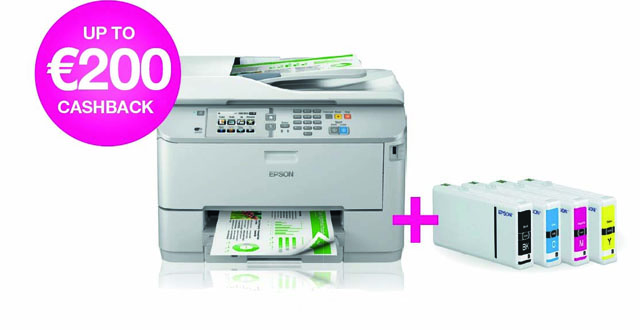 Ideal for small-to-medium offices that want to cut costs and environmental impact and reduce intervention, this A3+ business multifunction printer uses fewer supplies and has a scalable paper capacity.
The Epson Workforce Pro WF-8510DWF is perfect for business environments that have traditionally used lasers and want to increase productivity and reduce downtime and waste. Epson's clean technology helps create a more environmentally-friendly workplace.
Low TCO A3+ business multifunction: Multifunction with scalable paper trays.
Ecological: Uses up to 80 per cent less power than competitive colour lasers.
Built for business: Scan-to functions and LDAP address book support.
PrecisionCore technology: Epson's most advanced printhead technology.
Enhance productivity: Automatic double-sided printing, scanning, copying and faxing.
Key features
Low TCO printing: Take advantage of a low total cost of ownership and print up to 4,000 colour and 5,000 mono pages using easy-to-change, high-capacity DURABrite Pro ink cartridges.
Ecological: No ozone gas is emitted, and an improved 'quiet print' mode and no fan noise during or after printing make it ideal for the workplace. And there are fewer parts to replace than a laser.
Enhance productivity: Prints at up to 34 pages per minute (ppm) in both colour and mono, with ISO print speeds of 24 ppm for both.
The WF-8510DWF delivers automatic double-sided A4 and A3 printing for eco-friendly and business-quality results, and features one-pass duplex scanning and a 50-sheet automatic document feeder. Scalable optional paper trays take its maximum capacity to 1,831 sheets.
Built for business: PrecisionCore technology powers the output quality and reliability at the speeds required for office and industrial printing.
The 12.7cm colour touchscreen is easy to use, while scan-to functions, including Microsoft SharePoint and LDAP address book compatibility, make it easy to share documents. Also securely print using a PIN code to release confidential documents, or use Email Print for Enterprise to securely send documents directly to the multifunction printer.
The WORKFORCE PRO WF-8510DWF is available at Right-Click for €1,249 including VAT. Also take advantage of the special €200 cashback when you buy a full set of inks or €100 cash back when purchased alone.
Buy in-store: Right-Click,
70 Camden Street, Dublin 2
Buy online: www.right-click.ie/shop
Email: hello@right-click.ie
Web: www.right-click.ie
Call: (01) 4759681
Vinyl Motion LP
We all fondly remember those classic suitcase turntables of yesteryear: easily portable, easy to use, and a party wherever you were. Here it is again, but updated with all the modern performance enhancements that only ION can bring.
Vinyl Motion has a rugged case with a handle, so you can carry it anywhere. It plays all your 33 1/3, 45 and 78RPM records, it comes with a 45RPM adapter and it has built-in stereo speakers for convenient listening without having to connect external speakers.
But while Vinyl Motion delights the eye with its beautiful 1950s style, it excites the techie with its cutting-edge performance features: It converts any LP to a digital file, using the included ION EZ Vinyl/Tape Converter software and USB connection cable. Most impressive of all, it has a built-in rechargeable battery so you can enjoy Vinyl Motion whether you are near a wall plug or not.
€99.95 @ www.thegadgetstore.ie and @ Dundrum Town Centre.
iLounge
It is amazing how tired the hands get just holding up your iPad or tablet, just watching YouTube or keeping up with your social media. Wouldn't it be great if there was a comfortable way to hold them? Enter the iLounge!
The iLounge pillow holds your tablet in place, so you don't have to. With its unique and ergonomic design, this tablet holder can be used anywhere. Compatible with most tablets, the iLounge is the perfect accessory to keep you and your tablet comfortable.
€29.95 @ www.thegadgetstore.ie and @ Dundrum Town Centre.
Chameleon Orb Lamp
Why not relax after a busy day with the calming, colourful hues of the Chameleon Orb Lamp?
Beautifully crafted from glass, the Chameleon Lamp has 16 different colours and four settings to suit any mood.
Simply let the standard setting create the right environment for your relaxation time or use the remote control to set the atmosphere for your chill out periods.
This lamp is perfect to adorn a hallway, study or a great gift for a new pad. This truly cool lamp is an excellent gift for someone who has everything.
€49.95 @ www.thegadgetstore.ie and @ Dundrum Town Centre.
Block Rocker Bluetooth Speaker
If you like it loud, now you can have it louder with the Bluetooth Block Rocker — and you can have up to 75 hours of use.
Enjoy high-fidelity music outdoors, wirelessly. This portable, rugged, rechargeable speaker streams your favourite music from any bluetooth device and pumps out great sound through its eight-inch, two-way speaker system powered by a 50-watt dynamic power amplifier.
It has a built-in AM/FM radio so you can enjoy radio stations too, and afterwards, use Block Rocker's high-quality microphone to create your own memorable events.
In addition, you can wirelessly link another Block Rocker (iPA76C) via True Wireless Stereo (TWS) for even bigger sound.
It has a USB power bank with two USB ports to recharge your devices and a telescopic handle and built-in wheels for convenient operation and easy transport.
€279 @ www.thegadgetstore.ie and @ Dundrum Town Centre.