You are reading 1 of 2 free-access articles allowed for 30 days
G-Technology 4TB G l RAID with Thunderbolt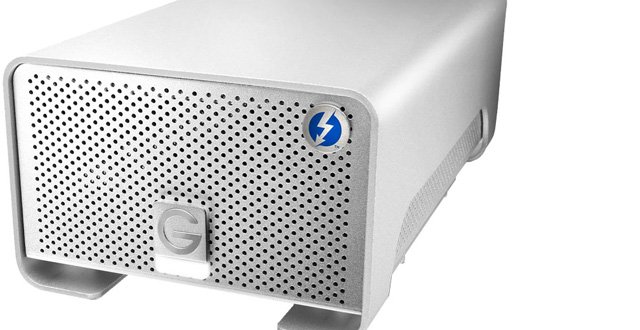 This 4TB 7200RPM High Performance G-RAID with Thunderbolt has been designed specifically for professional content creation applications and features the most powerful, flexible I/O technology ever.
At double the data transfer rates of USB 3.0 and over 12 times faster than Firewire 800, no other PC I/O interface can match the raw speed of Thunderbolt now available in G-Technology's leading RAID solution. G-Technology has built its reputation and business on serving creative professionals and consumers that demand performance, capacity and quality.
East to set up
G-RAID is ready right out of the box for use with Mac OS X systems and appears to the system as a single, big and fast disk drive. G-RAID also supports Windows systems with a simple reformat.
The G-Technology G-RAID Thunderbolt Hard Drive helps you get the most out of your professional content-creation applications. It is 12 times faster than FireWire 800, providing the raw speed that you need for media-driven workflows and editing.
Product specifications
Interface: Thunderbolt x 2, USB 3.0 x 1
Drive Speed: 7200RPM
Transfer Rate: Up to 327MB/s
Compatibility: Mac OS 10.7+; Windows 7 & 8
Dimensions: 9.25" x 5.13" x 3.43" / 235 x 130 x 87mm
Kit contents: G-RAID with Thunderbolt dual-drive storage system; AC Power Supply; Thunderbolt cable; Quick start guide; and Three-year limited warranty
4TB G-Raid with Thunderbolt available at Right-Click for €599.99 (also available in 8TB model).
Buy in-store: Right-Click,
70 Camden Street, Dublin 2
Buy online: www.right-click.ie/shop
Email: hello@right-click.ie
Web: www.right-click.ie
Call: (01) 4759681
Retro TV Games
Plug and play your way back to the future with the Retro TV Games Controller.
This handheld controller looks and feels like the gaming controllers we adored in the 1980s, yet plugs straight into your modern TV for a gaming experience we could only dream of back then. Compact and ultra-portable, this retro controller is perfect for the whole family. You will get lost in endless hours of action and fun, playing a range of shooting, arcade, puzzle and sports-based games.
Plug the Retro TV Games Controller into your television and get your fingers at the ready with its integrated mini joystick and A, B buttons. Once plugged in you are all set for a nostalgic gaming session with the 200-strong, on-board retro gaming library.
€19.95 @ www.thegadgetstore.ie and @ Dundrum Town Centre
Smart Glider
The future is here now, and here we are all using our own legs to walk and run here and there!
Smart Glider is the newest way of getting around town. Portable, intuitive, quick to charge and nippy, it is like riding a Segway without handlebars, or a skateboard with a motor. The Smart Glider is a personal transport device that willtake you from A to B and to C in many cases.
It is easy to master too. Simply hop on the touch-sensitive pads to start the motor and lean forwards or backwards to make it move. You'll hit speeds of up to 10mph and it only needs one to two hours to fully charge.
The powerful 132W motor means you can tackle gradual hills with ease. And it is really portable too, weighing in at just 13kg.
How is it so easy to get to grips with? This is thanks to the Smart Glider's very smart auto-stabilising technology. There are pressure pads built into the base, which understand how your weight is being distributed.
It feels your movement, which directs the Smart Glider in the direction you want to go. You simply lean left to go left and lean right to go right – easy!
The wheels are made from a thick durable rubber, which give a nice smooth ride and it is no slouch either – the Smart Glider can reach a speed of up to 16 kilometres an hour. So bring the dog for a walk, pop down to the shops, or take yourself to work in style.
€499 @ www.thegadgetstore.ie and @ Dundrum Town Centre
Stealth Memory Pen
No, this pen does not help you with your memory if you are writing your biography! What it does do is hold any important data that you may need for work or study.
Simply load it up to the neatly hidden memory stick and bring your data including notes and files anywhere you want.
Of course, that is not all it does; it is a pen obviously, and with an omnidirectional tip, this is a great quality stylus for your tablet or smartphone!
The memory stick has 4GB memory, plenty of space to store your files on the go!
The Memory Pen is a really handy everyday carry gadget, with three useful functions, and is perfect for anyone doing study, someone who does a bit of travelling or in the office. A great gift for the techy who thinks they have everything.
€34.95 @ www.thegadgetstore.ie and @ Dundrum Town Centre