You are reading 1 of 2 free-access articles allowed for 30 days
Fighting TB in far-away lands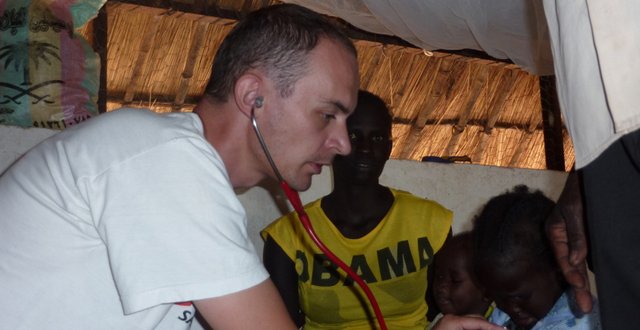 Galway GP Dr Cormac Donnelly was driven by a desire to treat those suffering with TB when he set out for central Asia on a nine-month MSF mission to Uzbekistan. By the time his stint ended in the Karakalpakstan region in July this year, he had helped to treat hundreds of patients, many with multi-drug resistant (MDR) and extensively drug-resistant (XDR) TB, with a new line of treatment.
Dr Donnelly, who had volunteered with MSF in South Sudan about two years earlier and also worked in Zambia, graduated in 2004 and then trained to be a GP in Galway, finishing his training in 2010. He then set his sights on helping to fight TB in Uzbekistan.
"What I would do is spend some time overseas volunteering and then spend some time back in Ireland working as a GP. I would always come back to Ireland in between times for six months to a year to keep up my skills as a GP and keep up-to-date with what is happening in primary care in Ireland," he tells the Medical Independent (MI). "TB is an area I'm very interested in and that's really what motivated me to accept the opportunity to work with MSF in Karakalpakstan."

Dr Cormac Donnelly
At the end of July, with Dr Donnelly's help, some 1,993 TB patients were being treated in the Karakalpakstan region, where MSF is working in collaboration with the region's ministry of health. The MSF 'Comprehensive TB Care for All' project team, of which Dr Donnelly was a member, made bedaquiline available for patients with TB, a disease notorious for becoming quickly resistant to drug treatments, as it spreads and mutates, and for which there had not been a new treatment on the market for decades.
The new line of treatment used by Dr Donnelly is a first for the project and a first for the whole country. "This region of Uzbekistan has certain factors, which make it especially prone to the transmission of TB," he explains. "People are living in a degree of poverty in cramped, poorly-ventilated rooms in this post-Communist nation. Problems with poor housing and the climate and environment are quite difficult and challenging — it's very hot in the summer and very cold in the winter. When I arrived in the winter season, the cold took some time to get used to and in the summer, the temperatures were well over 40o Celsius."
Challenges
Adjusting to such conditions in Uzbekistan proved a challenge at first. "It takes a period of adjustment. It's not a place I had any experience of before. It's a former Soviet country in central Asia and the health system has really struggled since the break-up of the Soviet Union and, with that, there was a lot of incorrect and incomplete treatment of TB, so there were increased rates of the disease and increased resistance as well."
TB continues to infect about nine million people a year globally and an estimated one-and-a-half million die from the disease each year.
The majority of cases are in low-and middle-income countries. These figures, though enormously high, represent an overall improvement in the global burden of TB during the last decade. However, there is now an increasing number of patients being infected with MDR and XDR TB cases. The World Health Organisation (WHO) estimates there were almost half-a-million cases of resistant TB in 2013 alone.
MSF has long been committed to treating TB patients in countries like Uzbekistan with a high burden of the disease. Dr Donnelly describes Karakalpakstan province as probably the most underprivileged area in Uzbekistan. "It's not densely populated — a lot of it is desert. It's isolated and rural and that makes it challenging. A lot of the people live on subsistence farming."
TB is not the only medical problem faced by the province, Dr Donnelly says, but it is one of the most challenging and the local ministry of health finds it difficult to deal with it without outside help. "Their healthcare structure is capable of managing a lot of the other problems but TB, particularly drug-resistant TB, is complex and challenging. We have the expertise in treating TB in different contexts and also the resources to get the necessary medication and diagnostics into the country. You need a lot of high-tech equipment to diagnose it accurately in order to start appropriate treatment.
"Our model of work was in partnership with the ministry of health. We worked together in order to come up with a sustainable, long-term solution, whereby TB could be diagnosed in a laboratory and then appropriate treatment made available to all patients for free," he explains.
Resistance
"Globally, what people are finding with drug-resistant TB in particular is that outcomes are not very good with first-line drugs. The reasons for that are that the drugs we treat drug-resistant TB with have a lot of side-effects. Secondly, the treatment can take up to two years, which is very long and very difficult for patients to tolerate, as they're getting multiple drugs every day and getting injections every few months."
Thus the long-existing drugs are simply not able to treat some patients, he points out, "so there's been a need for a long period of time for the development of new drugs to treat TB and thankfully, in recent years, two new drugs have become available for the first time in several decades, one of which is bedaquiline. So we started to use bedaquiline in Karakalpakstan in recent months, particularly for those patients with XDR TB or for those patients who are failing standard treatment for drug-resistant TB."
Developing a shorter treatment regimen is also a priority, Dr Donnelly confirms. "We are completing a study looking at patients who were treated with a different combination of medications over just nine months and we would like to look at a study of patients treated with six-month regimens in the next year. We want to make it available to patients, regardless of income."
Initial results are promising in a number of countries, he reports. "It's too early to say but certainly the initial results from other countries, including Armenia, Georgia and Russia, are quite encouraging."
The majority of patients he treated in Karakalpakstan were from a poor socio-economic background, Dr Donnelly acknowledges, "but the nature of the TB means that people from various walks of life have been affected by the disease. We treated all age groups — young adults, older patients and also children and we are especially trying to improve the standard of care for childhood TB."
Community
The MSF team has also advocated strongly to implement a community-based TB programme. "Certain patients might start their treatment in hospital if they are severely ill but once their condition becomes stable, then treatment could be in the health centres, where the patients could come every day for their treatment and work closely with the doctors and nurses there. In the case of elderly patients or those who are too ill to travel to the clinics, the medication would be brought to their home."
Karakalpakstan has 200 healthcare facilities and Dr Donnelly spent much time, together with a driver and translator, travelling long distances in land-cruisers across tough terrain, checking on many of these clinics and their patients, and discussing treatments.
"We'd be on the road three or four days a week, seeing patients and bringing supplies to the clinics. We'd meet the ministry of health staff, including a TB doctor, and then we'd go together to a clinic to review patients — there could be six-to-10 patients. We'd make sure everything was working okay in that clinic with drug supply and infection control and that everything was okay with diagnoses and that they knew how to manage the side-effects of drug treatment correctly. In the afternoon, we would discuss cases with ministry of health doctors, making sure all the patients were on the right treatment or discussing starting treatment for newly-diagnosed patients. Then we'd travel back and I'd spend one or two hours doing paperwork and admin."
Dr Donnelly recalls one particularly tough day. "I had a lot of sad experiences, unfortunately, but I think the saddest experience I had was visiting a man who was dying from TB and meeting his wife and his daughter. He had great difficulty tolerating the treatment over several years and the disease had progressed and he was going to pass away.
"It was quite difficult for his wife because already one of their daughters had died from the disease a few years before. But on the other side, his other daughter, who had been diagnosed with TB, had been successfully treated and cured. The positive experiences keep you going when you see patients improving and recovering."
Dr Donnelly has no reservations about recommending volunteering to others in the medical profession. "It usually brings more rewards than disappointments. I would recommend it on a personal level and on a professional level in gaining experience and satisfaction with your job. It's very rewarding," he concludes.