You are reading 1 of 2 free-access articles allowed for 30 days
Fighting disease in the Congo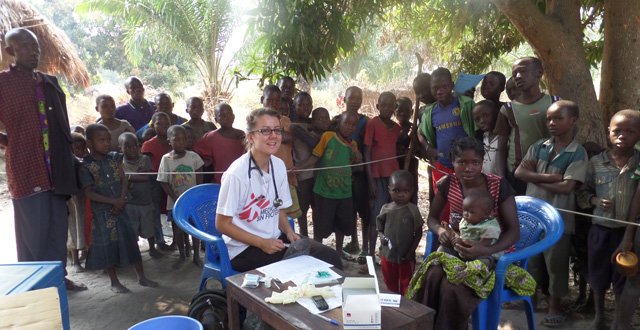 Dr Eileen Sweeney's voice is at a whisper recalling a chilling experience working with MSF in the Democratic Republic of Congo (DRC), when she realised that a sick infant on its mother's back was a corpse. It was far from the last time she would see such tragedy during her time in the West African country earlier this year, but her trip also saw many moments of hope and improved healthcare outcomes from MSF's work.
Many years earlier, growing up in her native Donegal, Dr Sweeney started out on the path that would eventually lead her to the DRC. "I always wanted to travel and discover the world in a different way," she explained. She also loved science and, as she grew older, she combined both by becoming a doctor and so earlier this year she left the comfort of life in Donegal to volunteer with MSF in the DRC.

Dr Eileen Sweeney
"Once I had my basic degree in 2011 I worked through MSF's other requirements, including at least three years' work experience and a diploma in tropical medicine, and a mission came up in March."
Malaria is endemic in the DRC but when Dr Sweeney arrived in March at MSF's Malaria Emergency Response Unit in Kindkonja, Katanga province in the southern part of the DRC, the mortality rate was soaring.
The DRC, which is similar in size to Western Europe, has vast deposits of diamonds, gold, copper, cobalt and zinc, but for decades it has been decimated by wars over the control of its resources. Thus, most of the population has failed to benefit from their country's wealth and its health services are struggling. It is now recovering, however, from its most recent bitter conflict, known as Africa's 'first world war', which led to the loss of some five million people between 1994 and 2003.
Infectious diseases
People in many areas of the country lack basic healthcare and in recent years have suffered numerous outbreaks of cholera, malaria and measles. For decades the region has experienced measles epidemics, with a major resurgence of the disease since 2010. A study by Epicentre, MSF's epidemiological research centre, indicates that between 2010 and 2013, almost 300,000 cases of measles were recorded in the country and more than 5,000 patients died. According to the report, the number of cases dropped by more than 20 per cent after the first vaccination campaigns.
MSF teams have regularly intervened to help immunise the population, but routine immunisation is not sufficiently widespread to prevent new outbreaks.
The country's lakes are picturesque but it is a terrible kind of beauty because these lakes are also deadly breeding grounds for mosquitoes and water-borne disease. In addition, during the rainy season, many areas of the country are only accessible by boat or motorbike, making vaccination programmes extremely difficult and leaving Kindkonja, in Katanga province, where Dr Sweeney was based, particularly vulnerable to malaria, measles and cholera, the biggest childhood killers.
By any standard, it was a daunting environment for Dr Sweeney. As the Medical Activity Supervisor for the regional hospital, her focus was on treating malaria and measles, working with a team of approximately five ex-pats and 60 national staff. "The hospital was managing complicated measles and malaria, while our outreach team treated simple cases in the community, as well as organising an extensive measles vaccination because the mortality was way too high."
What was originally meant to be a 10-week mission turned into five months for Dr Sweeney. She saw about 20 patients each day, some of whom were admitted and some discharged, and had up to 50 patients in the hospital at any given time.
"The measles [cases] were coming in waves and cycles. Ninety per cent were children under five. Normally, children under nine months don't get measles but here children as young as four months old got it due to the intensity of transmission of the virus. Children that age can't get vaccinated because it's not really efficient so we were trying to get every child from six months to 15 years vaccinated to try to get some immunity in the community.
"We were lucky to have an oxygen concentrator and we managed to have all the proper drugs for measles so we did our best to treat as many as possible. But the young kids really suffered."
Tragedy
Dealing with suffering became a frequent occurrence for Dr Sweeney but she is still haunted by the tragedy of the dead infant on its mother's back. She recalls: "A mother arrived with an infant on her back and I remember the horrible moment when you realise the sick infant carefully taken from her back is a corpse. Having to look straight into the mother's hopeful eyes, saying nothing. We don't speak the same language but she understands as she collapses on the ground in grief.
"That happened at least once a week. Once or twice a week for the first three months there were kids with malaria who were coming that would barely be alive for 10 minutes, so they were, literally, at death's door."
She describes another tragedy. "The parents run in with their beautiful son; he is so pale from too little blood. We have him wrapped in a thermal blanket. He is shivering, despite the sweltering heat in the room. His body is in shut-down mode, just allowing what little blood is left to flow to his most vital organs. Forty-five minutes later, our supply of blood is finally warm enough. It starts to drip into his arm just as he lets out his final gasp of air. We are all devastated. A perfectly healthy child, if only he had come an hour before. Choking through his tears, his father thanks us for having tried. He now knows the week he waited was too long. This little boy was probably about five."
Traditional medicine
A significant challenge to ensuring seriously sick people were treated on time was the local dependence on 'traditional' medicine, Dr Sweeney explained.
"We always asked about traditional medicine, but we rarely got an answer because they didn't want to admit they'd used it. But you knew from their reaction when their child died what the answer was. The parents of many of these children had grown up in war and had no proper education and the big challenge for us was to get the message across about recognising when their child was sick.
'There was a lot of death but I know that if MSF wasn't there, there would have been many more deaths'
"A lot of them would not really recognise the signs of different conditions and if the child was sick they would go to a traditional healer because there is one in every corner of every village and they might be eight hours away by canoe [from a clinic or hospital]. The traditional healer is something that's ingrained in their culture.
"The problem was that not only would the local healer misdiagnose the child, but going to him would also delay getting proper treatment. I believe 30 per cent of the cases that died were directly because of traditional medicine. It was so sad and so frustrating. We obviously did everything we could all the time but sometimes there wasn't much you could do. There was a lot of death but I know that if MSF wasn't there, there would have been many more deaths."
Hope
After many challenges, things improved significantly towards the end of her mission, Dr Sweeney confirmed.
"The last three weeks I was at the hospital they had no deaths. There was a huge vaccination campaign that diminished the intensity of the measles. The rainy season was also over, so there were fewer mosquitos. It was really impressive how quickly it just decreased."
Sometimes volunteerism by doctors is seen primarily as a humanitarian gesture. Certainly, that is what initially motivated Dr Sweeney when she decided to volunteer with MSF. But now, having returned home at the end of her mission, Dr Sweeney would also recommend it for professional reasons.
"It's an excellent way to gain invaluable experience. I would absolutely recommend it, especially for young doctors. It's an amazing experience. I feel I have got skills that I would never have had the same chance to acquire in Ireland — managing, doing these constant audits and mortality reviews and so on."
Even the process of prescribing a drug often entailed intricate planning and logistics. "Every time I prescribed a drug, a truck had to bring it for five days to us from the capital after it came from Europe. There was a logistics team and I would have to keep close tabs on the process. Sometimes a truck that would normally have taken five days might break down and it was rainy season, so it took two weeks to come. But we'd always have a little buffer stock.
"Those five months could have been five years because the experience I got was amazing. I was doing so many different things. I was running a hospital and managing staff, predicting and ordering drug consumptions, translating documents, recruiting new staff. Every corner of my brain was awake."
She also found the people she worked with to be an inspiration. "The national staff were the most tireless team I've ever come across, really hardworking, very well trained and very enthusiastic."
The admiration must have been mutual because when Dr Sweeney's 27th birthday came round, everyone celebrated. "They made a cake and sang happy birthday. They were the most amazing bunch of people."
Since opening its office in Dublin in 2006, Irish professionals from medical and non-medical backgrounds have now departed on more than 100 MSF missions, from Afghanistan to Zimbabwe. MSF has on average 20 Irish volunteers 'in the field' at any time. Currently, volunteers from Mayo, Dublin, Sligo, Kilkenny, and Clare are providing medical humanitarian aid in Ethiopia, Haiti, Central African Republic, Sierra Leone, Uzbekistan and Jordan. www.msf.ie.