You are reading 1 of 2 free-access articles allowed for 30 days
Epson EB-S03 bright LCD projector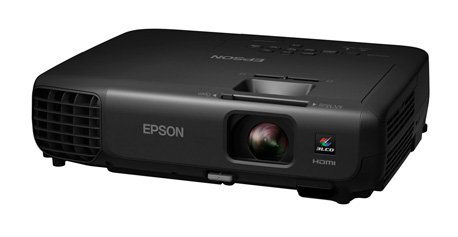 The Epson EB-S03 LCD projector features an SVGA resolution, digital zoom and an equally strong white and colour light output of 2,700 lumens. This not only means you get sharp, clear images, but also that colours are three times brighter than one-chip DLP projectors.
High-quality, bright and vibrant images: This LCD projector effortlessly displays bright images with vivid colours for a crisp, clear picture — ideal for presentations and moving images and aided by the 10,000:1 contrast ratio. With a HDMI input, high-definition video and audio content are easily played, with the same high quality you would expect from the world's number-one projector manufacturer.
Colour light output (CLO): CLO is an important way of measuring a projector's ability to deliver colour and, like all Epson projectors, this model has an equally high white and colour light output for a bright picture with vivid colours. For more information please visit: www.epson.eu/CLO.
User-friendly: Thanks to its manual keystone slider — unique to Epson — and automatic vertical keystone correction, this projector is quick and simple to set up. No matter the angle of the projector, you can easily align the projection to ensure a straight and correct image. The colour universal design makes operating the projector easier, thanks to new LED colours and menu icons on the projector's control panel.
Wireless projector: The optional wireless connectivity allows you to show content easily from a range of devices without being connected to the projector via a cable.
Eco-friendly: The EB-S03 features an eco tab setting, auto lamp dimming function and an A/V mute timer.
KEY FEATURES
Very bright output: 2,700 lumens white light output and 2,700 lumens colour light output
USB2, HDMI, SVGA and wireless options
Sharp detail: SVGA and 10,000:1 contrast ratio
Easy set-up:  Automatic vertical keystone correction
Eco-friendly: Eco tab setting and auto lamp dimming
Available on at Right-Click for just €419.99
Immerse Virtual Reality Headset
In recent years, virtual reality devices have become more integrated into everyday life and now the technology has never been so affordable.
Whether walking with dinosaurs or getting your adrenaline pumping on a roller-coaster, the Immerse virtual reality headset can bring these experiences to the comfort of your living room.
The headset enables you to watch 3D movies, play simulated games and experience virtual simulations by downloading content directly onto your smartphone.
With 360-degree content, and a screen view that will adapt with your head movements, you can get lost in a virtual world of your choice!
The Immerse virtual reality headset is also considerably cheaper than most of the very expensive brands out there and is a great way to enjoy 3D movies on your phone too.
A great introduction to the world of virtual reality.
€34.95 @ www.thegadgetstore.ie
and at BCool! The Gadget Store
– Dundrum Town Centre
Zipper bottle opener
Now the humble zipper can open drinks. This ingenious zip-shaped bottle opener is made to the highest standards and is well packaged.
The device is integrated with strong magnets so it holds on tight to your fridge or any other metal appliance you wish to put it on, ready to pop a bottle of beer at any time.
€15 @ www.thegadgetstore.ie
and at BCool! The Gadget Store
– Dundrum Town Centre
Multi-Charger six-in-one
As the name suggests, the Multi-Charger six-in-one can charge six devices at the same time. This powerful and compact home charger offers an exceptional 33W through six ports; which allows you to charge a combination of smartphones, tablets or other USB-charged devices simultaneously.
The Multi-charge detects your device to give you the fastest possible charge speed up to 2.1A per port or 6.5A overall.
€34.95 @ www.thegadgetstore.ie
and at BCool! The Gadget Store
– Dundrum Town Centre
Gillan Battery Pouch
The Gillan Battery Pouch is a handy electronic gadget incorporated into a classic fashion piece.
This device allows you to charge your phone charge on-the-go and allows the user to also comfortably carry cosmetics, jewellery or everyday items, while providing portable power when it's needed most. It is home to a discreet, powerful, rechargeable 3000mAh Li-polymer battery, crafted with premium genuine leather and a woven fabric lining.
Designed to be elegant, practical and compact, you can charge your phone wherever you are with the Gillan Battery Pouch. The 3000mAh will charge your phone to full power and still have some power left over. When you get home, you simply recharge again and again for many more uses and any emergencies.
It's compatible with most micro USB devices (eg, Android, BlackBerry, Samsung, Amazon Kindle, Galaxy Tab) and with Apple devices using an adapter (sold separately).
This collection is crafted with Saffiano leather to give a durable, wipe-clean finish in a range of pastel and neon colours, crafted with Italian bonded leather.
€49.95 @ www.thegadgetstore.ie
and at BCool! The Gadget Store
– Dundrum Town Centre