You are reading 1 of 2 free-access articles allowed for 30 days
Doctors highlighting 'sectional concerns' — Róisín Shortall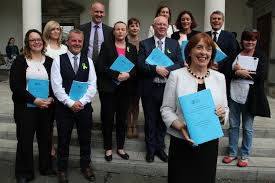 The Committee's all-party, 10-year plan for health was published last month and aspects of the report generated lukewarm-to-negative responses from medical representative bodies.
However, Deputy Shortall said the criticism was expected and may be linked to negotiations and "sectional concerns".
"I must say, I think [reaction to Sláintecare] has been quite positive. There has been criticism obviously from the usual sources and where you would expect it from," Deputy Shortall told the Medical Independent (MI). "And I think part of the problem [in terms of reactions] is that there are negotiations just underway in relation to the GP contract. Also, I can see how consultants wouldn't be very keen on what we are proposing. I think both of those groups are using the opportunity to highlight some of their sectional concerns."
However, Deputy Shortall said she was pleased by wider reactions to the plan.
"Apart from that, I think it has been very warmly received by the public generally and by patient groups in particular and people working in the health policy area."
The Dáil is due to debate the report this week and Deputy Shortall said it must ensure that the strategy is taken on by the new Cabinet.
"That agreement has been achieved at a political level in terms of the most appropriate health system we need in the country — a universal, single-tier health system. That is an historic change in the country's approach to healthcare."
See further coverage of Sláintecare on pages 4-5, 6, 8, 19