You are reading 1 of 2 free-access articles allowed for 30 days
Diabetic retinopathy leads clinical programme at conference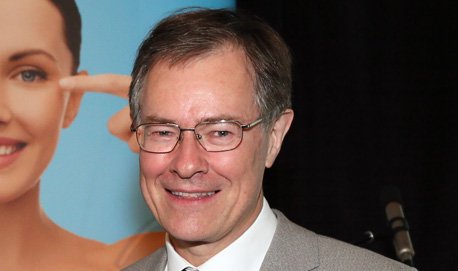 The latest advances and study findings for the treatment of diabetic retinopathy were a key topic at this year's ICO Annual Conference, with a number of presentations on the disease.
Prof Simon Harding, Professor of Clinical Ophthalmology, University of Liverpool and Honorary Consultant Ophthalmic Surgeon, St Paul's Eye Unit, Royal Liverpool University Hospital, gave a very well received Mooney Lecture entitled 'New Directions in the Management of Diabetic Retinopathy'.
He discussed the latest developments in treatments for diabetic maculopathy including the increasing usage of anti-VEGF therapy, and declining use of laser and steroids. He also outlined a practical clinical pathway for managing diabetic macular oedema.
Prof Harding noted that anti-VEGF injections are now the established first-line treatment, and the recent Protocol T study in the US has confirmed that all current three anti-VEGF treatments (two licensed and one unlicensed) are safe and effective. Discussing laser use in diabetic retinopathy treatment, Prof Harding noted that while it has declined there is still a role for it, particularly in regards to maculopathy patients, partial responders and peripheral disease.
He also advised trying a different treatment, or simply stopping treatment, for patients who do not respond to anti-VEGF treatment, particularly after six months. "While the risks of anti-VEGF injections are relatively low, there is still the endophthalmitis risk, at about one in 3,000. Each unit will get endophthalmitis outbreaks from time to time…So either think of something else or don't do anything if you get no response after six months. Doing no harm is better than doing no good," Prof Harding told the Medical Independent (MI).
Looking to the future, he expressed optimism about the potential of research on biomarkers to detect early disease, and the impact of new imaging technologies and emerging pharmacological treatments. He maintained that there is a "huge unmet need" for effective treatment for early diabetic retinopathy disease. "It would need to be a very low risk therapy, something that was very cheap for early or pre-clinical disease."
During his presentation, Prof Harding praised the Irish model for treating diabetic retinopathy. He told MI that, unlike the UK, Ireland now has a joined-up care pathway involving screeners, ophthalmologists, endocrinologists and GPs.
While the risks of anti-VEGF injections are relatively low, there are still the endophthalmitis risk, at about one in 3,000
"We are seeing some very, very significant improvements for our diabetic patients but there is a significant proportion of people who lose vision and it is usually because of diabetic macular oedema, so that is the last major challenge. I think we can certainly maintain vision for at least half of these patients," he told MI.
Meanwhile, Mr Paul Connell, Consultant Vitreoretinal Surgeon, Mater Hospital Dublin, gave a topical presentation on the future of therapies for the treatment of diabetic retinopathy and maculopathy.
Mr Connell is involved in collaborate research between UCD and Australia into the causative factors relating to the pathogenesis of vascular dysregulation in diabetic retinopathy, with the hope of possible new therapeutic options relating to gene expression.
He pointed out that diabetic retinopathy is preventable in the majority of patients – but not all. He stressed that early detection of diabetic retinopathy is critical but the clinical course of the disease is often difficult to predict. He acknowledged that anti-VEGF treatment has been "a paradigm shift" in diabetic retinopathy, but some limits remain such as cost, total response rate, treatment predictability and potential long-term toxicity.
"About 20 per cent of patients do not go the way you expect they will. They don't obey the clinical trials or the response to treatments so there is something in them, something that either genetically predisposes them to do worse or protects them so that is what we are trying to tease out," Mr Connell told MI.
The research to date has made progress in elucidating the genetic markers for diabetic retinopathy.
"In real terms, what we are looking at, is looking at markers which may be identified in particular diabetic cohorts which may give some other paradigms to treat patients, synergistically with other current therapies, which may eliminate some of the regimes associated with the injection therapies," he told MI, adding that the research is also focused on stratifying the various levels of disease aggressiveness.