You are reading 1 of 2 free-access articles allowed for 30 days
Clinical update on multiple sclerosis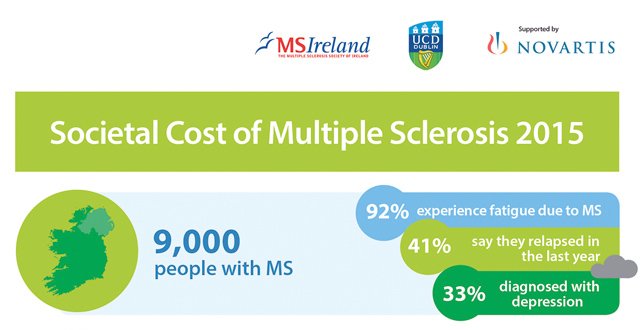 Multiple sclerosis (MS) is the commonest cause of chronic neurological disability among younger adults in the northern hemisphere. In Ireland, one person in 800 is diagnosed with MS during their lifetime. First described in the 19th Century, its initial course in the majority of people is characterised by relapses and remissions, which usually evolve over a period of several years into a secondary-progressive phase characterised by progressively worsening disability. A minority of patients have a progressively disabling course ab initio, known as primary-progressive MS.
The cause of MS is unknown. Genome-wide association studies (GWAS) have identified several dozen susceptibility genes, therefore this is a polygenic disorder in which individual predisposition is inherited and then activated by a putative environmental insult. Many of the latter have been suggested, with vitamin D deficiency being particularly topical at present. Lower vitamin D levels may in part explain the higher prevalence of MS in the northern latitudes and clinical trials of vitamin D replacement are underway.
It has been known for many years that the pathological substrate for disability in MS is axonal loss. This occurs early in MS because of focal inflammatory changes in the central nervous system known as demyelinating plaques, which are readily identifiable on magnetic resonance imaging (Figure 1).

Figure 1: MRI
As the disease progresses and patients enter the secondary-progressive phase, axons are lost, primarily because of a non-inflammatory process, in particular due to malfunction of specific neuroglia known as oligodendrocytes.
Beginning in the mid-1990s, research has yielded an increasingly potent array of anti-inflammatory agents with demonstrable efficacy in terms of relapse rate reduction and MRI plaque formation, and clinical trials have demonstrated that the accumulation of fixed disability can be attenuated, at least in the short term.
MS affects young adults and consequently has a major effect on the economy at large. Recent research by MS Ireland has demonstrated that the direct societal cost per affected person is in excess of €46,000. This comprises 30 per cent direct costs (hospitals, doctors, medication); 50 per cent indirect costs (time off work, carers); and 20 per cent intangible costs (effect of loss of quality of life). The total societal cost of MS in Ireland is estimated at €429 million (see panel).
Diagnosis
What can be done to help patients with MS? In the first place, it is vital to make a clear diagnosis, and nowadays this should be done by a clinical neurologist. Delivering the diagnosis, entailing as it does an uncertain future and a life-long commitment to medical services, needs to be done sensitively and patients and their families need to be given access to reliable information and space to ask questions. Support organisations such as MS Ireland can have a crucial role at this difficult time and it regularly runs information evenings for patients with newly-diagnosed disease. See www.ms-society.ie for more information.
Once the diagnosis of MS has been established, patients are ideally started on one of the approved forms of disease-modifying therapy. Possible side-effects and complications should be discussed at an early stage. Patients are encouraged to report relapses by telephone to MS nursing staff, who are essential in the ongoing management of a chronic variable neurological disease such as MS. If a relapse occurs while a patient is adherent to disease-modifying therapy, it can be assumed that treatment failure has occurred and a more potent anti-inflammatory agent may need to be used.
The current gold standard is a situation where a patient has no relapses and no new plaques on interval MRI, so called NEDA (no evidence of disease activity).
Attention should also be given to symptomatic therapy because symptoms such as fatigue, urinary urgency and incontinence, depression, cognitive difficulties, pain, and sexual difficulties may all adversely impact on a patient's quality of life and are easily missed without specific inquiry.
Medication, physiotherapy, occupational therapy, and specialist MS nursing input are ideally combined in a multidisciplinary clinic in order to achieve best outcomes.
Report reveals that MS costs Irish society over €429 million annually
A new report has revealed that MS costs Irish society more than €429 million each year resulting from direct costs, indirect costs, intangible costs and costs associated with relapse. The report, based on an original piece of research carried out by MS Ireland and supported by Novartis, is titled The Societal Cost of MS.
Currently, 9,000 people and their families live with MS throughout Ireland. This report shows that the average direct cost to a person with MS each year is €17,103, or €159 million in total, which includes spending on medical scans, doctor or hospital visits.
According to the research, people with MS require approximately 54,000 GP visits per year, spend more than 16,000 nights in hospital and make more than 1,500 emergency department visits annually.
Some 84 per cent of respondents visit their GP six times each year, while it was also revealed that people with MS account for around 21,800 neurology visits every year. When it came to hospital resources, one-fifth of those with MS spent up to eight nights as an inpatient.
Overall, each person with MS received nearly 1,000 hours of care per year, some of which were unpaid. A quarter said their carers took time off work to provide care. Just 14 per cent receive formal care, which is supplied both privately and from the HSE. Almost two-thirds (63 per cent) receive informal care from family and friends.
The report also discovered that MS has a huge impact on a person's mental health and wellbeing. Of the respondents, one-third (33 per cent) had been diagnosed with or treated for depression since their onset of MS. Some 27 per cent had been diagnosed or treated for anxiety since the onset of MS, while the overwhelming majority (92 per cent) reported having fatigue due to their MS.
The results also underscored the burden of MS on families and children. Of the respondents, 61 per cent said they felt they were not able to financially provide for their children as much as they would like to; one-third (33 per cent) reported that their MS impinged on their children being able to partake in normal childhood activities and 73 per cent said it is likely their children worry excessively about their parents' health.
Of the 595 respondents surveyed, 41 per cent reported having a relapse in the previous year, with 1.83 relapses reported in the past 12 months on average. As a result of their most recent relapse, 47 per cent of respondents said they rang or visited their GP and of these, 18 per cent were admitted to hospital. The report discovered the average indirect costs of a relapse are on average €1,101. The report notes that reducing relapses among those who live with MS would result in saved resources.
The report revealed that MS is associated with high costs, many of which are outside the healthcare system. Intangible costs amount to, on average, €9,039, which includes missed days at work and costs associated with carers. Indirect costs include transport to the hospital or GP surgery, parking, and childcare and total on average €23,274 per person with MS each year.
The research highlights the need for access to interventions that reduce relapses, disability progression, and support working and living independently. It also highlights the need for improved employment opportunities and adoption of flexible work practices, as well as acknowledgement of the unpaid work carried out by carers.
The cost of relapse is a substantial proportion of the overall cost and the analysis discovered that reducing the number of relapses experienced by those with MS saves upwards of €10 million each year.
When it comes to indirect costs, MS greatly affects employment, the report highlights. Employment is lower in the MS population than in the general population at just 43 per cent and is lower for men than women.
Commenting on the report, Dr O'Rourke said: "The huge impact of MS on patients and the healthcare system has never been so clear. The far-reaching consequences throughout society are very evident. We can see the impact in primary care and within hospitals. One important finding is the burden of relapses, a reduction in which would save a huge sum each year."
Dr Chris McGuigan, Consultant Neurologist at St Vincent's University Hospital and Clinical Lecturer at UCD, added: "The impact of MS is striking on so many levels, including mental health, family, children, career development and quality of life. The real-life testimony alongside the irrefutable statistics in this report is very impactful and we hope it drives home the need for added support for those affected by MS."