A senior woman gestures toward her face while discussing a skin rash with a female dermatologist.
Attendees at UCD's Charles Institute Seminar Series recently heard a presentation by Dr Robyn Hickerson of the
University of Dundee on advances in gene therapy research into genetic skin disorders
The Charles Institute, Ireland's national dermatology research and education centre, hosts a range of guest speakers who cover a variety of topics ranging from skin cancer to psoriasis, among others. The series, which is sponsored by RELIFE (part of the A.Menarini group), is designed to provide expert advice from a range of distinguished national and international experts in their respective fields and is chaired by Prof Desmond Tobin, Full Professor of Dermatological Science at UCD School of Medicine and Director of the Charles Institute of Dermatology.
The seminars are broadcast to attendees with a special interest in dermatology and cutaneous science in other locations, who access the talks remotely via an audio-visual link. Attendees heard a presentation from Dr Robyn Hickerson, nucleic acid biochemist in the Division of Biological Chemistry and Drug Discovery at the School of Life Sciences, University of Dundee, UK, where her work is focused on drug discovery for rare genetic skin disorders. Dr Hickerson delivered a talk titled 'Preclinical Development of Oligonucleotide Therapeutics in an Ex Vivo Skin Model' and explained that despite significant advances in identifying causative genes, development of therapies for hereditary skin diseases remains slow.
She told the attendees that gene therapy in the form of oligonucleotides is a promising therapeutic avenue for the treatment of genetic skin disorders, but a major impediment to the development of these potential therapeutics is the lack of a robust, reproducible system for the longer-term organ culture of human skin. Crucial epidermal functions, for example maintaining skin barrier function, are often poorly recapitulated using 3D organotypic cultures and human skin cultured using current techniques quickly loses viability as soon as the tissue is removed from the body.
Working with colleagues, Dr Hickerson has developed an ex vivo culture system that is able to maintain the mechanobiology of living skin and maintain it in a more homeostatic state, offering a more suitable platform to screen and characterise oligonucleotide therapeutics for the treatment of a variety of genetic skin disorders.
Blistering disorders Dr Hickerson provided the seminar with an overview of the group of genetic skin blistering conditions epidermolysis bullosa (EB), disorders that result from mutations in a number of proteins, some of which comprise the dermal-epidermal junction. She also discussed recessive dystrophic epidermolysis bullosa (RDEB), which results from mutations in type 7 collagen; if type 7 collagen is not present, then the epidermis and dermis are no longer connected through anchoring fibrils in the complex dermal-epidermal structure, she explained.
"This results in extreme skin fragility, with blistering and scarring, not only of the skin, but also of the internal mucus membranes," said Dr Hickerson. "These patients typically die in their 30s or 40s and this is the most severe form of EB."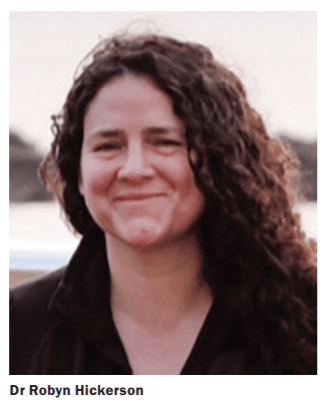 She also discussed epidermolysis bullosa simplex (EBS), which is caused by mutations in the keratin genes in the
basal layer, the lowest layer of the epidermis, in which keratin 5 and 14 are expressed. "EBS is a dominant genetic skin
disorder in which mutations in either allele result in skin fragility," Dr Hickerson told the attendees. "In these patients,
blisters form due to very minor trauma or friction.
This is the least severe form of EB, but is also the most common." She explained that with her group, she is developing antisense oligonucleotides (oligos) that can work via a number of different mechanisms. "We are going to take advantage of the RNase H mediated mechanism in order to develop therapeutics that can potentially treat EBS, and we are also going to take advantage of the splicing modulation mechanism in order to develop therapeutics that can potentially treat RDEB."
Dr Hickerson provided an overview of research data from a number of studies and described how she and her team are currently examining the activity of antisense oligos (ASOs) in human skin. "Typically, we can use two different models of human skin in the lab," she said. "We can use lab-grown skin, or actual skin that is sourced from cosmetic surgeries. Labgrown skin is essentially keratinocytes and fibroblasts, combined in a specific way with a specific media at the right time in order for it to actually grow into skin.
However, this is quite time-consuming, and one of the main drawbacks of labgrown skin or skin equivalents is that the stratum corneum does not function as a proper barrier as it does in actual human skin," she explained. "Therefore, it's difficult to evaluate delivery methods when the skin barrier is not intact." In addition, skin equivalents do not have minor skin cell populations, which is another drawback, she said.
Viability
However, human skin does have the stratum corneum barrier and contains minor skin cell populations. "But once the skin comes off the body, it quickly loses viability and is unable to respond to certain external stimuli, as in vivo skin would," said Dr Hickerson. "So we decided to develop an ex vivo skin model in which we take skin from abdominoplasty procedures; when a patient undergoes an abdominoplasty, there can be quite a bit of skin left over. We partner with local surgeons in order to source this tissue and as quickly as we can following surgery, we stretch that skin back to its physiological tension
"Once the skin comes off the body, it can retract to 20 or 30 percent compared to when it was on the body," Dr Hickerson told the seminar. "This is well known to plastic surgeons, and also those who study scarring — if the right tension can be applied to the skin, it heals better and there will be less scarring." Dr Hickerson explained that she and her team took advantage of preliminary work in the field of plastic surgery to determine the importance of skin tension in ex vivo cultured human skin.
"We remove any adipose tissue that might remain, stretch it to the optimal tension, and hold it in place with a plastic culture frame," she said. "We have found that this tension-based skin model mimics human skin due to this specific tension at which the skin is cultured," added Dr Hickerson, who also provided an overview of inducible keratin expression in wounded skin, which helps to determine the optimal tension for these skin samples.
Dr Hickerson provided an overview of her team's current research in the tension-based ex vivo skin model. "We were really pleased to see evidence of proper exon skipping by RTqPCR and in situ hybridisation," she said. However, "the major exon skipping product in skin was different from what we observed in vitro. We will have to go back to the drawing board in terms of screening these ASOs," said Dr Hickerson, explaining that she was "quite disappointed" that she and her team did not see the same type of exon-skipping in intact human skin compared to patient cells.
Concluding, Dr Hickerson told the seminar: "As far as we can see, researchers don't need to show oligo efficacy in ex
vivo skin in order to take an oligo into the clinic," she said. "I think there is a lot of time and money wasted in clinical trials, because clearly what we are seeing is that these antisense oligos don't work the same ex vivo as they do in vitro."

Target tissue
During an interactive Q&A session and discussion, Prof Tobin raised a point about the model described by Dr Hickerson. "Obviously, in RDEB, the interface/ substrate for a topical product application is rather limited — are you focusing on delivery through the skin where it is intact, because presumably, you may not have the target tissue if you are dealing with blistered skin, for example.
So how do you model the site of delivery, and can you see benefit beyond the target site with time as the blistered area heals, but also potentially with donor cells that might be migrating laterally from a treated site?"
"It's a great question — we have been able to use laser ablation to create small wounds and then we can topically apply the antisense oligo, even in just PBS formulation," replied Dr Hickerson. "We see knock-down of the target mRNA by wounding the skin, so if we can disrupt the stratum corneum barrier, it's quite easy to deliver these antisense oligos.
That's kind of a mimic of what RDEB skin would be like — since it's so fragile and is in a constant wounded state, I
think delivery to wounded tissue would be quite easy.
"However," she continued, "if you think about long-term treatment, it would certainly be better for the patient if they didn't have to wait to have a wound in order to treat it. It would be better to be able to actually deliver the oligos through intact skin, so once the oligos get in under whichever mechanism they are designed and start to do their work and strengthen the skin, we would hope that would result in skin that is more like ours.
We would still need to be continually treating it — for example, once a week or once every couple of weeks. You would need to keep applying the antisense oligos topically and you would want them to be able to get through the intact skin so that the patient doesn't have to wound the skin in order to heal it."
RELIFE has had no input into the content of this article or series of seminars