Attendees at UCD's Charles Institute Seminar Series heard a presentation by Prof Caroline Le Poole on advances in research to identify better treatments for melanoma and other skin conditions 
The Charles Institute, Ireland's national dermatology research and education centre, hosts a range of guest speakers who cover a variety of topics ranging from skin cancer to psoriasis, among many others. The series, which is sponsored by RELIFE (part of the A.Menarini group), is designed to provide expert advice from a range of distinguished national and international experts in their respective fields and is chaired by Prof Desmond Tobin, Full Professor of Dermatological Science at UCD School of Medicine and Director of the Charles Institute of Dermatology. The seminars are broadcast to attendees with a special interest in dermatology and cutaneous science in other locations, who access the talks remotely via an audio-visual link.
The seminars are held using a hybrid model, combining in-person attendance with interactive online access. 
Attendees heard a presentation by Prof Caroline Le Poole of the Department of Dermatology at Northwestern University, Chicago, on the topic of 'Vitiligo Patients Harbour T-Cell Receptors Suitable for Melanoma Treatment'. Research in Prof Le Poole's laboratory is focused on the aetiology and treatment of a number of skin conditions, such as melanoma, vitiligo and lymphangioleiomyomatosis (LAM), including tuberous sclerosis complex (TSC), with the aim of designing effective immunotherapeutics for the conditions.
Prof Le Poole explained that whilst it is widely known that the T-cell receptor plays a decisive role in host T-cell responses to cognate antigen through its variable regions, she and her team have isolated T-cells from vitiligo skin. They have also isolated and cloned a T-cell receptor from this process and successfully introduced it into donor T-cells. The resulting T-cells were then included in preclinical studies on melanoma and LAM, explained Prof Le Poole, comparing their therapeutic potential to T-cells expressing TCRs from melanoma patients.
In the course of the research it was found that in vivo, T-cells reactive to differentiation antigens have remarkable therapeutic potential, while the same T-cells can also mediate vitiligo to serve as an indicator of ongoing activity. Conversely, she told the seminar, regulatory T-cells reactive to antigens shared by normal and transformed melanocytes can temper ongoing depigmentation in mouse models of vitiligo. Therefore, she said, the natural immune responses in one disease can inform the means of moderating ongoing immune activity in another.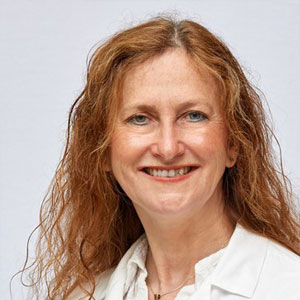 Vitiligo
Prof Le Poole presented slides showing vitiligo skin, with some remaining melanocytes and T-cells that infiltrate the skin and get close to these remaining melanocytes. "That sounds pretty obvious, especially if you are involved in melanoma research, but it took a long time before this was an accepted step in the pathogenesis of vitiligo," said Prof Le Poole. "Since we now know that this is a common event, we can discover more about what these T-cells are actually doing — obviously, they are getting really close to the melanocytes, but we also want to know if those are cytotoxic cells." She noted that the cytotoxic cells are the ones that get closer to the epidermis, which prompted the idea that these may be able to be used in melanoma research, because the two conditions are closely related in terms of the melanogenic pathway.
Prof Le Poole outlined the laboratory process in identifying cultures that contained T-cell receptors on the surface, and isolation of the T-cell receptors themselves. "If we can identify the T-cell receptor and we know that it would be reactive to the melanocyte lineage-specific protein gp100, it might become an off-the-shelf agent that we can use for the treatment of melanoma if we put it into lymphocytes from patients and give those back to the patients," explained Prof Le Poole.
"It's important to note that if we put these T-cell receptors into primary cells, we then have three cultures of T-cells from the same donor that express a T-cell receptor recognising the same peptide in the context of the same MHC molecule," she told the seminar. "The targets that we use would be the same so really, the only thing that's different between them is the variable regions of their T-cell receptor."
Prof Le Poole briefly discussed newer developments in her research, which are focused on minimising potential side-effects. "You really don't want side-effects such as vitiligo when you deal with melanoma patients with any type of therapeutic," she said. "We know that this is a problem with any type of immunotherapy with which we attack melanoma cells. We were interested in how to divert the response to where we need it (the melanoma cells) and not have it go towards healthy melanocytes. Now, we have a chimeric antigen receptor that we are developing that would attack melanoma cells more selectively." A chimeric antigen receptor has only the variable region portion of the antibody molecule and that is important, because they have a much higher affinity for their antigen than the T-cell receptors, she pointed out.
They also use part of the T-cell receptor to help them pass through the cell membrane and some domains from post-immunomodulatory molecules that help these molecules react when they see their target. "This has become very popular for CD19, but we are really trying to make this work for solid tumours too," Prof Le Poole explained.
Receptors
She presented case studies in humans and rodents, and examples of research in which she has been involved. She told the seminar that vitiligo and melanoma share the expression of melanosomal target antigens, and T-cells with receptors to melanomal antigens are found in skin affected by vitiligo. "One such receptor, the SILv44, which can bind the gp100 peptide, mediates superior responses to melanoma cells both in culture and in vivo," she told the seminar. "We see that this response is associated with IL-17 production, and that these gp100-reactive T-cells might also be used in the treatment of patients with LAM. Transgenic T-cells are reactive to the tyrosinase molecule, and these have been used to treat patients with stage 4 melanoma in a trial that we were involved in. One patient survived for six years after receiving this adoptive transfer of T-cells."
Prof Le Poole continued: "Mid-way, the patient's T-cells were reactivated by high-dose IL-2. This led to the development of vitiligo, and we saw that this was associated with transgenic T-cells infiltrating their skin. We went on to see if there would be a way to target melanoma cells that would not create some side-effects, such as vitiligo, and we see that TRP1 might be a candidate molecule to target, because it is expressed on the surface of tumour cells and not melanocytes. Primary antigen receptors really rely on the expression of that target on the surface, and not inside the cell, because they are antibody-based. So, this could be helpful in treating melanoma as well as LAM.
"In this seminar, we did not discuss transgenic regulatory T-cells, but we have also taken the reverse approach to try to see if we can treat vitiligo with these Tregs."
Alopecia areata
During an interactive Q&A session and clinical discussion following the presentation, Prof Tobin commented on a generic question that often arises with many autoimmune conditions. "In alopecia areata, for example, there is the strange experience of an 'active' hair loss patch, and active hair regrowth in another area of the scalp," said Prof Tobin. "There may be another area of that scalp that has done nothing for years. Presumably, the blood is flowing relatively similarly through the entire scalp in alopecia areata… regarding your comment on vitiligo that happens as a side-effect of anti-melanoma treatments, do you tend to see this vitiligo effect restricted to the primary or secondary melanoma sites, or is this irrelevant?"
Prof Le Poole replied: "That's a very interesting question, as to what makes the melanocyte damaging T cells to a particular site," she said. "It's also a good point in general, even with completely different tumours that we haven't discussed [in the seminar]. For example, if you give anti-PD1 therapy, you get these skin rashes — that's just immunocytes trying to go somewhere where they are not wanted and create havoc there," Prof Le Poole continued. "As far as the skin is concerned — and of course we see this in other sites where it can be much more detrimental — there is something about these sites that makes them an 'attractive' place to go. We are also interested in transgenic T-cells; you can code them in terms of where you want them to go — Tregs in vitiligo don't seem to want to go to the skin, but they love to go to tumours… you can code your T-cells so that they know where they are supposed to go, and that's something that we are also trying to do."
RELIFE has had no input into the content of this article or series of seminar