You are reading 1 of 2 free-access articles allowed for 30 days
Building resistance to burnout in medicine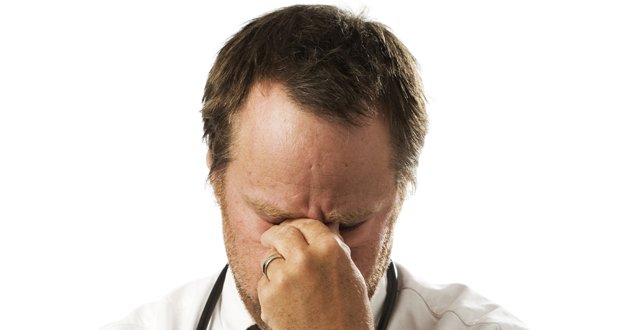 Educators and employers have a crucial role to play in lessening the impact of stress and burnout for medical students and graduates, heard the recent RCSI annual International Education Forum.
Prof Lotte N Dyrbye, Professor of Medicine and Medical Education, Mayo Clinic, Rochester, US, spoke to a large audience on the topic of 'Burnout in doctors — from stress and burnout to wellbeing and resilience — preparing medical educators'.
Prof Dyrbye outlined the high amount of burnout and stress reported among medical students and doctors.
Prof Lotte N Dyrbye, Mayo Clinic
According to US-based evidence provided by Prof Dyrbye, medical students actually begin their studies with better mental health than their peers, but that quickly changes.
"We are often asked, is it just that the people who go into medicine are vulnerable; that it is a type of person who is attracted to medicine? That it is 'us' rather than the system?" commented Prof Dyrbye.
The American doctor and academic, whose research interests are focused on the wellbeing of medical students, residents and physicians, says the evidence points to the system rather than the individual.
"We decided to look at the matriculating medical students, so they have been through a rigorous college education, they sat for the qualifying examination, the MCAT exam, and they had got entrance into a medical school. What do they look [like] at that point from a mental health perspective?
"And what we found in 2017 in a national study is that in comparison to similarly-aged US college graduates, our medical students had less burnout, our matriculating medical students had less depression, and our matriculating medical students had better quality of life across multiple different domains in comparison to other US similarly-aged college graduates.
"Then we learnt that it flips, and it flips early, where medical students develop more burnout, more depression, than similarly-aged graduates."
Therefore, the need to develop strategies is important for educators and employers, she said.
"Our belief is that this originates in the learning environment and work environment, remembering that our medical students start off with mental health profiles better than college graduates of similar age. We don't think the problem is in the admission office."
Debt
Prof Dyrbye said that "medical students with burnout are much more likely to engage in unprofessional behaviour". She added that burnout had significant impact on the personal lives of medical students and young doctors, with outcomes such as alcohol dependence and suicidal ideation. Prof Dyrbye also highlighted evidence that pointed to debt and the need to take a job during medical school as a further significant contributor to burnout.
However, burnout and stress also impact on the entire profession.
"No matter where we turn, people are seeing the issues of physicians' burnout, depression and suicide and are wondering what is going on in medicine," she said.
"When we looked in 2011 in a large national study of US physicians from all over the United States — all practice types, academic, private practice and all specialty types — we found about 38 per cent have these high degrees of emotional exhaustion, which is one of those components of burnout. Almost a third were feeling detached, callous, depersonalised."
She added that breakdown by specialties showed that the "very top prevalence of burnout is more the physicians who work in the front line of care", such as in emergency medicine, neurology and family practice.
Interventions
"There are strategies [to deal with burnout] that we have individual control over and there are also pieces within our schools and organisations and working environment," said Prof Dyrbye. "Then there are larger national factors, which are driving some of the distress in the first place.
"The evidence is that interventions can make a difference, that we need both individual and organisational approaches, and that there is no one panacea, there is not one approach that 'wow, really works'. Also, clearly we need more research in this field.
"There is a lot of talk about resiliency. It doesn't mean that you are never going to fall in the hole. It means that you can find your way back out. We think that it is a mindset that we can make stronger, we think it's dynamic and that it is adaptable."
Interestingly, the evidence seems to suggest that students who go to colleges that have just a pass/fail examinations system in the first two years suffer less burnout and stress.
Curricular factors
Prof Dyrbye said it appears that "curricular factors" for the first two years of medical school in the US have a significant impact.
"Students who were not in a pass/fail curriculum in years one and two have a much higher odds of burnout, much higher stress scores and are much more likely to think about dropping out."
Therefore, students in a pass/fail curriculum in the US (rather than a 'traditional' five-point grading scheme) have lower stress and better group cohesion.
During the questions and answers session following her presentation, the professor was asked whether the creation of a pass/fail system would stifle the ambitious students in the first two years.
"That is not to say years three or four are not different though," she said.
"There is something to be said for building that community early on and getting that culture with social supports and relationships. Students have taken quite well to it [pass/fail in the first two years of college]. Also, those who publish get accolades, those who engage in community service get accolades; there are other ways to get accolades."
While Prof Dyrbye did emphasise the importance of structural and systematic interventions, she also said personal resilience with mindfulness, etc, does have a role.
"It does not mean there is no room for a positive psychology approach. I love this concept of thriving. There is definitely more work that needs to be done with RCTs, so we can understand what is helpful and what is not."
She said it is important for medical students to keep other interests in their lives and not to sacrifice that part of their personality during training.
"Physicians who don't have burnout are much more likely to find meaning in their work, to have a positive outlook, to focus on work/life balance and to take their vacations."
Students who maintain hobbies, whether it is "playing piano or community work" and have a positive outlook suffer less burnout.
"But when they come to medical school, all too often, they say 'I'm going to get back to that once I am done with anatomy' or 'I'm going to get back to that once I find the toilet on my clinical rotation', or 'once I have sat my qualifying exams', or whatever. They do that their entire careers and they never pick that part up again."
Social support
The speaker also said there is a "good amount of evidence that social support builds resilience". US colleges have introduced student lounges, mentorship families and social events to try and help in this area.
Bullying, abuse and harassment in workplaces and in colleges are also factors.
"We all need to think about how we optimise the learning and work environment so that bullying happens less often. Many people have made this their life's work and unfortunately, very little impact has yet to be seen."
Dr Dyrbye is a graduate of University of Wisconsin Medical School and she subsequently completed an internship and residency in internal medicine at the University of Washington. She also holds a Masters in Health Profession Education from the University of Illinois, completed in 2009.
During her talk in Dublin, she emphasised that the entire picture of medicine is far from negative.
"I want us all to keep in mind that being a physician is a wonderful profession. Even as a researcher focused on burnout and dissatisfaction, I would choose medicine again. And as I speak to young medical students across the country, I always make sure to make this point."