You are reading 1 of 2 free-access articles allowed for 30 days
Bringing surgical skills to Africa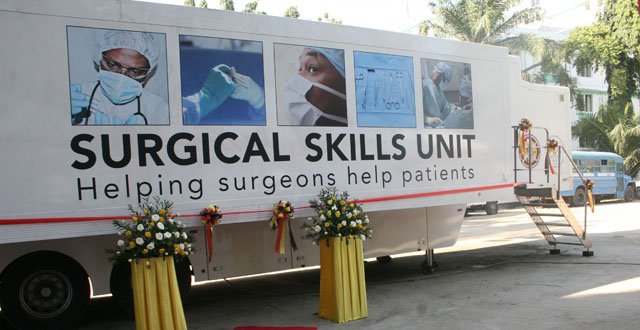 The world's first dedicated mobile surgical skills training unit, pioneered by the RCSI, has arrived in Africa and has begun tackling the surgical care crisis in a number of countries in the region.
The 30-tonne unit arrived from Dublin to Tanzania's Hubert Kairuki Memorial Hospital in the capital Dar es Salaam in recent weeks and is set to move on to Kenya and a number of other countries where it is badly needed.
"The skills unit will definitely have a great impact on the skills domain of trainees," orthopaedic/trauma surgeon Dr Robert Mhina told the Medical Independent (MI), in an interview from Dar es Salaam.
Dr Mhina, senior lecturer with the Muhimbili University of Health and Allied Sciences (MUHAS) in the Tanzanian capital, emphasised that a lack of training facilities is a major problem in Tanzania, as in many other countries in the region, so the mobile unit will play a key role in helping to address that need.

Dr Robert Mhina
"The mobile skills unit provides alternatives to the practical aspect of training through its simulators. One can fine tune endoscopic skills, for example, by practising using the simulators. Other surgical skills too can be refined and the unit also has self evaluation capabilities," Dr Mhina said.
The unit, which was set up by the RCSI in 2006, has previously been used to train surgical trainees in various parts of Ireland. It has since been refurbished and upgraded and has a surgical skills lab with virtual reality simulators, training equipment, and a range of instruments, and can accommodate 10 surgical trainees at any one time.
Surgical crisis
Training for surgeons is desperately needed across Africa to cope with the surgical care crisis there. Sub-Saharan Africa has the highest ratio of surgical disability adjusted life-years (DALYs), which is a measure of the overall disease burden, and the highest rate of obstetrical complications in the world. Current estimates suggest that nearly seven per cent of the global disease burden is due to conditions that can be treated by surgery.
More deaths result from lack of access to safe surgery and anaesthesia than from malaria, HIV/AIDS, and tuberculosis combined. Until recently, surgery was not considered as part of the health strategy in African countries because it was regarded as unaffordable.
This is now changing, boosted by the publication of the landmark Lancet study Global Surgery 2030 and the Resolution on Surgery at the 2015 World Health Assembly. Surgery is now recognised as an essential part of primary healthcare and a cost-effective method of responding to health challenges in countries in East, Central, and Southern Africa where resources are scarce.
"Basic surgical skills are an integral part of surgical training and simulation-based surgical training provides trainees with the opportunity to learn outside the operating room in a non-patient, stress-free environment," RCSI President Mr Declan Magee said when launching the mobile skills mission to Africa.
"However, widespread adoption of simulation technology, especially in medical education is often prohibited by its high cost, limited space, and interruptions to clinical duties. The mobile skills unit is a way of addressing some of these limitations by teaching surgical trainees the necessary skills in their own hospital settings."
Collaboration
The mobile surgical skills training unit was earmarked for Tanzania as part of a collaboration programme that began in 2007 involving the RCSI, Irish Aid, and the College of Surgeons East, Central and Southern Africa (COSECSA), which advances education and training in the region.
COSECSA provides standardised surgical training in 10 countries: Ethiopia, Kenya, Malawi, Mozambique, Rwanda, Tanzania, Uganda, Burundi, Zambia, and Zimbabwe. To date, 102 surgeons have graduated from the COSECSA training programme and over 260 are now in training.

Mobile Surgical Skills Unit
They will help to address medical needs in the COSECSA region, where just 1,400 surgeons serve a population of a quarter of a billion people. The ratio of qualified surgeons to the population in the region is one per 190,000 people compared to approximately one per 2,800 in the UK.
Speaking at the launch of the unit in Dar es Salaam, the Deputy Head of Mission at the Irish Embassy, Ms Máire Matthews, underlined Ireland's longstanding commitment to addressing healthcare issues in the region. The Irish Government, she said, "very much endorses and applauds this initiative by COSECSA and the RCSI. We are particularly looking forward to seeing how this additional surgical training will make a difference in the lives of men, women and children in Tanzania, as well as other countries in the region."
One of the key benefits of the mobile unit is that it will enable trainees to develop both their clinical and academic skills without having to leave their posts to work towards a professional qualification that is widely recognised across the COSECSA region.
Challenges
Dr Mhina said the problems faced by trainees in the region ranged from limited slots for training to the harsh personal and economic impact of having to travel or relocate to universities for training.
"Most medical schools can only accommodate a limited number of trainees at a time. There is limited theatre time and facilities to allow effective training and limited sponsorship to enroll into the traditional university training programmes.
The demand for surgical care, which is already enormous across Africa, is only going to increase
"There is also the social-economical impact of relocating trainees to where the universities are based. Trainees may have to temporarily separate from their spouse or family or may have to change employment so as to access the training."
Thus, in bringing the training to the trainees, the mobile unit will do the travelling for them. It will travel between COSECSA-affiliated hospitals in Kenya and Tanzania over the next nine months and will ultimately move across all 10 COSECSA countries.
"At the moment it is difficult to say how long it will take to see the skills unit rolled over the 10 constituent countries," Dr Mhina told MI. "This is why we have the first nine months, a pilot run, to determine what might be in store for the project. We are still setting up a programme for its utilisation, but tentatively it will involve at least three hospitals in Tanzania and six hospitals in Kenya during the next nine-month period."
A lack of training facilities is a significant problem for the regional hospitals. "When these (facilities) are inadequate the training is compromised. That is why COSECSA has to visit and accredit hospitals for training, based on adequate facilities," he explained.
Health issues
Dr Mhina, who is chairman of COSECSA's finance and general purposes committee, is conscious of the enormous health challenges faced by his native country. But he says that initiatives like the mobile training unit will help.
"The most frequent health issues for Tanzania and this region are communicable diseases including malaria and other infectious conditions, as well as childhood diseases and obstetric and gynaecological problems," he told MI.
Looking at the country's overall health challenges, the World Health Organisation (WHO) estimated in 2012 that the prevalence of HIV was 3.1 per cent. However, the Tanzania HIV/AIDS and Malaria Indicator Survey 2011–12 found that, on average, 5.1 per cent of those tested in the 15 to 49 age group were HIV-positive. Anti-retroviral treatment coverage for people living with HIV was 37 per cent in 2013 compared to 19 per cent in 2011.
According to a 2013 report published by the Joint United Nations Programme on HIV and AIDS that compares 2012 with 2001 data, AIDS deaths have decreased by 33 per cent, new HIV infections have decreased by 36 per cent, and new HIV infections among children have decreased by 67 per cent.
As of 2012, life expectancy at birth in Tanzania was 61 years. The under-five mortality rate in 2012 was 54 per 1,000 live births.
The maternal mortality rate in 2013 was estimated at 410 per 100,000 live births. Prematurity and malaria were tied in 2010 as the leading cause of death in children under five. The other leading causes of death for these children were malaria, diarrhoea, HIV, and measles.
Tanzania also faces a major threat from a cholera outbreak in some parts of the country. The outbreak is not solely confined to the thousands of Burundian refugees who have fled insecurity at home; local Tanzanians have also been infected with the water-borne disease, prompting scaled-up surveillance efforts by the WHO.
Farm and road traffic injuries are also a major surgical care burden in his country, Dr Mhina told MI. "There is a growing demand for surgical care due to farm and road traffic related injuries."
It is a problem Tanzania shares with a number of other African countries. Studies show that in Sub-Saharan Africa, deaths due to road traffic accidents among males aged 15–59 far exceed those due to malaria, diabetes mellitus, and respiratory or digestive diseases.
Kenya, where the surgical skills training unit will also be based, has one of the highest road fatality rates in Africa at 68 deaths per 10,000 registered vehicles. Up to 60 per cent of admissions to surgical wards in public hospitals are as a result of road traffic injuries.
Thus, the demand for surgical care, which is already enormous across Africa, is only going to increase and in this context the Irish mobile surgical skills training unit will undoubtedly have a major impact in ameliorating the crisis.
Meanwhile, in another initiative to help address the crisis, three essential surgical training (EST) courses have taken place this year in neighbouring Rwanda and also in Zimbabwe, with four more scheduled before the end of the year. These courses provide surgical training to general medical officers in rural areas, where surgeons are especially in short supply.