You are reading 1 of 2 free-access articles allowed for 30 days
Bringing choice to maternity care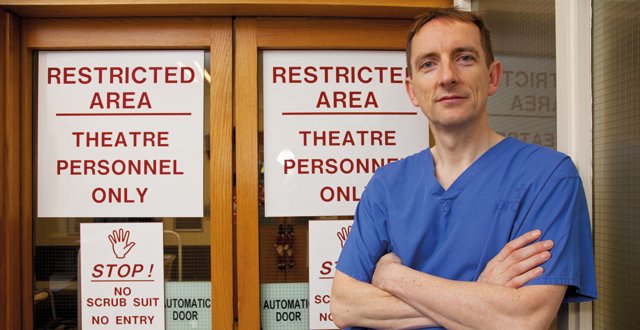 Prof Fergal Malone took up his post as the new Master of the Rotunda Hospital on 1 January and was immediately thrust into the media spotlight with a flurry of print interviews and an appearance on The Late Late Show.
One of Ireland's leading foetal medicine specialists, he is keen to put his own stamp on the Rotunda during his seven-year term as Master, and the timing of his appointment means he will have a very busy and challenging term.
The Rotunda is now the lead maternity hospital in the new RCSI Hospitals Group, and is due to be relocated to the site of Connolly Hospital, Blanchardstown, before the end of Prof Malone's term. In addition, Ireland's maternity services are in the midst of major changes to the model of care being delivered, with more complex births, more emphasis on patient choice, and more changes to come from the new National Maternity Strategy.
Prof Malone tells the Medical Independent (MI) that he has a number of short-, medium- and long-term priorities for his post.
"Starting off a job like this is a learning opportunity at the start, so I'm not going to change anything until I find out the facts and figures and get the 'lay of the land'.
"One of the things though that does jump out is, in the short term, our staffing requirements need to be solved. We continue to deliver 8,500-9,000 babies per year with excellent outcomes — perinatal mortality rate of less than four per 1,000, and very, very low maternal mortality rates, one or two maternal deaths every second year — but we do that due to the commitment of our staff. But our staff will eventually, as those numbers go up, and the acuity and complexity of care goes up, get burned-out. We're starting to see that already, with some difficulty with recruitment of staff. Thankfully, we still have a very low absenteeism rate, at about 3 per cent, which is below the HSE target of 3.5 per cent. So we need to solve our staffing problems so we can deliver results as good as that."
The Rotunda has 9.5 to 10 WTE consultant obstetricians in the hospital, "which many people are surprised at, that there is that low number to deliver 8,500 a year. So we're short at least five, and likely more, especially when we look at our Group activity," he notes, adding that the hospital is short about 45 midwives.
"Our target is one consultant for every 350 births and for midwives is one per every 25 births, and we are short of those targets at the moment. But even if miraculously tomorrow, the HSE came in and gave us a whole wad of cash to hire 45 new midwives, they are hard to find," he says, adding that there is also a need for about another 30 neonatal nurses and there are vacancies for eight theatre nurses.
Earlier this month, the Rotunda advertised for three new consultant obstetricians and two new anaesthetists, which will be joint appointments with Connolly, and Prof Malone says the hospital hopes to get approval for another two new obstetrician posts shortly, though there are some retirements too. "But this will be a very good start on our consultant deficit…"
Group challenges
Under the new Hospital Group structures, there will also be joint consultant appointments to the Drogheda and Cavan hospitals, which have existing staff issues.
"They are having great difficulty in providing local maternal foetal medicine specialist services there and you need those services to be able to do things like 20-week anomaly scanning. The Group got approval for a new consultant maternal foetal medicine specialist plus specialist sonographers but when they advertised twice, they got zero applicants. So we have to go back to the Group to come up with a new structure for hiring maternal foetal medicine specialists so that we can service the needs of the Group."
I see obstetrics and maternity as almost like a 'buffet of care' and let the patients choose the aspects of the buffet they want on this pregnancy or another pregnancy. We support that choice.
When asked about how posts could be made more attractive for applicants, Prof Malone acknowledges that set HSE salary pay scales mean there is "no wiggle room" with offering better remuneration packages to consultants and sonographers. However, he explains that the Rotunda has been able to offer subsidised on-site accommodation for midwives, which has proved popular.
"So within the parameters of what we are allowed do, yes, we are interested in being as creative as possible in non-salary issues to help recruitment."
The Rotunda has long-established, strong medical links with the Mater Hospital and has many joint appointments there, particularly in anaesthesia and to care for pregnant women with complex medical conditions, so how will that work within the new Group?
"…We are absolutely committed to the RCSI Hospitals Group…. and are structuring new posts to fit in with our longer-term vision, with those newly-advertised joint appointments with Connolly and planned joint anaesthetist appointments with Beaumont and the Rotunda," confirms Prof Malone.
"But we absolutely require strong, continuing clinical relationships with the Mater. The complexity of care for some of our women is such that we absolutely need the level four hospital facilities that the Mater provides us with, whereas Connolly is designated a level three hospital. So there can be no comparison at the moment between the complexity of services available in the ICU, for example, between Connolly's ICU and the Mater's ICU, between the range and back-up of sub-specialist services between the two.
"I'm not in any way denigrating Connolly — Connolly is a wonderful hospital — but we have pregnant women with cystic fibrosis, with severe neurological diseases, all sorts of cardiac abnormalities. For many years we have had a very strong cardiac pregnancy clinic jointly with the Mater, so these are all facilities that can't disappear. They can only be moved to Connolly if it has a significant upgrade on its current site in terms of ICU and radiology and all the various medical specialties. We have that verbal commitment from the Minister [for Health Leo Varadkar] that he understands that gap between Connolly and the Mater and he is anxious to solve that.
"But in the meantime, we continue to forge ahead with our relationship with the Mater, because we have to. There are 11,000 women a year registering for pregnancy with the Rotunda, so in the five or six years it will take us to cut a ribbon for the new hospital in Connolly, that is 60,000 women who are going to come through the Rotunda Hospital, and among that 60,000 women there will be a large number of patients with complex maternal conditions that need care and that cannot be put on hold pending the move to Connolly."
Prof Malone also confirms that the recent retirement of a joint consultant between the Rotunda and the Mater will be replaced shortly. "So we have no interest in cutting any of our current links with the Mater."
Continuing, he points out that other hospitals have joint appointments and links with hospitals outside their Hospital Groups. "When you look at the Hospital Groups anyway and when you go back and read the Higgins report, John Higgins specifically said in it that the designation of groups was in no way intended to break any currently existing clinical relationships that work on the ground."
Midwife care
When asked his thoughts on the increasing demand and positive evidence for midwife-led care, Prof Malone eschews any talk of a division between the specialties, and stresses his belief in a team-based approach to maternity care.
"We believe that terms like 'midwife-led' and 'consultant-led' are passé, and is not where we should be going in the future, and is not where we exist at the moment. We do team-based care here in the Rotunda. We have consultants and midwives working absolutely together in teams. We don't separate them out. We believe all of our patients should be cared for by the right professional, at the right time, in the right place. We don't believe in the idea of patients being moved from one service to another or from one location to another, as their risk status changes. What should change is the particular team that comes to care for the patient. The patient shouldn't have to move. That's why we don't believe the future direction should be in midwifery-led units or consultant-led units. It's all about team units where obstetricians and midwives work together. I don't want to be in any way divisive."
If an informed mother wants to deliver at home, to have a home birth, I have no problem supporting that. I think that is absolutely fine
He agrees that the majority of maternity patients do not need to see a consultant, and that midwives should carry out the majority of management of uncomplicated births and maternal care.
"It is playing to your strengths. If an obstetrician is a highly-trained medical professional who knows not only normal obstetrics but also high-risk obstetrics, it makes sense if you have a limited number of those to focus those efforts where they can make most difference and where most risk and acuity is. When patients are at normal risk, they can continue to have care with midwives and we have no problem with that."
The long-awaited National Maternity Strategy, finalised just before Christmas, had not been published at the time MI went to press, but Prof Malone says if it supports maternity staff working together in teams and moving as much maternity care into the community as possible, then he will be "very pleased".
Home births
Home births are still a rarity in Ireland but they are more widely available in the UK and pressure is growing to increase birth options available to women here. What are Prof Malone's thoughts on the matter?
"The Rotunda is known as the maternity hospital of choice. That is how we have branded ourselves. That is not just a brand; we actually believe in it, we believe in choice. I have no problem with it in principle. If an informed mother wants to deliver at home, to have a home birth, I have no problem supporting that. I think that is absolutely fine. In no way would I be insisting that all births have to be within a hospital. What we would like though is to ensure that everybody is working to the same protocols and policies. It is reasonably straightforward to establish ground rules on what are the types of births that are suitable for a home birth and the flip-side of that is also quite easy to document… so as long as midwives, obstetricians and GPs and everyone is working to the same protocols and procedures…"
He points out, however, that the main challenge is limited resources and numbers of midwives in Ireland to provide a national public home birth service.
Protection of Life During Pregnancy Act
MI asks Prof Malone if the Protection of Life During Pregnancy Act has had an impact on the care the Rotunda provides for women whose life may be at risk during pregnancy.
"For a large hospital like the Rotunda, the Protection of Life During Pregnancy Act didn't make much of a change. For as long as I can remember — and I have been here 10 years — doctors here have always done the right thing. If a woman was unfortunately critically ill early in her pregnancy and the pregnancy needed to be ended to save her life, that was done. When you practice here in a hospital like the Rotunda, there is always back-up of other obstetricians around. You very quickly get two or three or more senior obstetricians together to discuss a case and the right decision is made to save the woman's life. And that has effectively been done for many years… so it hasn't really changed anything."
In 2014, the Rotunda had nine pregnancy terminations registered under the Act, one of which was for suicidal ideation, and eight of which were for severe maternal disease. "And that is exactly as we would have predicted when you look at the analysis of our patient numbers. I know there was a concern when that legal change was going on, that it would somehow open the floodgates, and we would have large numbers of women pretending suicidal ideation to try and get a termination under the Act and that clearly hasn't happened. I think it shows that medical professionals, when given clarity on the legal situation, can work professionally and can work within the guidelines and tend to, at the end of the day, do the right thing for their patients. That was always the way and continues to be the way…"
Fatal foetal abnormalities
Prof Malone is on record as being supportive of allowing women pregnant with babies with fatal foetal abnormalities access to terminations in this country.
"The right thing to do for our patients in that situation is to be able to offer them all options," he reiterates to MI.
The Rotunda's current support services for these patients includes perinatal hospice services and non-directive counselling, where patients are given very explicit information and statistics on survival rates for conditions such as anencephaly: "Our counselling is very honest and very explicit. We don't use euphemisms. Patients come back afterwards and say they appreciate the honesty."
In 2014, the Rotunda gave a diagnosis of fatal foetal abnormality to 40 pregnant women. "Of those, 12 chose to continue through the perinatal hospice journey and were supported in that regard." Twenty-eight women travelled to the UK for a termination.
"We have done as much work in trying to demystify that journey as we can," he says, confirming that staff from the Rotunda have travelled to the units in the UK where Irish patients tend to travel for such terminations to learn about how the service works, where to stay, etc.
"It still doesn't make the journey any easier; it is a very, very tough journey for those patients", he adds, noting that in some cases foetal remains have been brought back to Ireland in the boot of a car on a ferry or through a DHL package, scenarios which he says compounds the emotional trauma felt by these patients.
"We would prefer to be able to provide the holistic, complete care for all of our patients, irrespective of which of these journeys they go on. We believe that it is clinically, medically the right thing to do for those patients."
New hospital
Arguably the biggest challenges of Prof Malone's term will be to build and open a new hospital on the site of Connolly. "We are doing a huge amount of work at the moment on defining what is the vision and scope of that hospital. It will be 12,000 births a year we are designing it for.
"In relation to the inner design of the hospital, we haven't got to that level yet, but as a general principle, we would support the concept of single occupancy rooms for all."
This is in line with modern hospital design and best practice for infection control. However, he acknowledges that many women like the company of other mothers that ward rooms provide. "So if there is a strong market demand for two-person occupancy rooms and they can be designed in a way that our infection control experts are happy with, I am open to that but as a general principle, we are probably looking at the concept of single-occupancy rooms for all."
Traditionally, single rooms in maternity units have — outside of infection control and more severe medical cases — been primarily utilised for private patients, so surely having single-occupancy rooms for all patients could impact significantly on private income for the hospital?
I think the era of paternalism in obstetrics and maternal care is thankfully gone, and I can only speak for the Rotunda, but it is definitely gone in the Rotunda. We are not using it just as a 'badge' — we believe in the whole concept of being the maternity hospital of choice.
The Rotunda receives approximately €47 million a year in funding from the HSE, but "we need about another €15-20 million on top of that to run the entire programme here. So we do depend on our other sources of income, including private healthcare," Prof Malone confirms.
"If all rooms in the new hospital are single occupancy, we will have to come up with much more clarity about what is that private care package that patients want. The room is just one part of it. It could mean a different type of room. It could mean more emphasis on the continuity of care with a particular midwife or doctor. It could mean other services as part of your care package, such as optional screening services we haven't had before, ie, 3D scans, things like that, different menus…"
Prof Malone is also keen to provide as much materity care in the community as possible, which he says the new hospital will pioneer.
"I'd be very anxious in the next seven years to take as much normal obstetric care out of the hospital building as possible," he says, explaining that the new hospital will have most of its standard outpatient maternity appointments delivered in satellite centres, likely to be between five and seven, within the community.
"So patients are in the hospital for the least amount of time, both for outpatients and inpatients."
Complex care
Changing birth trends, such as an increase in older women having babies, obesity and gestational diabetes are placing increased pressure on maternity services, Prof Malone confirms.
"Obesity and diabetes are really significant challenges for us and the demographic projections are that unless something radical changes in our society with regards exercise and healthy eating, we are going to be seeing more and more obesity and that creates significant challenges for us in regards to the safe care of women and their babies," he says, adding that changing international guidelines on the definition of a diabetic patient also create challenges for resources.
"And as healthcare improves, we are seeing more and more patients choosing to become pregnant after transplantation, whereas in the past you might have seen patients with various medical diseases decide they could not get pregnant… So this is very complex care and this is going to continue to challenge us."
The Rotunda's Caesarean section rate remains at around 31 per cent of births, which is considered high both nationally and internationally. "We are aware of the rise and it is underpinned by many factors," Prof Malone acknowledges, repeating that the Rotunda's ethos, in line with his own, is centred on providing choice for patients.
"We have no problem with an informed patient deciding to have a C-section. That surprises some people but we don't encourage people to go around having C-sections… That is a view that is not universally held." he comments.
"The main metric we should be looking at in maternity hospitals is outcomes — a healthy mom and a healthy baby. A C-section rate, a forceps rate, etc, is not an outcome."
Meanwhile, new national guidelines on oxytocin use have been finalised by the Institute of Obstetricians and Gynaecologists and are expected to be launched shortly.
"Hopefully that will standardise oxytocin use across all 19 maternity units in the country," says Prof Malone.
"Standardising documents like that, optimised midwifery staffing numbers… it can only improve the safety of oxytocin use. So we would be big advocates for standard protocols when it comes to use of oxytocin."
Infant cooling
As recently revealed by MI, a national register of infants undergoing therapeutic hypothermia (infant cooling) is expected to be formalised this year.
Prof Malone welcomes the development, confirming that 50 per cent of the babies who are "cooled" at the Rotunda are transferred in from other maternity units.
"We get two-to-three babies a month in for cooling. Given that number, given the importance of cooling, and the fact that babies have to be transferred into one of the three Dublin maternity hospitals or Cork for it, it makes sense that a registry to track their outcomes, track where they are coming from, and to spot trends would be very, very useful. One of the challenges for us, the Rotunda, is that we don't get any extra resources for that, for babies who come to us for cooling, and they need to stay for seven-to-10 days of high-tech, high-intensity care…"
Baby love
So to conclude, what drew Prof Malone to maternal medicine?
"If you like the totality of medicine, obstetrics is the only specialty to do, because you have to keep all of your medical skills. Pregnant women can have any disease that you can think of — diabetes, hypertension, some poor unfortunate patients get cancer while pregnant.
"So you have to remember all the medical principles that you were taught. You need surgical principles. Some of the most complex surgery in the pelvis, some of the heaviest, most difficult blood loss cases are done by obstetricians. Genetics — some of the newest advances and prenatal diagnosis. Radiology — we do all our own ultrasound imaging. Paediatrics — the foetus is a little paediatric patient. These are all examples of what you need to keep.
"So a specialty that lets you keep all of that, which is predominantly a joyful specialty, it is a privilege to be able to do that day-in, day-out. I can honestly say I do not set an alarm in the morning; I just wake up every day. I love what I do. I'm a lucky person who has managed to find a specialty that does that for me. No two days are the same in this specialty, in this hospital."