You are reading 1 of 2 free-access articles allowed for 30 days
Belkin: Wireless Range Extender N300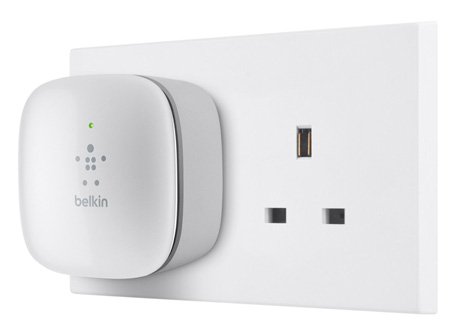 With the Belkin wi-fi Range Extender, you can expand your home network's wireless connection up to an additional 5,000sqft.
It is incredibly simple to install and is compatible with virtually any router, so there is no need to reconfigure anything on your home wireless network. It is the fast, easy way to expand your home wireless connection.
There is no complex set-up with the wi-fi Range Extender. Just plug it in, find your home network, and you'll enjoy expanded wireless in minutes. Simple Start installation means you can connect the wi-fi Range Extender from your wi-fi mobile devices, such as tablets and smartphones, as well as your PC or laptop.
Available at Right-Click for €49.99
Microsoft Surface Pro 4 versus Surface Pro 3: What is different?
The Surface Pro 4 replaces the Surface Pro 3 in Microsoft's tablet line-up, and while the spirit of the Surface Pro 3 is alive and well in the Pro 4, there are a few key differences that you should be aware of when deciding whether to upgrade.
Almost everything gets an upgrade in the Surface Pro 4, starting with the display, which jumps from 12 to 12.3 inches in size — without making the device larger. Rather, Microsoft decreased the bezel around the Surface's screen, adding more 'real estate'. The Pro 4's PixelSense touchscreen is only 400 microns thick and is protected with Corning Gorilla Glass 4 (the Pro 3 has Gorilla Glass 3), producing what Microsoft says is the thinnest optical stack-up anyone can possibly ship.
Dimensionally, the Surface Pro 3 and Surface Pro 4 are nearly identical, except in their thickness. They both measure 11.5 inches high and 7.93 inches wide, but the Surface Pro 4 boasts a thickness of 0.33 inches to the Surface Pro 3's 0.36 inches. The Surface Pro 3 is also slightly heavier than the Surface Pro 4, at 1.76 pounds to 1.69 pounds for the least expensive configuration.
Both devices have nearly identical ports: A USB 3.0 port, a microSD card slot, and a Mini Display port.
On the inside, the Surface Pro 4 is something of a workhorse. You could call it a tablet, but like the Surface Pro 3, it has the innards of a PC. The Surface line-up has been updated with Intel's latest sixth-generation Core m3, Core i5, or Core i7 processors, depending on the configuration. Microsoft says that makes it 30 per cent faster than the Surface Pro 3, which used last-gen Core processors, as well as being 50 per cent faster than the MacBook Air. Microsoft also increased the amount of internal storage to 1TB in the Surface Pro 4.
But it is not only the body of the tablet that got an upgrade. New Surface type-covers will work with the Surface Pro 4 and Pro 3. These are the lightest and thinnest type covers Microsoft has ever made, with an integrated, backlit keyboard, softer key mechanics that make them quieter, and increased travel between keys. They also have a fingerprint reader for added security and come in five colours.
Don't forget one of the marquee features of the Surface Pro line-up: the Surface Pen. The new Surface Pen, which works with the Pro 3 and Pro 4, has an eraser on the end of it and the battery lasts all year long, so no charging; just replace the battery when it dies.
The Surface Pro 3 and Surface Pro 4 can plug into the Surface Dock via USB — a hub that has four USB 3.0 ports and two ports for 4K displays, plus an Ethernet port for sharing screens and files between devices, as well as multitasking on larger monitors.
The base configuration of a new Surface Pro 4 starts at € 1,029.00 including VAT, and comes with an Intel Core m3 chipset, 4GB of RAM, and 128GB of internal storage, although a Core i7 with 16GB of RAM and a 1TB hard drive will set you back € 2,499, including VAT. Microsoft is accepting pre-orders now and devices ship on October 26.