You are reading 1 of 2 free-access articles allowed for 30 days
Belkin Wi-fi Range Extender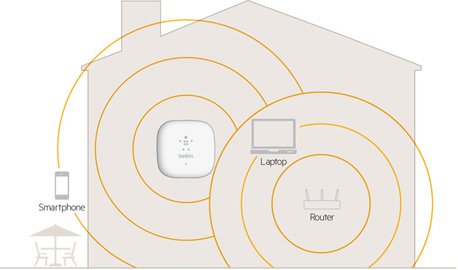 Eliminate Wi-Fi deadspots
With the Belkin Wi-Fi Range Extender, you can expand your home network's wireless connection. It's incredibly simple to install and is compatible with virtually any router, so there's no need to reconfigure anything on your home wireless network. It's the fast, easy way to expand your home wireless connection.
Installation is easy with simple start
There's no complex setup with the Wi-Fi Range Extender. Just plug it in, find your home network, and you'll enjoy expanded wireless in minutes. Simple Start installation means you can easily connect the Wi-Fi Range Extender from your from your Wi-Fi mobile devices such as tablets and smartphones, as well as your PC or laptop.
Whole-house coverage
Get rid of 'dead spots' in your home and enjoy 'whole-house' Wi-Fi coverage. The Wi-Fi Range Extender delivers wireless network speeds of up to 300Mbps for fast browsing and streaming.
Compact design
The Wi-Fi Range Extender features a compact design that allows for easy placement that in most cases won't block the second socket in most wall outlets, unlike some other models of wireless range extenders.
Easy compatibility with wireless G and N technology
Works with Wireless G and N and compatible with any brand or model of home wireless router. Just follow the simple start installation process to be up and running in a few minutes.
Works with your mobile devices
Experience a fast, reliable connection for your mobile devices, such as smartphones, laptops, and tablets, all over your home. With the Wi-Fi Range Extender, no room is off limits. Save on data plans by staying connected using your Wi-Fi instead of using valuable cellular bandwidth.
Available at Right-Click
for 49.99
Syma S39
The S39 is one of their newest helicopters on the market. It is colourful and bigger than its smaller brother, the S36. It comes with all the technology you would expect from a top-quality helicopter.
It also comes with two speeds, low and high, so it's perfect for beginners. It has the built in Gyro system so it is very easy to fly and keep stable. You can even fly it and hover it right in front of you. Once you get used to the power of the rotor blades, control of the helicopter is easy so it doesn't take long to become an expert flyer.
The S39 comes with the 2.4gHz frequency — this is a Spread Spectrum Technology, which means the copter will respond 100 times faster than a normal radio frequency.
It also means you can fly a large number of helicopters without any of them interfering with each other.
The S39 is a great gift for both young and the young at heart.
49.95 @ www.thegadgetstore.ie
Selfie Stick
'Selfies' are all the rage at the moment and the Selfie Stick ensures that these images can be taken with the maximum quality and the minimum inconvenience.
The user can simply attach their smartphone to the Selfie Stick to take the picture, allowing them to get the correct perspective on the image.
A great gift for any friends or family who have become involved in the 'selfie' craze that is sweeping social media forums across the world.
10 @ www.thegadgetstore.ie
Big Mouth Bookmark
A cheeky gift for the book-lovers in your life, the Big Mouth Bookmark is a novel way of keeping your page while 'sticking a tongue out' at passers-by.
It's an amusing alternative to the tasselled, red leather bookmark and a great gift for those who prefer to read real books rather than Kindles.
6.99 @ www.thegadgetstore.ie
Scratch Map Deluxe
For those of us who like to, or need to, travel a lot, there is a novel way to keep a record of your far-flung destinations — a fantastic gift that does exactly that, the Scratch Map Deluxe.
The more stylish sister to the original Scratch Map, the Deluxe comes with copper foil printed on beautiful matt-finish black paper.
The Deluxe Map is very detailed and also features fascinating infographics along the bottom, revealing a wealth of facts and information about the land and oceans. Very popular, the Scratch Map Deluxe looks even better in a wood frame.
24.95 @ www.thegadgetstore.ie